2018 began with continued rallies in U.S. equity and oil prices. Stock Trader's Almanac references a statistical study that concludes: "As January goes, so goes the rest of the year." In fact, the first 5 days of trading bears a remarkable correlation to the full year directions. While the indicator has failed at times, 2018 begins with remarkable strength in equity indexes and economic reports. This week's NetWorth Media focuses on strategy implications between now and 2020.
The inflation strategy, energy infrastructure, since our implementation, has proven successful so far. The program will cover the high cash flow strategy plus explore future risks to portfolios.
Headline Round Up!
---
*S&P Earnings Estimates Jump on Tax Reform and Energy Rally.
*Oil Tops $62 for the First Time Since December of 2014!
*Go Ask for a Raise! Lots of Jobs!!!
*¼ of Million New Jobs in December.
*California Dreaming: Mike Tyson Announces New Pot Farm!
*Buzz Kill: Attorney General Jeff Sessions Rescinding Legal Marijuana Expansion. Pot Stocks Give Back Gains.
*Construction Spending Hits Record: $1.257 Trillion All Time High in November!
*Infrastructure Plan Could Exacerbate Labor Shortages.
*Boom: Manufacturing the Strongest in 14 Years!
*Tech Rally Accelerates!
*Danger: Tesla Can't Deliver Production Targets and Burning $1 Billion per Quarter.
*Oprah's Girth Increases with DJ Khaled's Endorsement of Weigh Watchers. Stock Spikes Over 7%.
*Still Hungry for Yield! 3 Bond ETF's Attract Over $200 Million Each on First Day of 2018.
*Commodity Rally! Inflation? How Should Investors Prepare?
Dow Jones Industrial Index (Approx. 3 Years)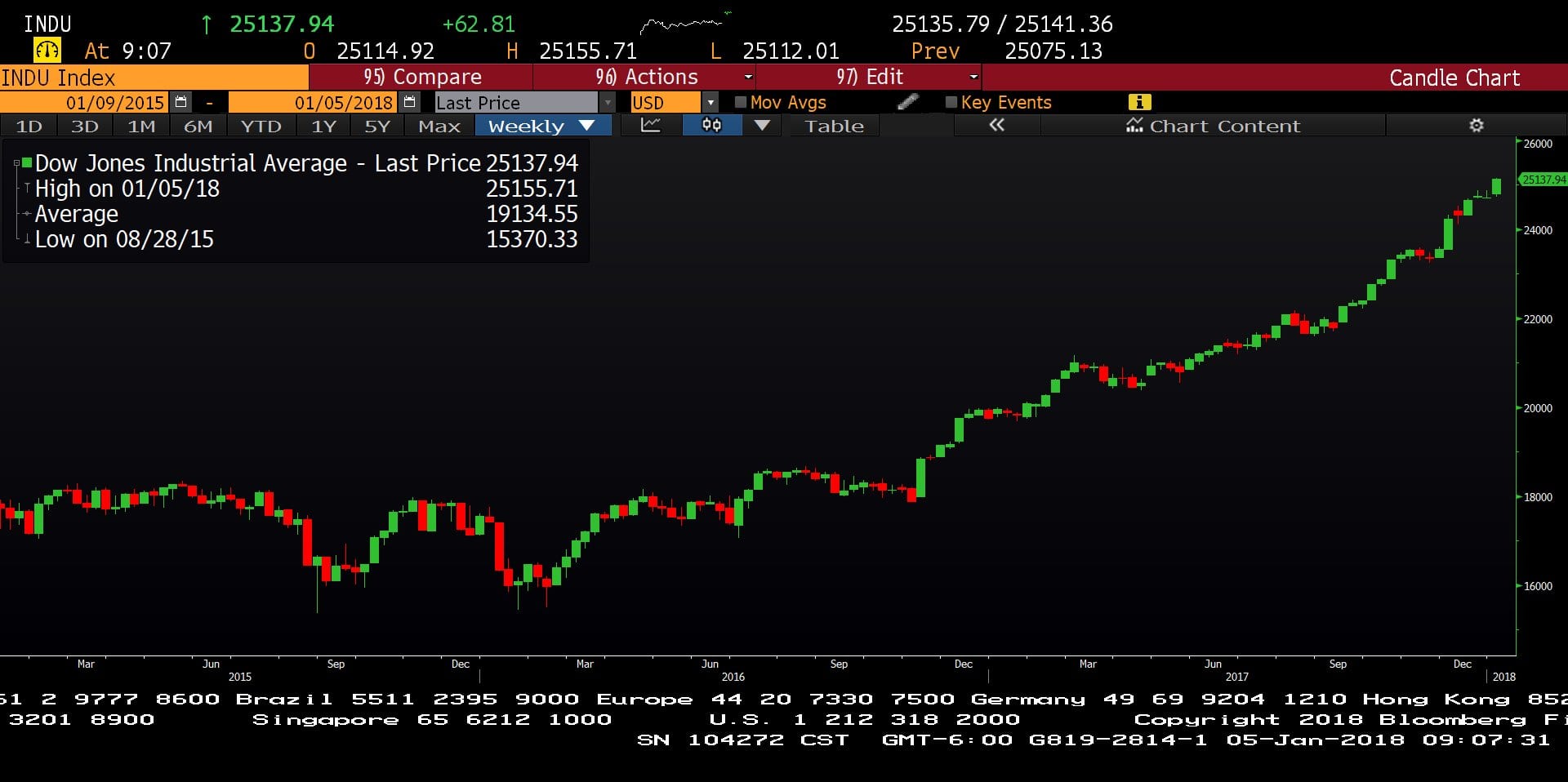 -Courtesy of Bloomberg LP
World Equity Indices (January 2018)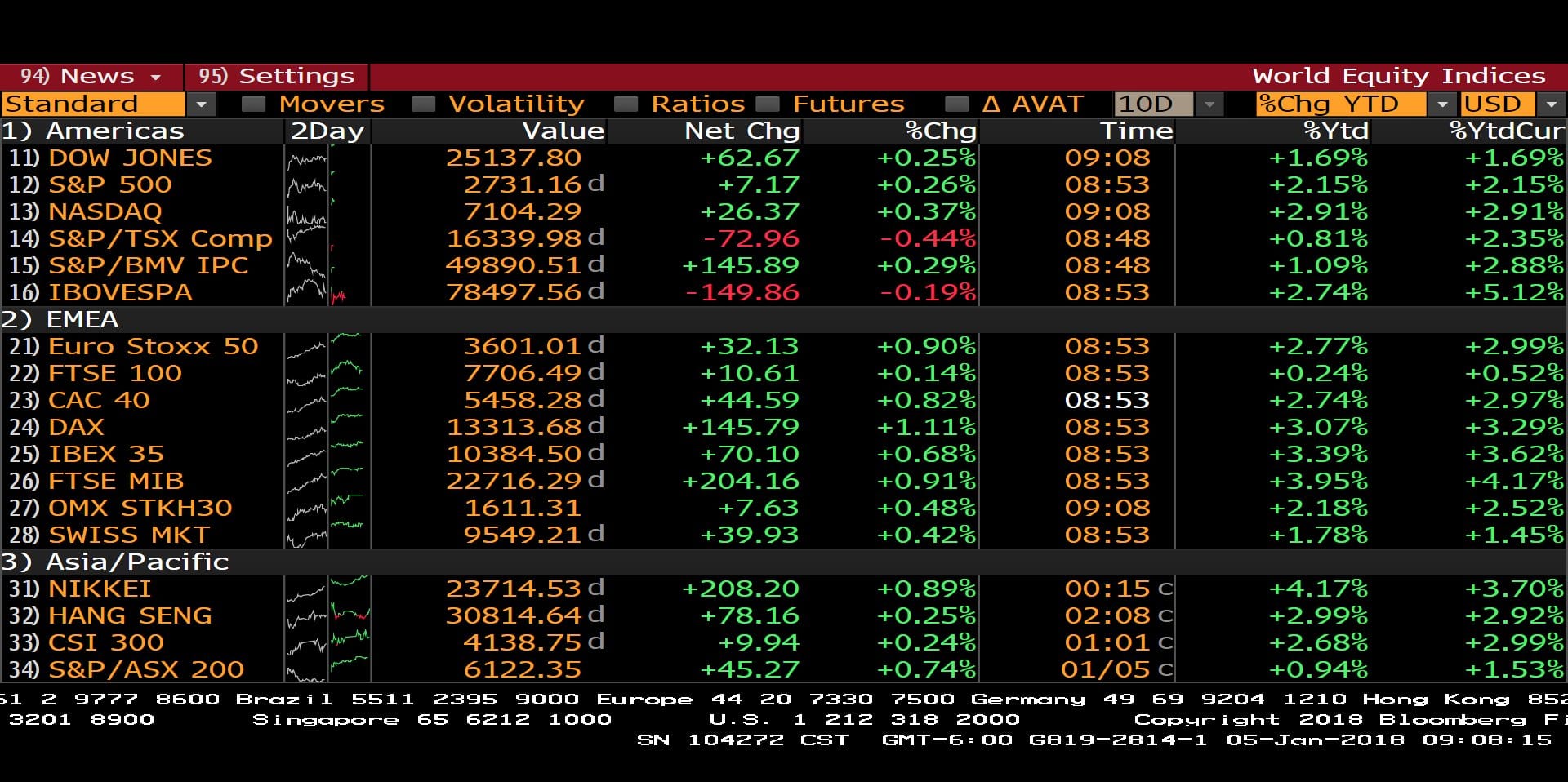 -Courtesy of Bloomberg LP
Crude Oil Futures and Alerian MLP Index Prices (Approx. 10 Years)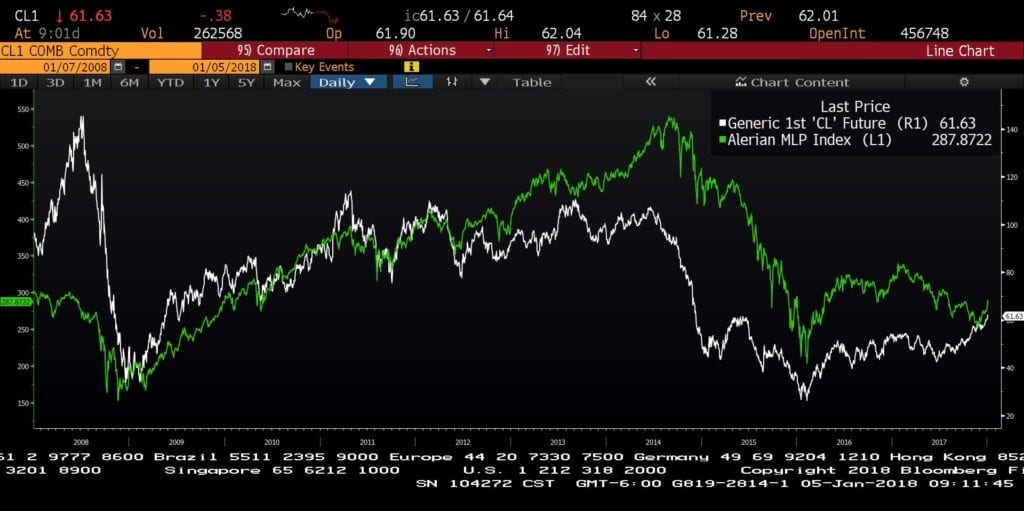 -Courtesy of Bloomberg LP
Shale Plays (January 2018)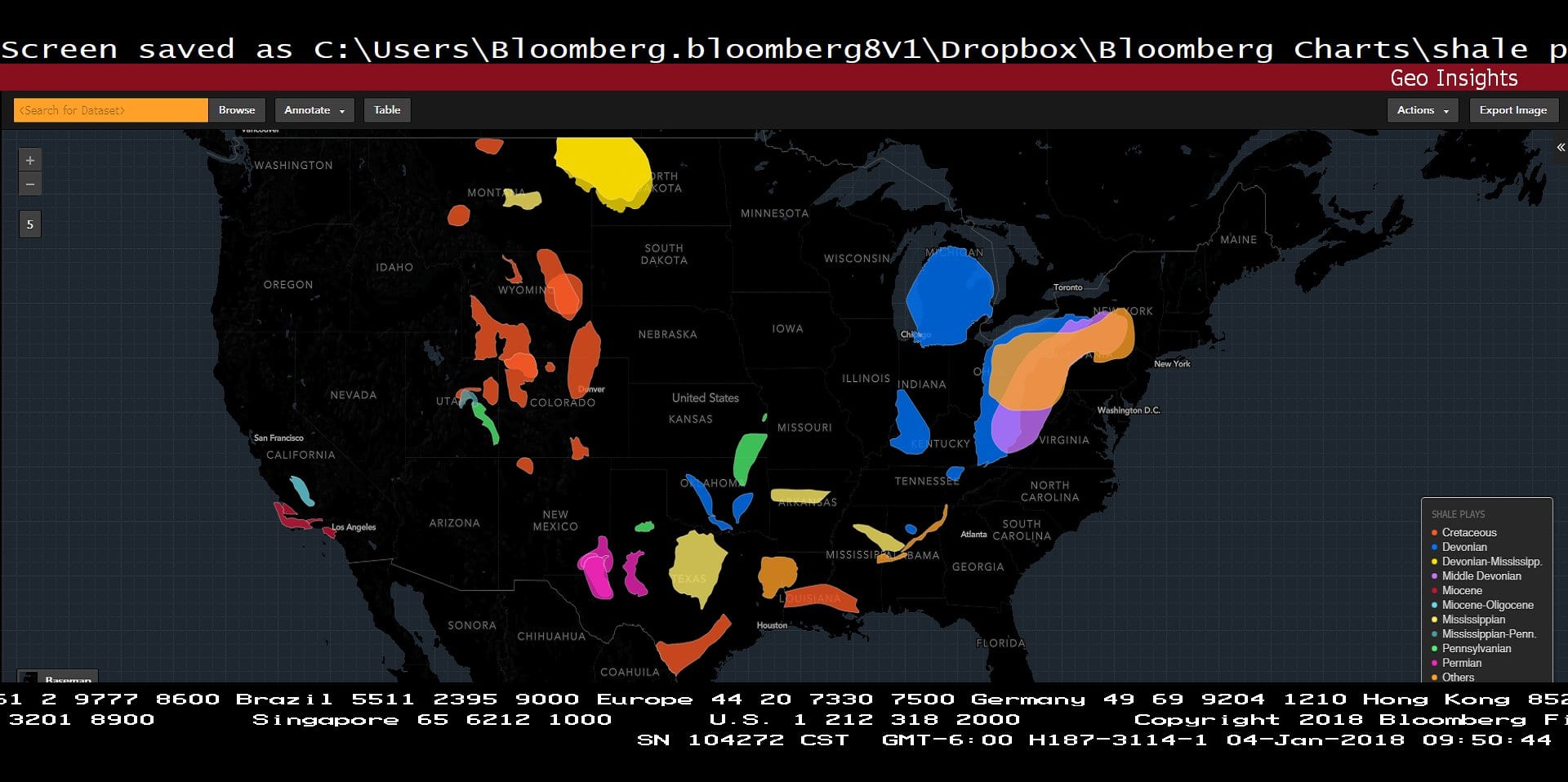 -Courtesy of Bloomberg LP
Crude Oil Pipelines (January 2018)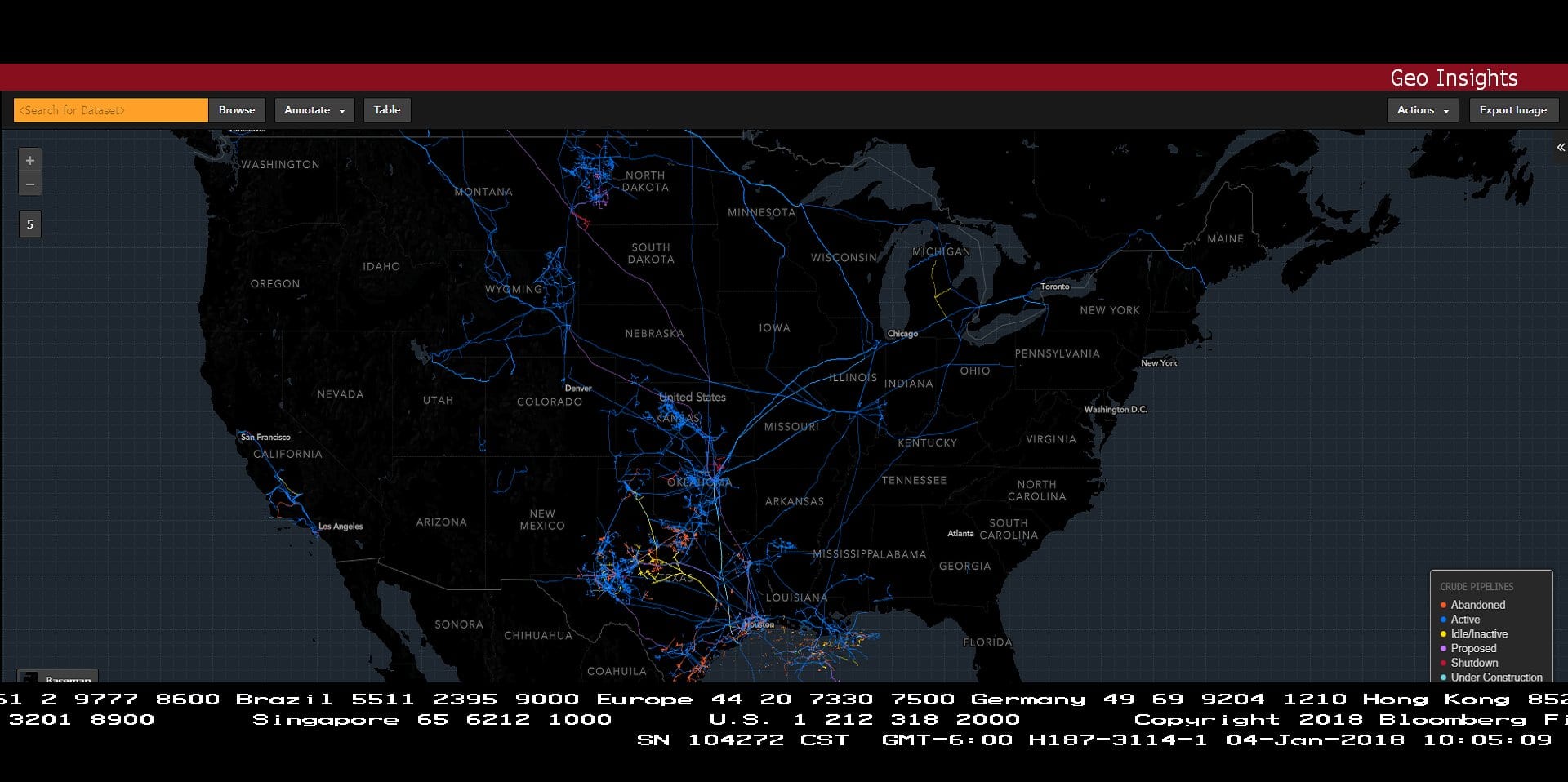 -Courtesy of Bloomberg LP
Natural Gas Pipelines (January 2018)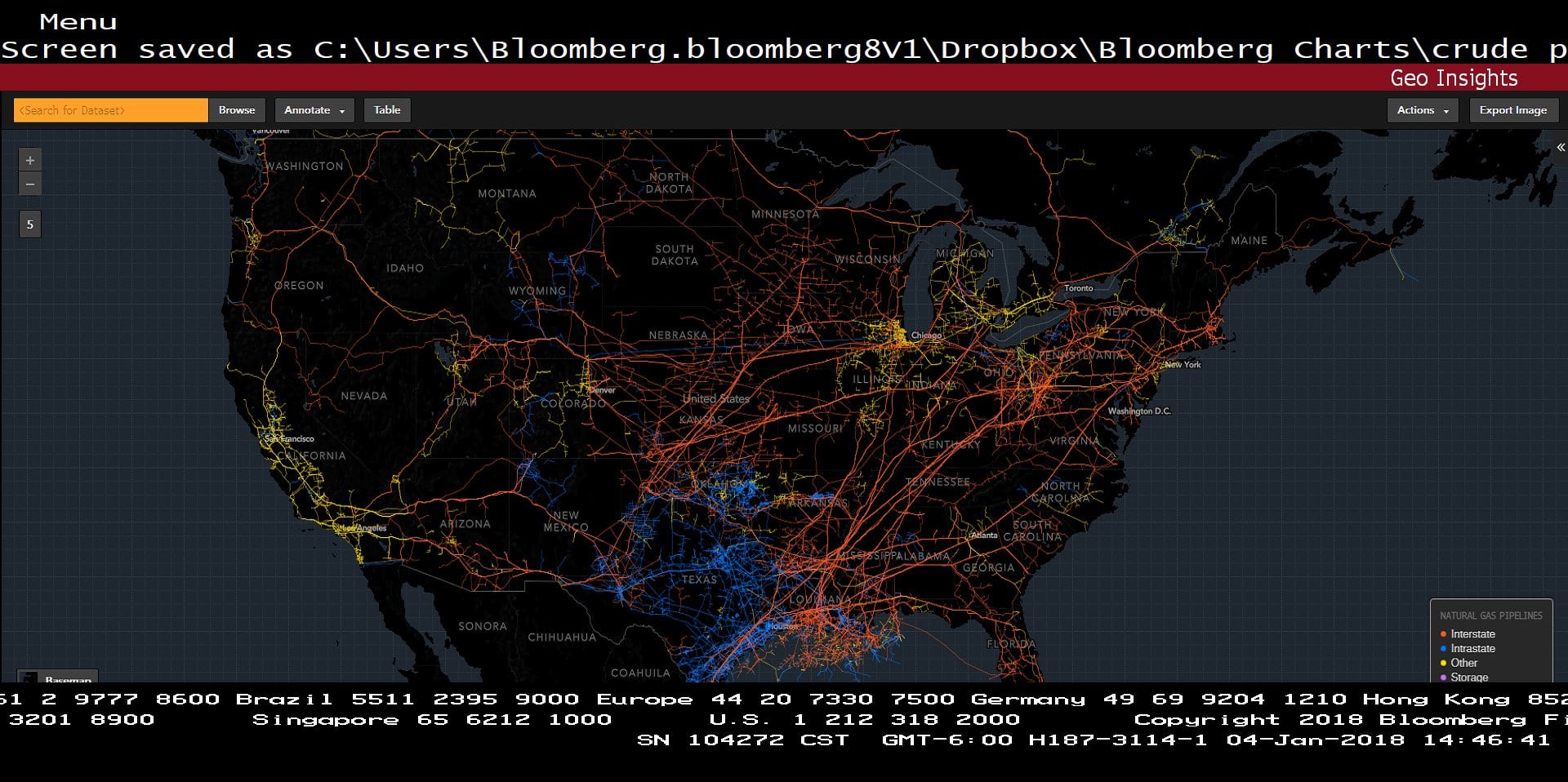 -Courtesy of Bloomberg LP
Profit Report:
---
*Cryptocurrency update: Ripple's wave pushes ahead of Ethereum. Bitcoin mania updates.
*When should we exit the high yield bond market?
*Retail ice age unfolding as Amazon rallies to near 400 times current earnings.
*Washington Update: What is a Judgement Fund and where does it go?
*Ka-Ching! Ka-Ching! Ka-Ching! Capital One double and triple charges cards.
Bargains! Capital Call!
Often the most popular investment category is "too much in the sun(1)." The resulting overpricing and subsequent bear underpricing have often marked the greatest dangers and resulting opportunities in my 31 year career.
In 2009, we cheekily nicknamed one of our best research pieces as "20 Companies That We Believe Will Not Die." The list included Whole Foods which subsequently rose from under $10 to an all time high near $60(2). So unpopular were stocks we found most investors fearful of adding positions at what was proven to be a great inflection point.
Harken back to 2014. Oil was over $100(3). Scores of research pieces touted the energy master limited partnerships, one of the most popular investment categories at that time(4). For several years now we have watched opportunities develop which appear to have come to the point of attractive inflection in the inflation friendly energy category. The 3 year bear market cycle in oil prices appears to have now ended based upon recent prices approaching $60 per barrel after a 2016 low near $27(5).
Our diligent research process has identified, what we believe to be, one of the best opportunities since early 2016, when the high yield credit markets froze producing large discounts with high income. The term "capital call" refers to our urging clients to make deposits into an attractive asset class.
For clients able to make deposits and for our cash reserves, we are completing allocations into attractive high dividend energy companies. Please call to discuss the opportunities for 2018 "and beyond."
Spencer D. McGowan – December 2017




McGowanGroup Asset Management
1. Hamlet Act1,Scene 2
2. Bloomberg LP – July 2003/October 2013
3. Bloomberg LP – West Texas Intermediate Crude, February 2014
4. https://www.bloomberg.com/graphics/infographics/mlps-draw-record-investment.html
5. Bloomberg LP – West Texas Intermediate Crude, November 2017/January 2016
Featured Research Solutions:
---
Investors are invited to improve decision making with a comprehensive tour of global economics, indicators, and actual results.
*
Millennial BOOM!
Get the real story on the demographic age waves in the United States.
---
Start the Process Today! Be sure to indicate what size portfolio sample you would like to see. A link will arrive when we receive your questionnaire.