"But for the average person, shifts in the market, even ones as dramatic as the ones we've seen this year, shouldn't be cause for panic." During times of volatility, seasoned investor Warren Buffett says it's best to stay calm and stick to the basics, meaning, buy-and-hold for the long term.
So, during downturns, "heed these lines" from the classic 19th century Rudyard Kipling poem "If—" which help illustrate this lesson, Buffett wrote in his 2017 Berkshire Hathaway shareholder letter:
If you can keep your head when all about you are losing theirs …
If you can wait and not be tired by waiting …
If you can think – and not make thoughts your aim …
If you can trust yourself when all men doubt you …
Yours is the Earth and everything that's in it.
Market downturns are inevitable, Buffett pointed out, using his own company as an example: "Berkshire, itself, provides some vivid examples of how price randomness in the short term can obscure long-term growth in value. For the last 53 years, the company has built value by reinvesting its earnings and letting compound interest work its magic. Year by year, we have moved forward. Yet Berkshire shares have suffered four truly major dips."
He went on to cite each of the steep share-price drops, including the most recent one from September 2008 to March 2009, when Berkshire shares plummeted 50.7 percent.
Major declines have happened before and are going to happen again, he says: "No one can tell you when these will happen. The light can at any time go from green to red without pausing at yellow." 
Rather than watch the market closely and panic, keep a level head. Market downturns "offer extraordinary opportunities to those who are not handicapped by debt," he says, which brings up another important investing lesson: Never borrow money to buy stocks.
"There is simply no telling how far stocks can fall in a short period," writes Buffett. "Even if your borrowings are small and your positions aren't immediately threatened by the plunging market, your mind may well become rattled by scary headlines and breathless commentary. And an unsettled mind will not make good decisions."
The full text of the 2017 shareholder letter published this year can be found
HERE
Dow Jones Industrial Average (5 Years)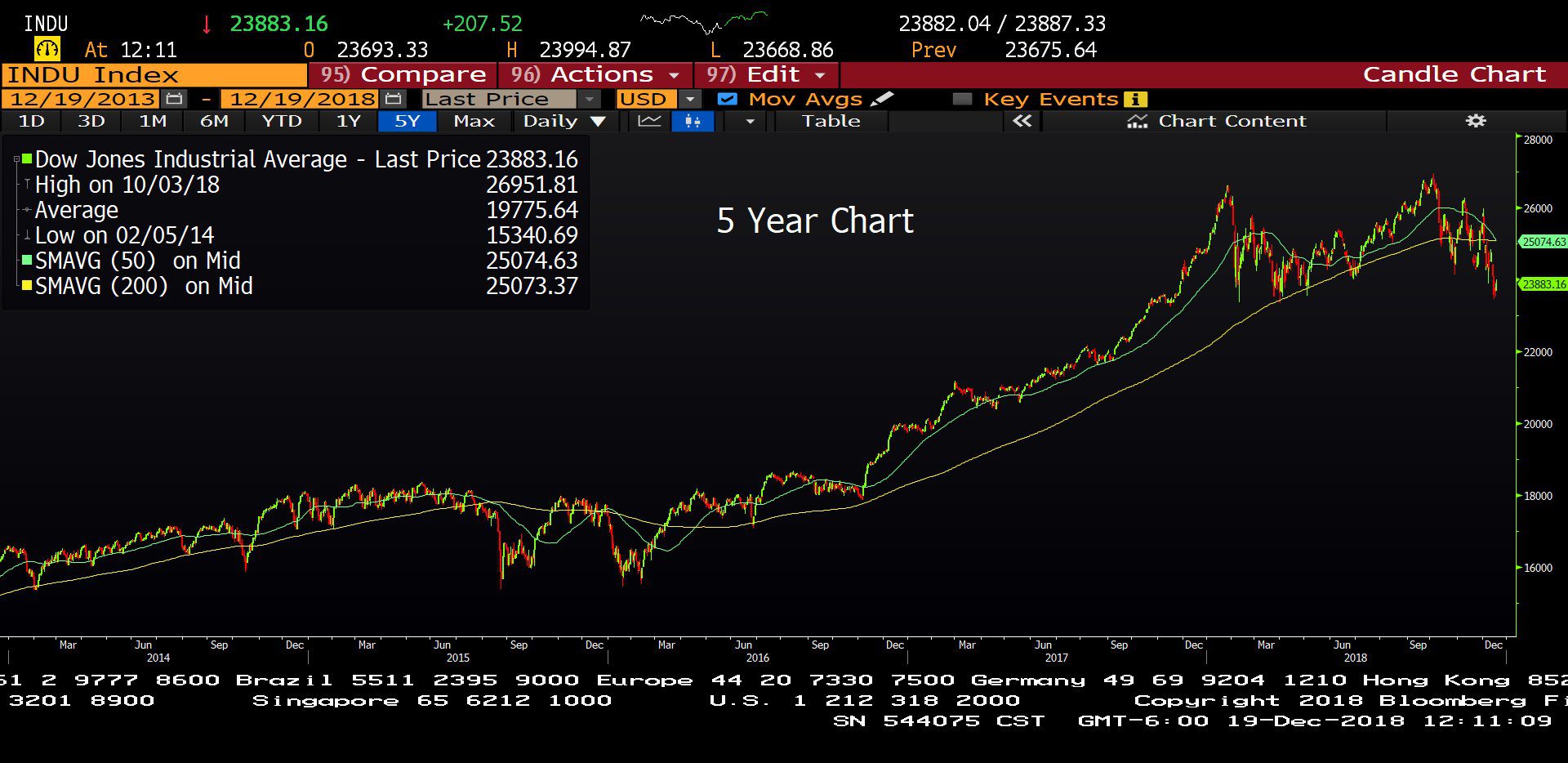 -Courtesy of Bloomberg
C.B.O.E. Short Term Interest Rate Index & 30 Year Treasury Bond Yield Index (Approx. 5 Years)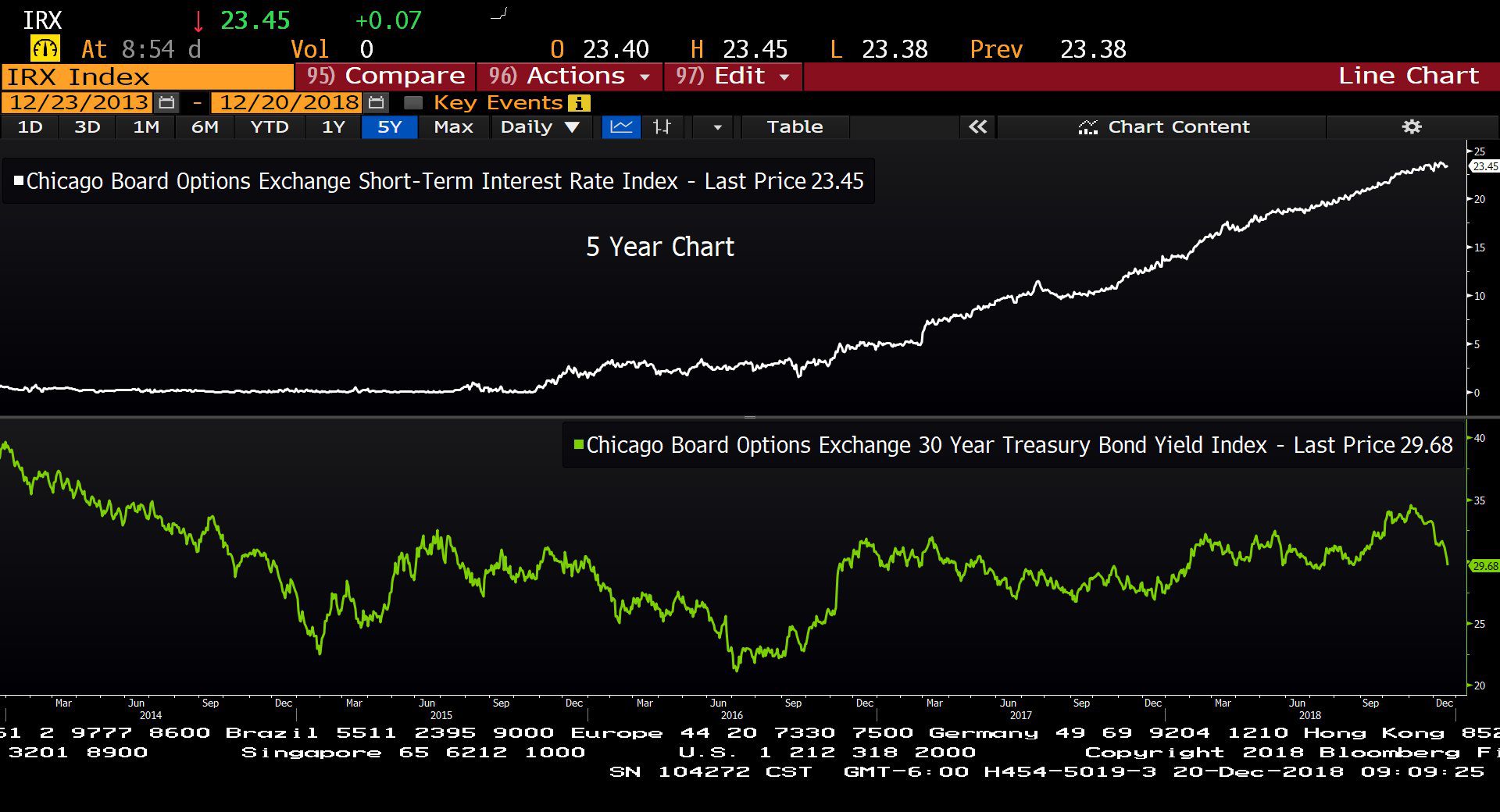 -Courtesy of Bloomberg
PIMCO Dynamic Credit and Mortgage Income Fund & AllianceBerstein Global High Income Fund, Inc. (5 Years)
-Courtesy of Bloomberg
Alerian MLP Index & West Texas Intermediate Spot Price (5 Years)
-Courtesy of Bloomberg
NetWorth Radio's Global Business Leadership Series: Spencer McGowan Interviews Z. K. Cheng
---

Mr. Cheng is a Senior Telecommunications Professional who has followed challenging yet successful paths both personally and professionally:
• He was raised in the rural outskirts of Taipei, Taiwan by his mother.
• He moved to the U.S. for better opportunities when he was 25 year old; He found himself at the Downtown Dallas YMCA with $20 USD to his name and a small rice cooker to start his stateside journey.
• He washed dishes at a local hotel by UNT to get through a Masters program.
• He wrote a book on microchips and currently holds several patents listed below.
1. USPTO Patent # : 5,822,698 : Microcell Frequency Planning Filed 1996 August, Granted 1998.
2. USPTO Patent # : 4.782,519 : Method and Apparatus of Enjoining the Wireless operating capability Filed 1996 August, Granted 1988.
3. USPTO Patent: Central Office Equal Access service solution for Crossbar conversion to digital switch.
His current business activities include:
Bit Security Inc. ( 2018 May – October)
Start-up company with a research and development group in SiAn China. The product developed is a VPN tunnel using AES256 encryption by IPsec and OpenVPN protocol. Due to restrictions by the Chinese government, it is currently suspended by Apple Inc. Mr. Cheng joined the Apple developer group focusing on XCODE.
Tirgo LLC (May 2015 – 2017)
Project 1 : Counted passenger occupancy using Tolltags via IoT technology. This information was reported to the central management server for billing services. "More passengers/less payment" mandate to encourage carpool/ sharing.
Mr. Z.K. Cheng is available at directly at zkc400@gmail.com
Headline Round Up!
---
*Dow Touches Lows for 2018? What's Ahead?
*2018: Nowhere to Hide. Performance Updates from Morningstar.
*Fed Raises Short Rates and Long Rates Plummet?
*Global Rate Update: $8 Trillion in Bonds Trade at Negative Yield.
*2019 Forecasts!
*Buffett Doubles in High Yield Convertible Lending Play.
*Retail Ice Age Marches On: Pier 1 CEO Resigns, Former Popeye's CEO Interim Leadership. Stock Declines to 80 Cents.
*Austin Got Apple Billion. What About Dallas?
*Texas Banks Slammed to 52 Week Lows?
*Vice Updates: Altria Buys Juul Stake. InBev Forms Partnership with Tilray? New York to Legalize Pot in 2019?
*Morgan Stanley Upgrades Midstream Pipelines and Energy! Lowest Level Valuations Since $17 Oil. What's Ahead for U.S. Energy?
Profit Report!
*Lessons from the Stock Traders Almanac
*Trustee Boot Camp and the MGAM Legacy Project.
Research Round Up!
---
Investors are invited to improve decision making with a comprehensive tour of global economics, indicators, and actual results.
---
Start the Process Today! Be sure to indicate what size portfolio sample you would like to see. A link will arrive when we receive your questionnaire.