This week's important special briefing on the global financial markets will deliver key facts and dates on the global crisis with investment strategy discussion based upon the mathematics of portfolios going forward.
Economic Impact So Far?
Key Dates For Stages Of Return To Normal?
What Are The Lessons From China And What Do They Tell Us About The Path Forward For The United States As Well As Other Countries?
What Should We Do Now To Succeed Over The Next 5 years?
Best Portfolio Math Based Upon The Panics Of
-1987?
-2001?
-2008?
Our prayers for you and your family during this national emergency. We stand determined to help you navigate through the current crisis to success.
A global temporary near shut-down has occurred and within the U.S. at least a 2-week partial shut-down is taking place to weather, the estimated incubation period of the COVID-19 virus. The national voluntary near shut-down also means that the Real Estate and the Financial Markets are, we believe, deeply and unreasonably discounted.
Financial Impacts
Financial assets have experienced the shortest and most severe 30% Bear Market drop in modern history.
If you decided to list and sell real property or any real estate at this moment, if the property could be logistically converted to cash, the property would likely sell at a deep discount that you would probably regret.
As with real estate, financial assets and most financial instruments are discounted for uncertainty with markets dysfunctional at the current time. Success should be measured by the cash flow that you will receive and the eventual value of those assets.
As a comparison to the current pandemic, the Swine Flu infected over 60,000,000 Americans with over 12,000 deaths. During that same time period, early 2009- mid 2010, the equity markets rose 38%.
Springtime, based upon the seasonal peak in flu virus that typically results in about 10,000 U.S. deaths per year, is likely to bring rapid containment and recovery to normal levels. Once the parameters for lifting the temporary nationwide near shut down are announced, the markets should start to return to normal.
Clear Advice and Counsel
With interest rates near zero, the future value of assets providing cash flow is likely to be substantially higher. Therefore, for clients, we will automatically reinvest interest and dividends to grow future income and take advantage of panic bargains.
Make sure you have enough cash in the bank for the next 90 days. Call us if we need to send extra cash to your bank for a cushion. We will selectively add to reliable interest and dividends as the crisis unfolds.
April and May are likely to demonstrate that the Real Estate and the Financial Markets are resuming normal functioning.
COVID-19 – MGAM Operational Information
We understand the concern and uncertainty you may be experiencing surrounding the coronavirus (COVID-19) and we are committed to being responsive to those concerns.
We want to assure you that we have procedures in place that will allow us to continue to service your accounts with limited interruptions. The McGowanGroup has already implemented a secure cloud-based infrastructure and every McGowanGroup team member has the ability to access all of our crucial applications remotely and securely, allowing us to meet our client's needs.
We will continue to monitor the COVID- 19 situation and will adapt our internal plans as needed to carry on our operations as usual. We appreciate the opportunity to service you and your family.
Stay safe and rational. We are devoted to your success.
Dow Jones Industrial Average  (Year to Date)
– Courtesy of Bloomberg LP
C.B.O.E. 30 Year Treasury Bond Yield Index, 10 Year Treasury Note Yield Index, and Short-Term Interest Rate Index  (Year to Date)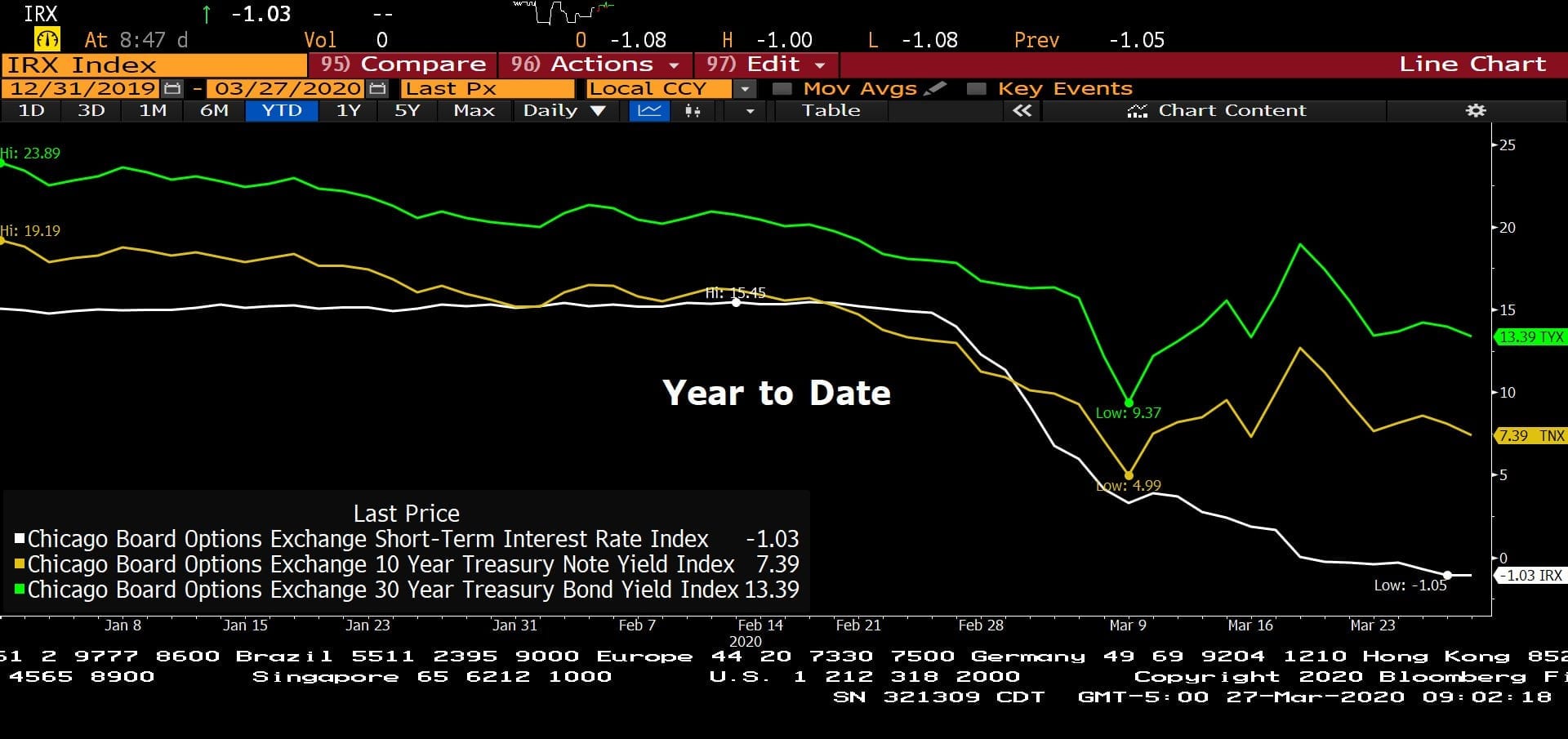 – Courtesy of Bloomberg LP
Coronavirus China Confirmed Cases and Active Cases (1 Year)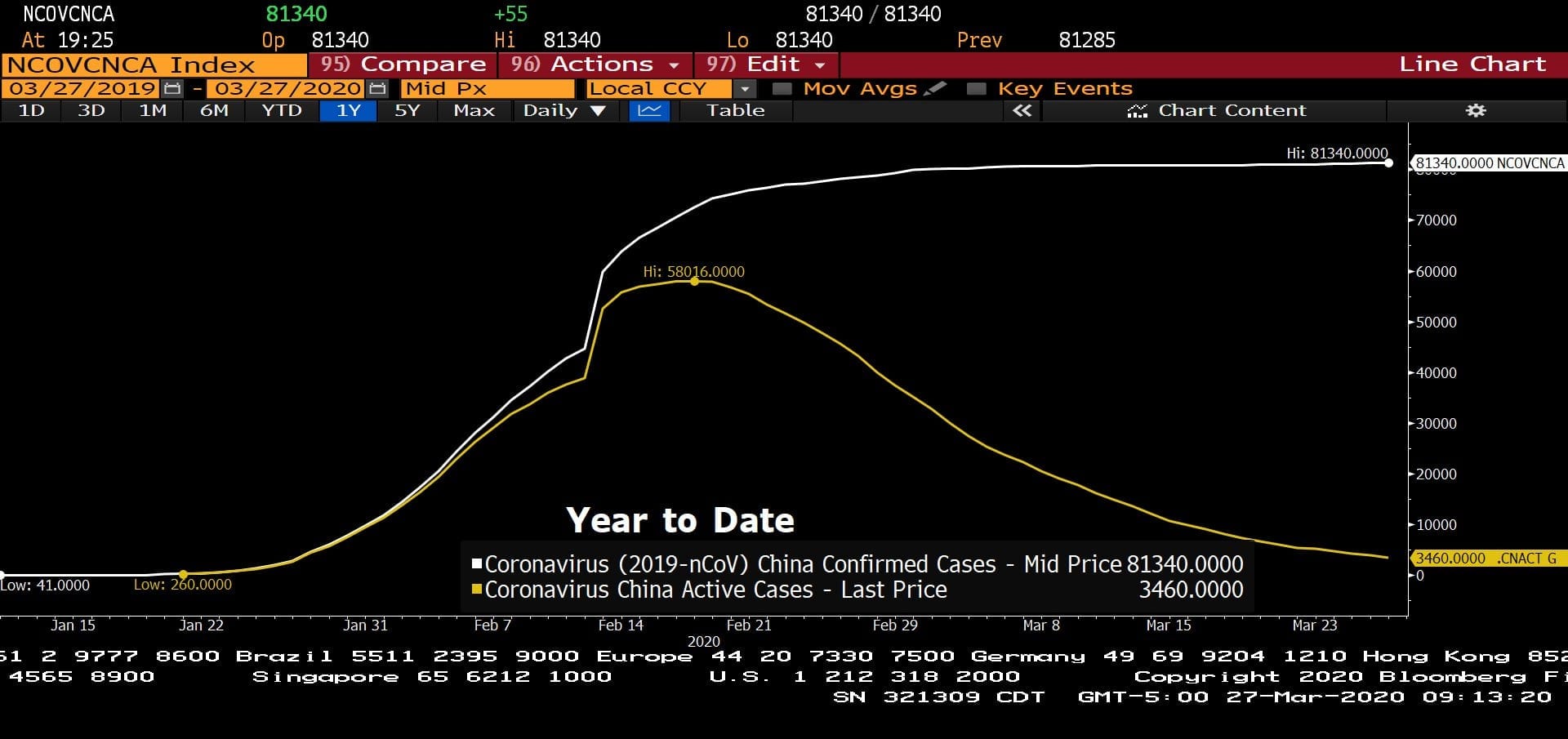 – Courtesy of Bloomberg LP
Coronavirus Globally Confirmed & Globally Relased/Recovered Cases (1 Year)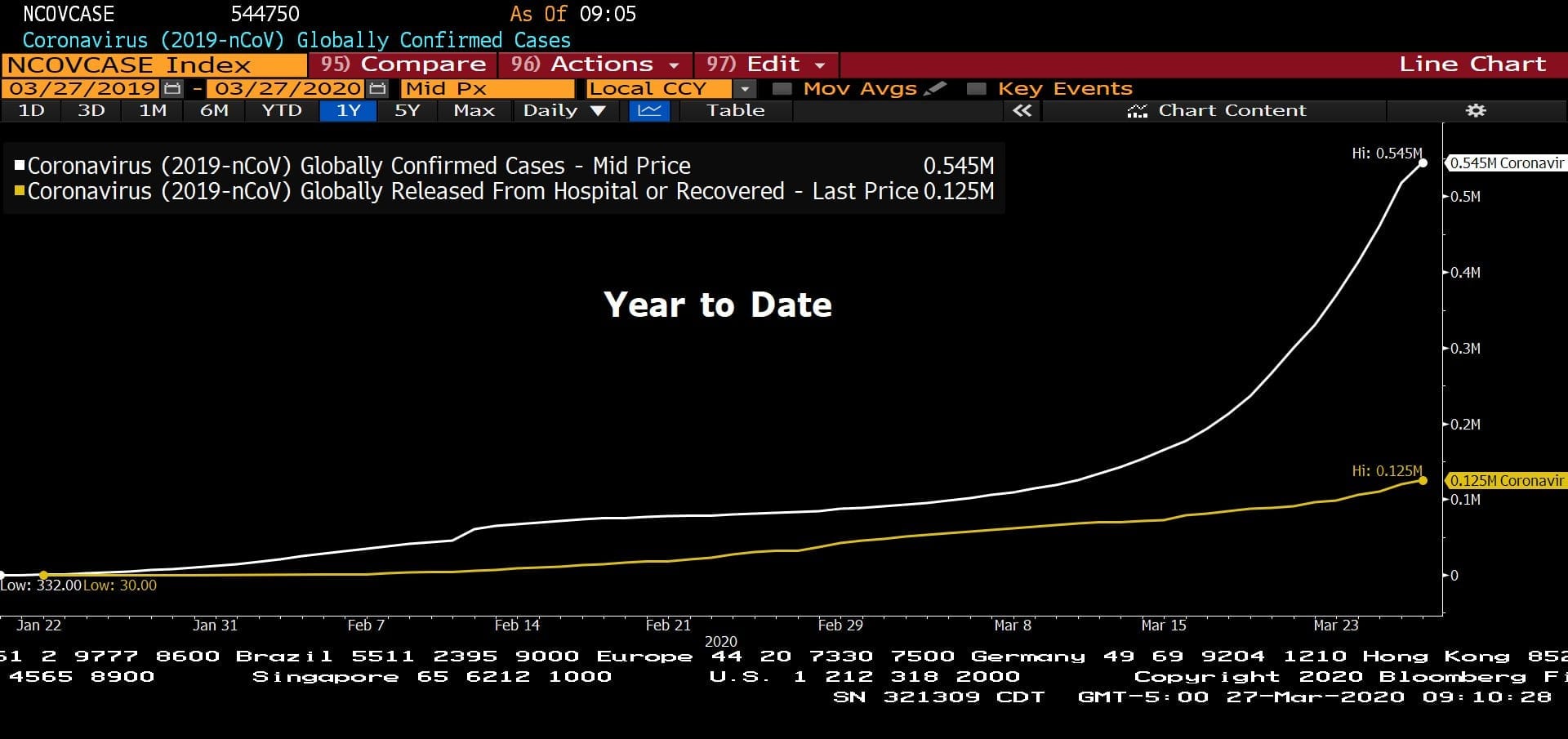 – Courtesy of Bloomberg LP
iShares iBoxx High Yield Corporate Bond ETF (04/11/2007 – 03/27/2020)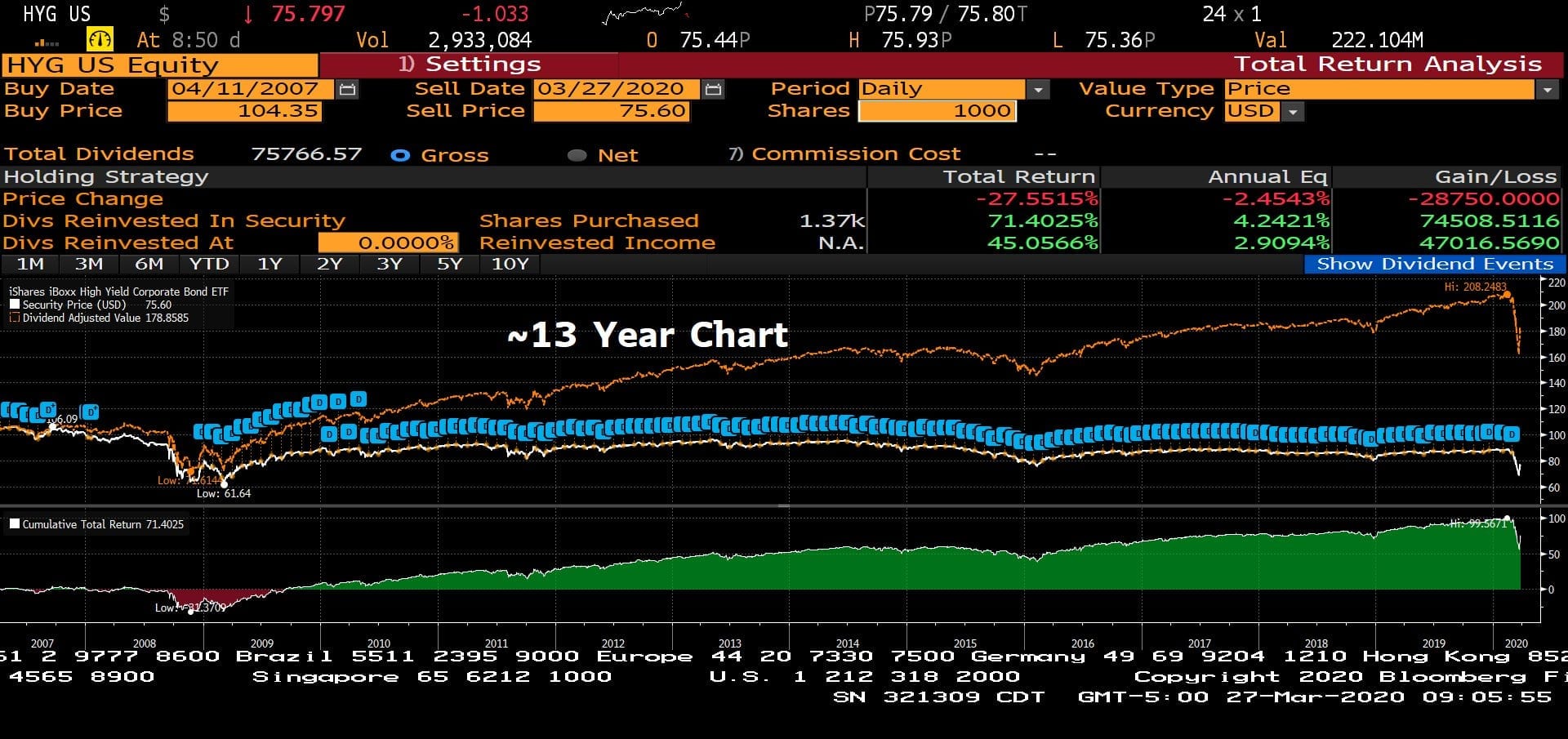 – Courtesy of Bloomberg LP
 AllianceBernstein Global High Income Fund, Inc. & BlackRock Corporate High Yield Fund, Inc. (12/31/2007 – 12/31/2012) 
– Courtesy of Bloomberg LP
Headline Round Up!
*Dow Completes Near 40% Correction Then 23% Bounce Back? What does this tell us as investors?
*Latest Updates and Timelines for Shut Downs.
*Global Financial Correction Updates!
*Central Bank Infusions!
*90 Day T-Bill Drops Near ZERO!
*Massive Toilet Paper Shortages!
*Scott Minerd Says Yields Going Negative? He looks right again?
Texas Energy Gold Rush
*Institutional Predictions of $60 Oil By Year End.
*Oil Trades to Near $20 Bounces to Near $25
Profit Report!
*All Research Focused on Coronavirus?
*Duration Risk Updates!
*North Texas Superstars and Implosions!
*What Do Year to Date Numbers Tell Us About Money Flows?
What is the Cash Flow Revolution? How did it help recover to record profits after 2002 and 2008?
Research Round Up!
Investors are invited to improve decision making with a comprehensive tour of global economics, indicators, and actual results.
---
Start the Process Today! Be sure to indicate what size portfolio sample you would like to see. A link will arrive when we receive your questionnaire.