Get Ready for 2018! And Beyond! Investment Strategy: Building The Right Portfolio, Right Now.
This week's program delivers important intelligence in preparing for 2018. The Federal Reserve released new economic projects that include inflation, growth, and unemployment through 2020.
What do the Fed numbers tell us for portfolio design?
What is the macro impact of this year's triple hurricane tragedies?
How are GDP numbers different from the past?
What does "shrinking the balance sheet" actually mean?
What are the biggest dangers for 2018-2020?
Economic projections of Federal Reserve Board members and Federal Reserve Bank presidents under their individual assessments of projected appropriate monetary policy, September 2017
fomcprojtabl20170920

Download (PDF, 121KB)
GDP US Chained 2009 Dollars Index (Approx. 30 yrs.)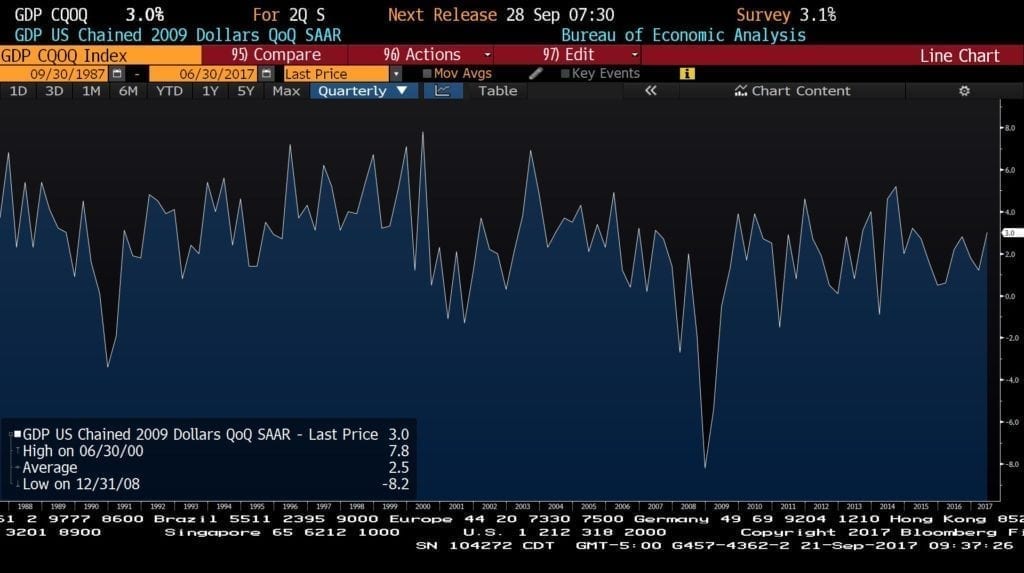 -Courtesy of Bloomberg LP
Headline Roundup!
New Highs on Dow and S&P!
Tech Stock Power the Rally. Texas Instruments Reaches Highest Level Since 2000.
North Korea Threatens Above Ground Nuclear Explosion in the Pacific. Dangerous Rhetoric Heats Up.
Fed Starts Shrinking Balance Sheet! Article Below
Hurricane Rebuilding Begins! Shortage Projections: Building Materials and Construction Labor.
Hackers Gone Wild: SEC and Equifax. Financial Implications for Investors: You Need a Team that Knows You.
Bitcoin and Cryptocurrency Headlines: Jamie Dimon Predicts Painful Implosion! Digital Beanie Babies?
Bitcoin Currency (Since inception 2010)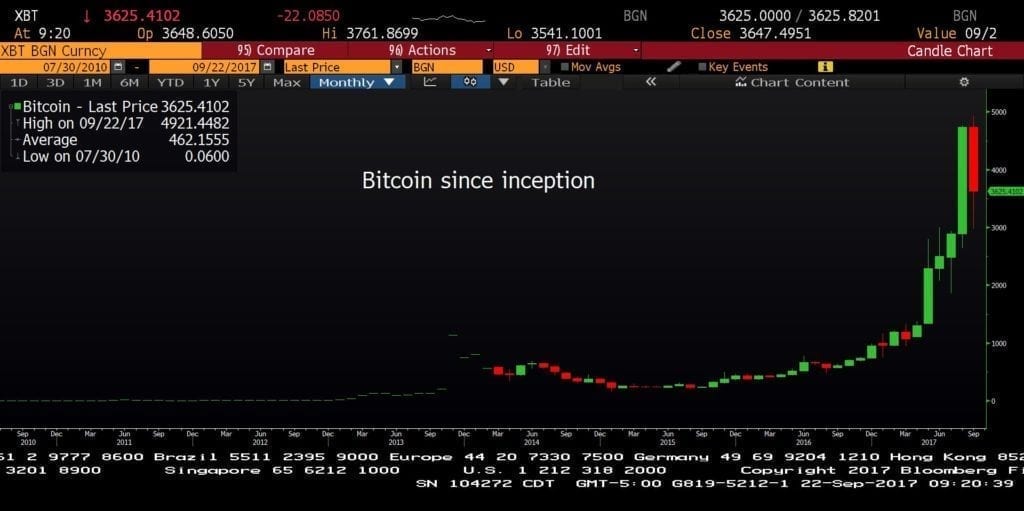 -Courtesy of Bloomberg LP
Bitcoin Currency Price Year To Date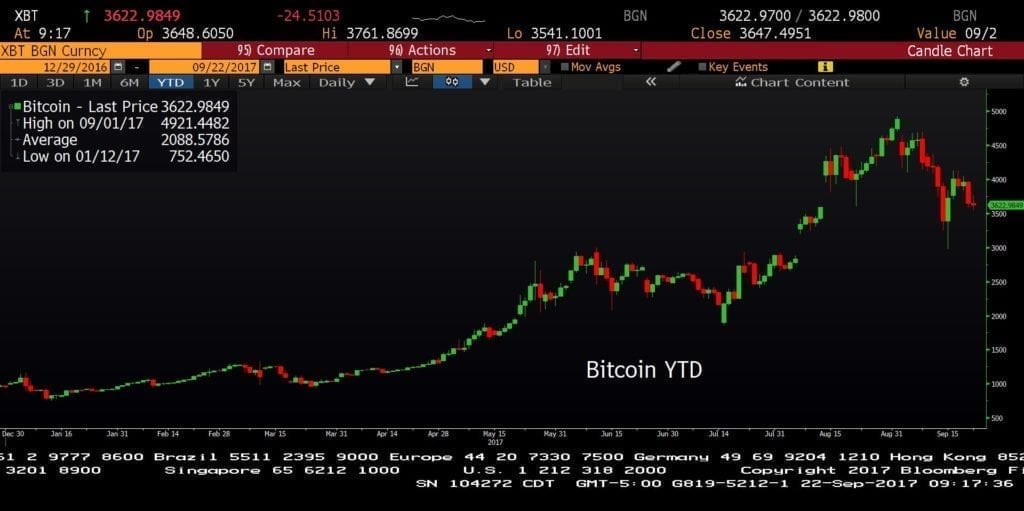 -Courtesy of Bloomberg LP
China's Credit Rating Cut! Does the Credit Implosion in China Predicted by Kyle Bass Unfold?
Artificial Intelligence Race! Salesforce Investing in Start Ups. IBM Could Actually Be The King.
Another One Bites the Dust: Toys R Us Files for Bankruptcy with $5 Billion in Debt! Dangers of the Retail Ice Age: 12 Major Retailers Throw in the Towel This Year. A Billion Square Feet Available Nationwide!
SPDR S&P Retail ETF (Approx. 11 yrs.)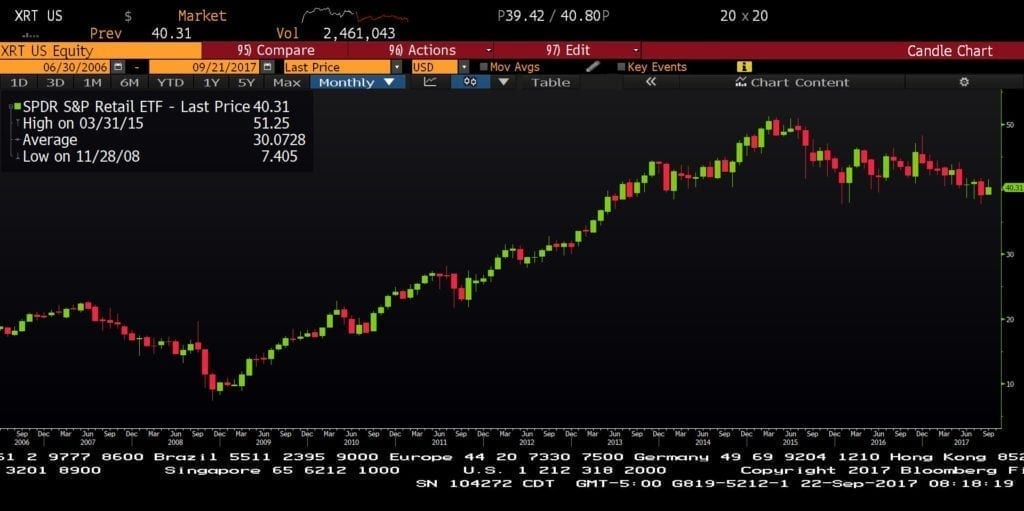 -Courtesy of Bloomberg LP
You Need A Plan!
The Common Sense Financial Plan
IPO – Investment Plan Outline
Know Your Rules (The Rule of 72 and Total Return)
Performance Tracking – How have you done?
Budgeting – Spend less than you make
Reinvest the Rest
Review Discipline
Allocation Strategies
Three Categories – Safety and Income, High Cash Flow, Growth and Income
Buy Discounts and Get Real Cash Flow
Lessons from Bear Markets and Bull Markets
Bear Market
Increase maturity value under control with discounts.
Bonds generally recover faster than stocks.
Forward return in bonds goes up when prices are down.
Bull Market
Low forward earnings yield equals low long term performance.
Don't chase performance.
There is no "new way" to value companies (i.e. tech wreck).
Use targets and alerts for harvesting gains and protecting portfolio.
Empower the Fixed Income and safety Allocations with selective harvests.
Get the cash you will need in the bank before the next bear.
Questions That You Should Ask and Questions Your Advisor Should Ask
Trustee BootCamp
What it means to be a trustee/executor – it's a Fiduciary duty
List of important functions
Family dynamics
Making the money last- no "shirtsleeves to shirtsleeves" please (or the windfall trap)
Also, tips and advice
Why Should I Retain The McGowanGroup?
From your initial visit to the office to each interaction with our team, you will find us devoted to the sacred missions of excellence in service and superior client profits.
The Differences from other Advisors:
Automated Performance Tracking
Disciplined Review Cycles
Portfolio Strategy Updates
The Ability to Delegate as well as Improve Education
Investment Committee Research
Devotion to High Cash Flow Assets
Access to All Team Members
Advanced Financial Planning, Estate Planning Coordination and Execution, and Tax Planning Coordination with your CPA.
Featured Research Solutions:
Investors are invited to improve decision making with a comprehensive tour of global economics, indicators, and actual results.
WHAT DOES A SHRINKING BALANCE SHEET MEAN?
Start the Process Today! Be sure to indicate what size portfolio sample you would like to see. A link will arrive when we receive your questionnaire.