Why is this date significant for the Markets?
This is the time of year we update allocations for 401k plans and 529 plans. The reason is clearly spelled out in the study by The Stock Traders Almanac in the section "sell in May and go away". 
Two insights are detailed: The returns on the Dow from May 1st to November 1st are nearly flat for the 60 year time period referenced. Most of the long term returns from the Dow are from Halloween to May illustrating the significance of
Cinco de Mayo, the anniversary of the Mexican victory over French forces at the battle of Puebla
. The other significance, of course, includes great Tex-Mex food and delightful beverages!
The implication is that, longer term, Halloween through the apex of tax loss harvesting in December statistically marks attractive allocation dates. Of course history relied upon in Finance will, occasionally, negate premises due to investor mass pricing behavior.
What to do now?
As we enter "Harvest Season" investments that provide inferior cash flow that have not delivered gains should be considered for more conservative replacements until Halloween or Tax Loss selling bargain season. Money markets are available with yields over 2% until better bargains are found.
The markets often move contrary to their seasonal, statistical tendencies. The guidelines remain valuable and we will cover the subject in depth in this week's action packed program!
Dow Jones Industrial Average Index and Standard & Poor's 500 Index (Approx. 3 Years)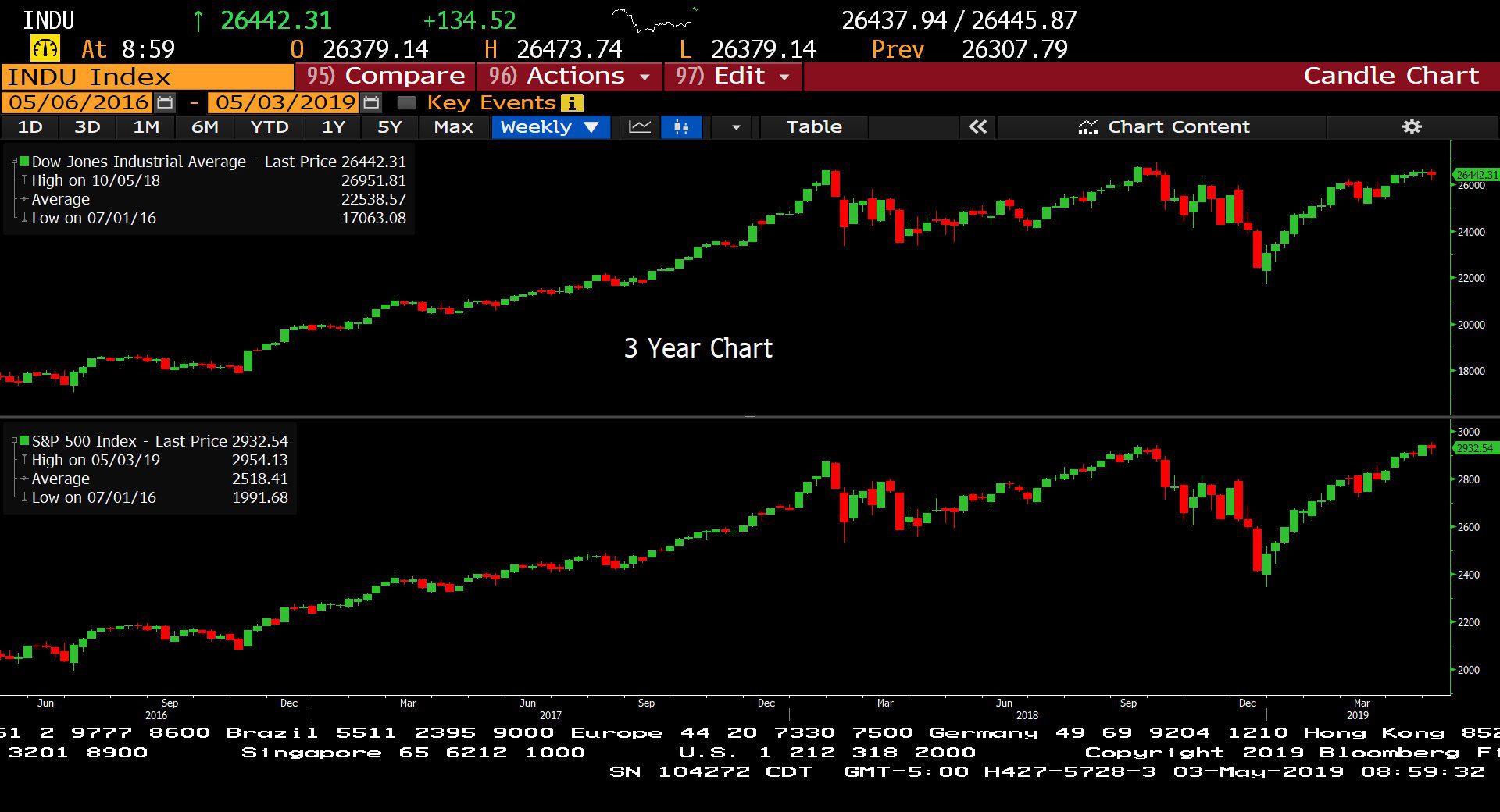 – Courtesy of Bloomberg
New York Stock Exchange FANG+ Index (Approx. 3 Years)
 – Courtesy of Bloomberg
iShares iBoxx High Yield Corporate Bond ETF with Dividend Adjusted Value (Approx. 12 Years)
– Courtesy of Bloomberg
The Goldman Sachs Group, Inc., Tiffany & Co., and Harley-Davidson, Inc. (Approx. 15 Years)
– Courtesy of Bloomberg
Anadarko Petroleum Corp. & Occidental Petroleum Corp. (Approx. 3 Years)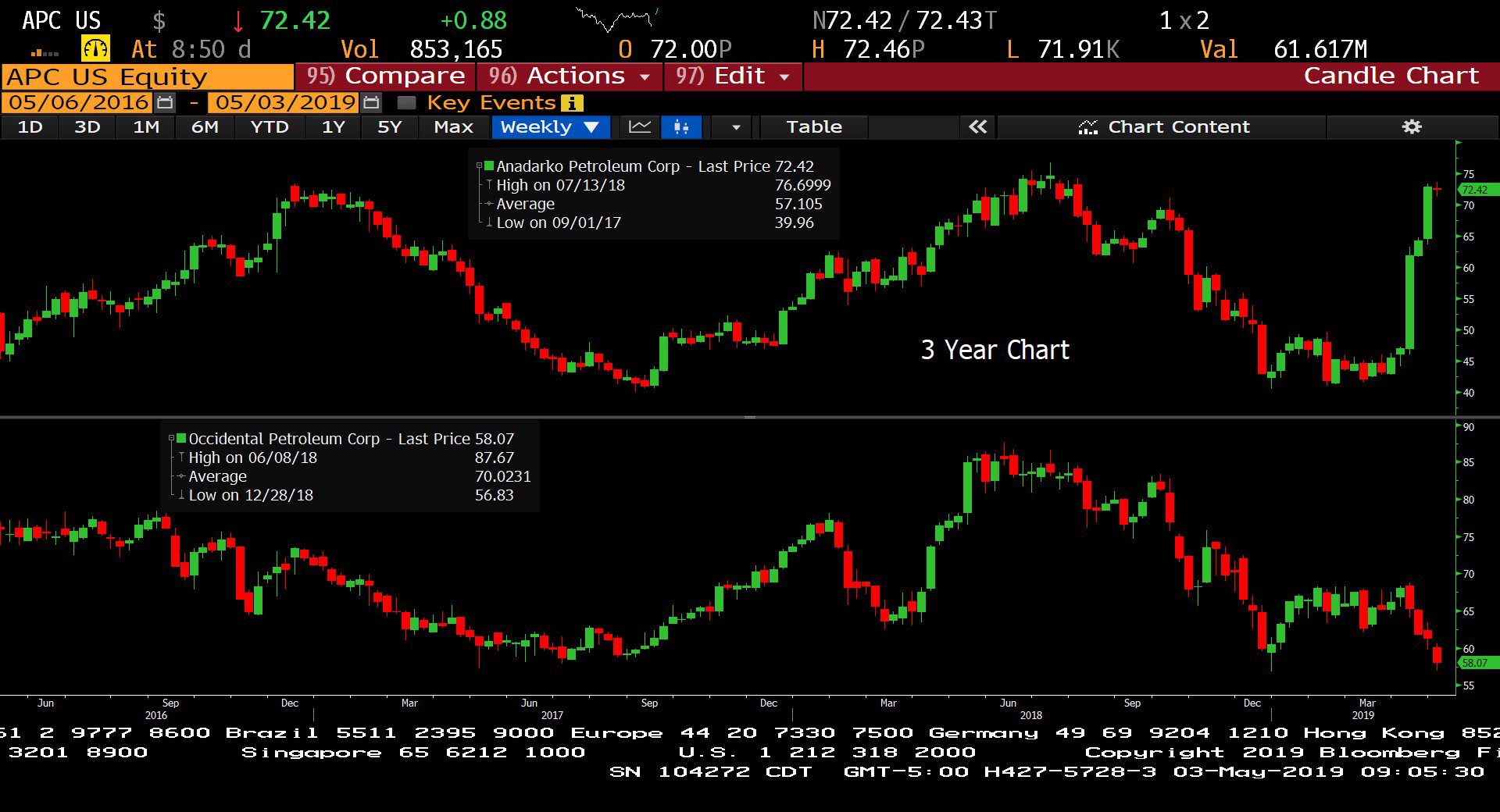 – Courtesy of Bloomberg
Headline Round Up!
*Fed Cites Low Inflation?! Standstill Continues on Rates! All clear signal for Bonds?
*Europe Yields Slumping Further into NEGATIVE TERRITORY?
*Productivity Surges Explaining Key to Low Inflation.
*Lotsa Jobs! ADP Said 275,000 New Private Payroll Jobs vs 177,000 Government Estimates.
*Sideways Market: S&P Earnings Update: Q1 Profits Down 2.3% According to FactSet.
*Your Home Price Increased Only 3.4% in North Texas. Slowest Gains Since 2012.
*Beyond Meat IPO? Where's the Beef?
*Permian Basin Gold Rush Continues with Exxon Shifting Gears after Tough Earnings Report.
* Royal Dutch Shell Blows Away Estimates with Natural Gas Power!
*U.K. Importing More LNG than EVER!
*Houston Based Anadarko Takeover by Occidental Petroleum Funded by Warren Buffett! What does this tell us as investors?
*Midland Odessa Fastest Growing City in the US!?
*Earnings Updates: Google Alphabet Spanked, Apple Shines. Investor intelligence reports on what Earnings Season tells us so far. Tech leadership over?
*Cannabis Gold Rush Updates.
Profit Report!
*The Engine of US Growth: Millennials!
*Japan Has 8 Million Homes Empty? Demographic depression?
*What goes into a great Investment Plan?
*Your Estate Plan! Who will process it if you are not here?
*Low Inflation below Fed Target raises the issue of Deflation risk again?
*Tax Planning Season: What can help with taxes now that Municipal Bonds are expensive?
Research Round Up!
Investors are invited to improve decision making with a comprehensive tour of global economics, indicators, and actual results.
---
Start the Process Today! Be sure to indicate what size portfolio sample you would like to see. A link will arrive when we receive your questionnaire.