Throughout the 4th quarter of 2018, we emphasized in each broadcast the bargains to accumulate, where appropriate, in global high yield bond funds and energy infrastructure. These high cash flow assets led traditional fixed income and equity index allocations in January's rally.
This weekend's program takes the capital call into an action plan for now and the next 5 years. Last January, the rebalancing correction that took the Dow from 26,500 to near 23,000 began on about January 28th. January ending money flows are notably different with the Dow holding gains of approximately 7% since the beginning of the year.
Join us for a fast pace tour and analysis of the earnings results posted so far in 2019 along with what it means for investment strategy. The power of reinvestment over the next few years can make a powerful difference for you and your family.
Dow Jones Industrial Average (12/31/2018 – 02/01/2019)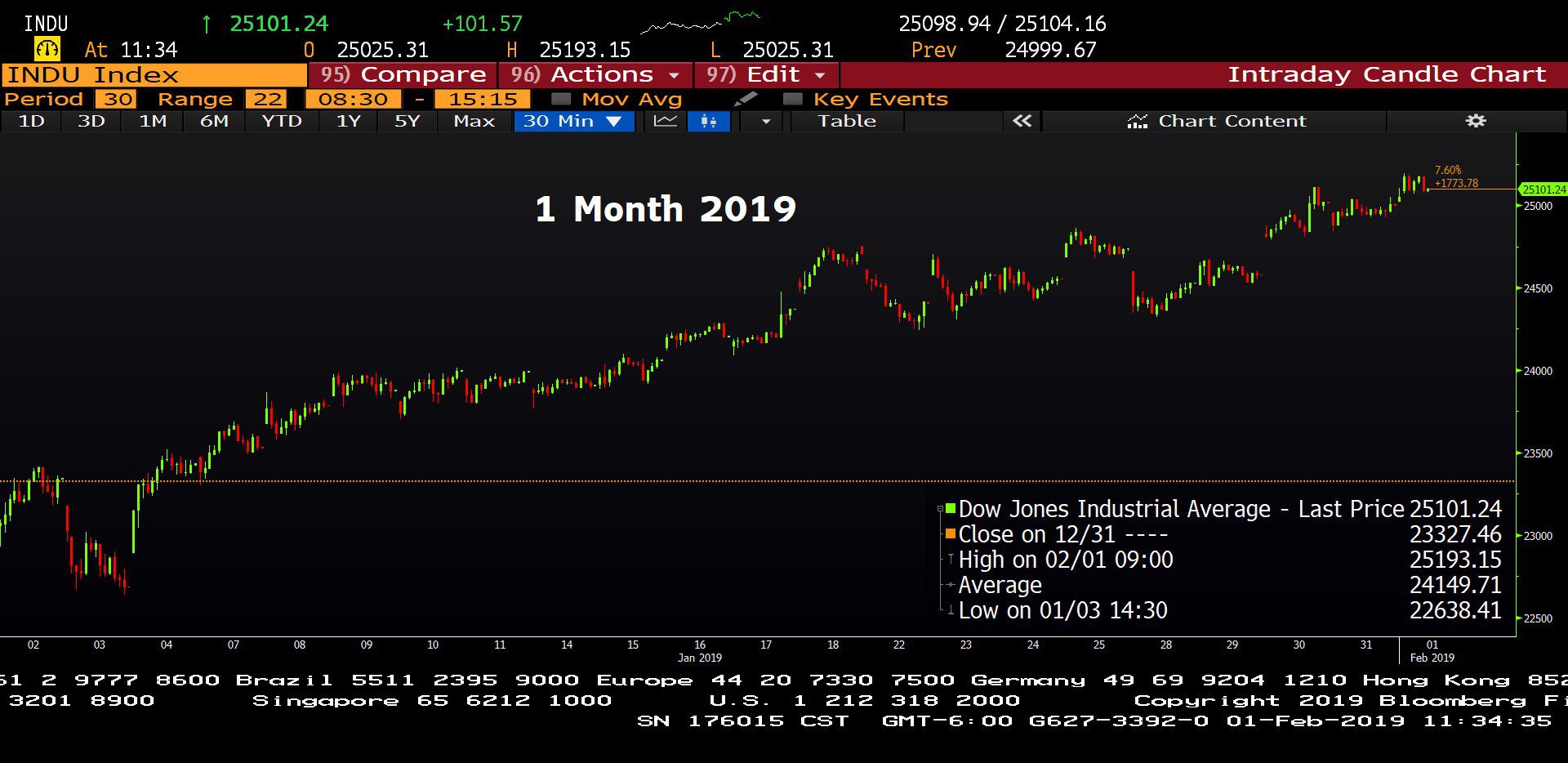 -Courtesy of Bloomberg
Dow Jones Industrial Average (12/28/2017 – 02/09/2018)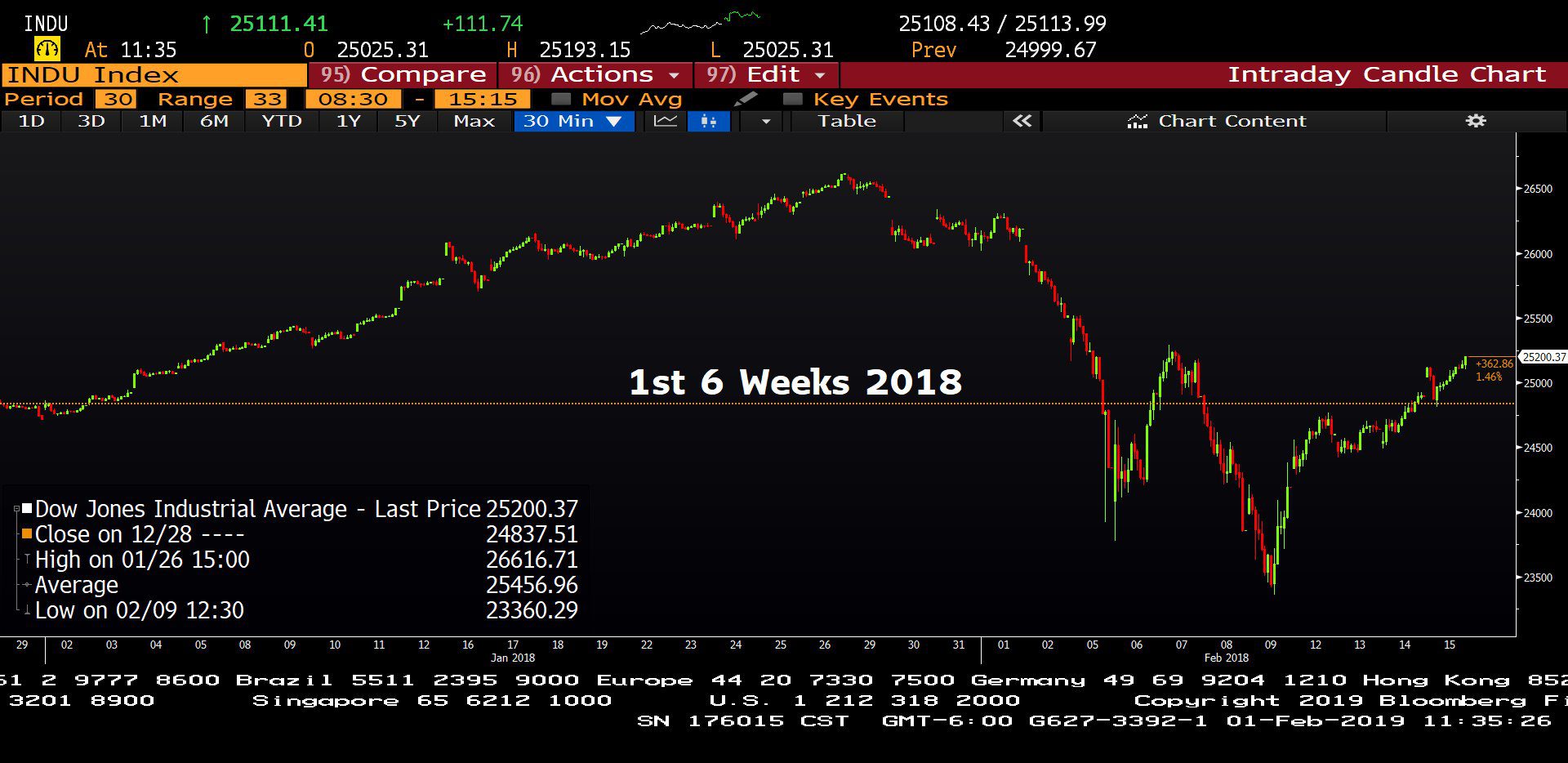 -Courtesy of Bloomberg
C.B.O.E. 30 Year Treasury Bond Yield Index & 10 Year Treasury Note Yield Index (Approx. 3 Years)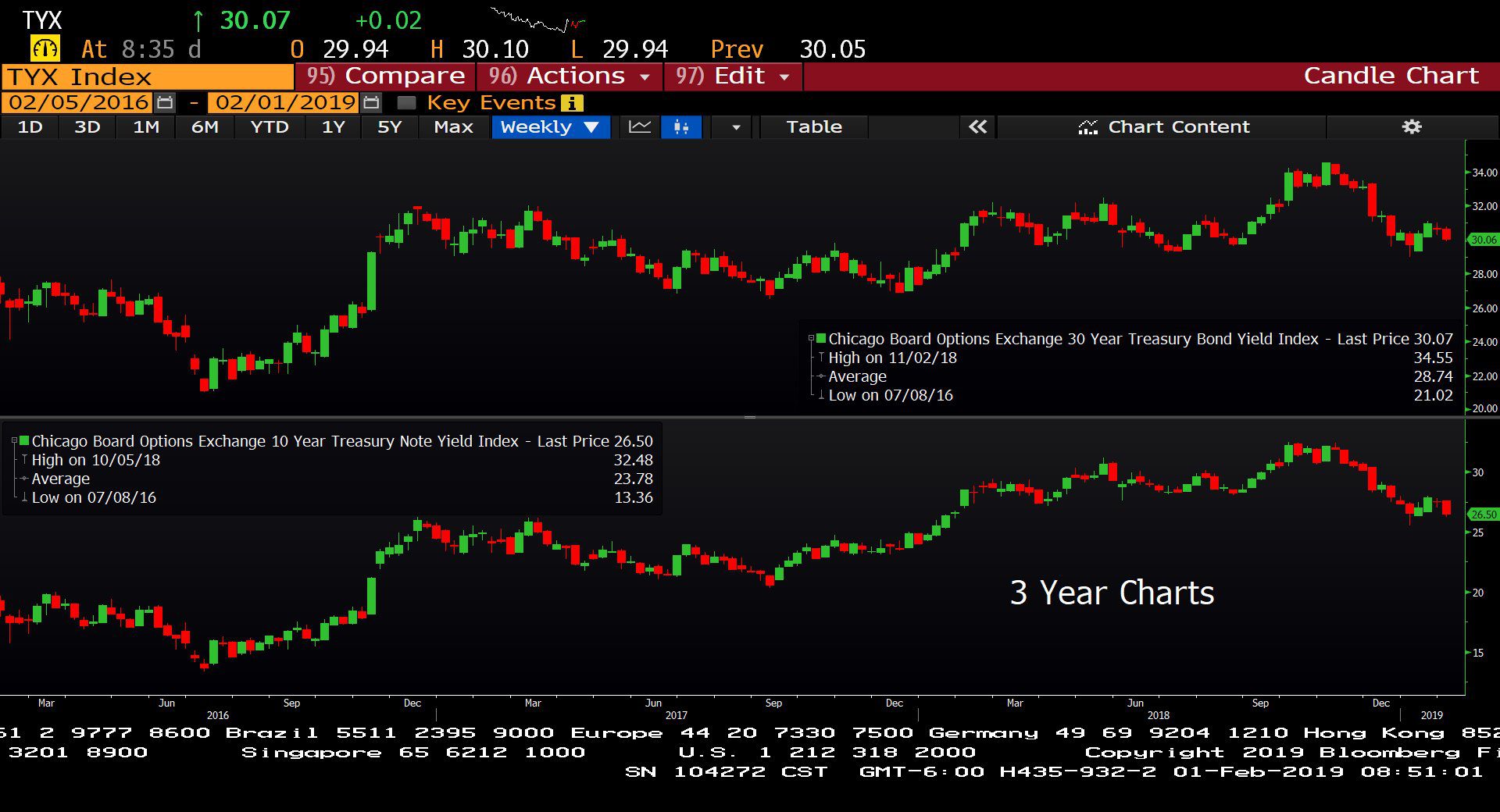 -Courtesy of Bloomberg
Harley-Davidson, Inc. (Approx. 3 Years)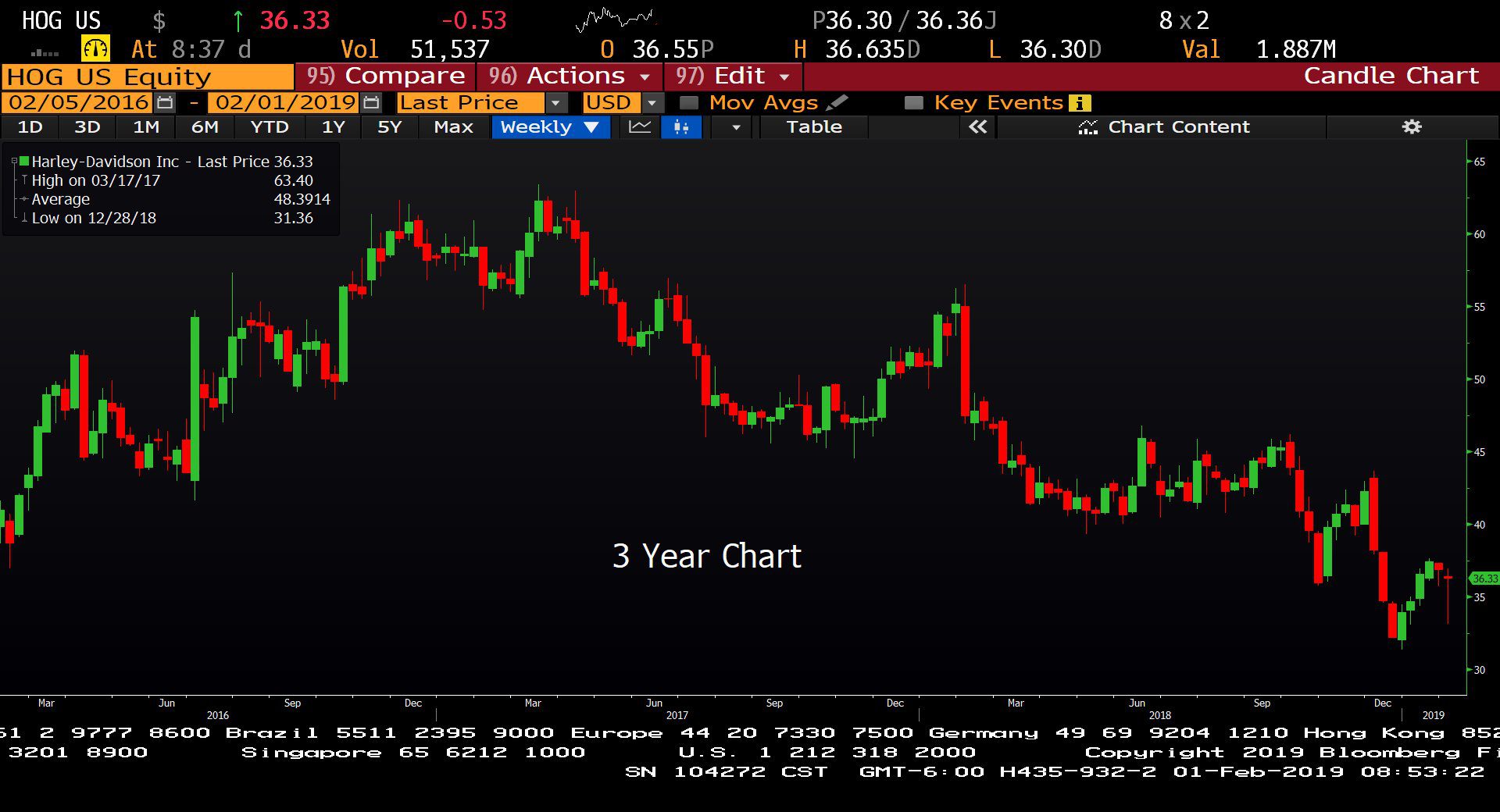 -Courtesy of Bloomberg
Alerian MLP Index & West Texas Intermediate Crude (Approx. 5 Years)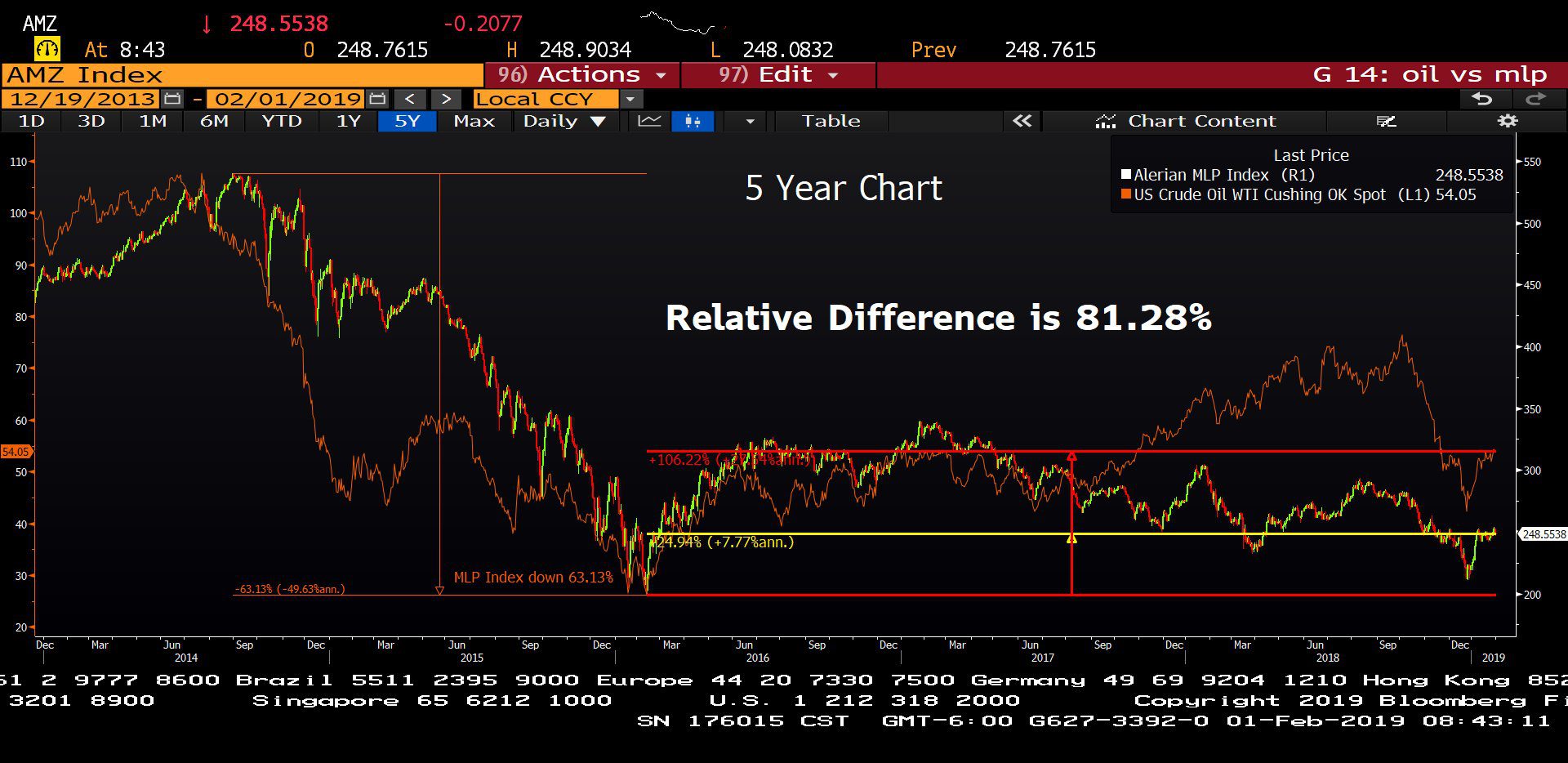 -Courtesy of Bloomberg
Headline Round Up!
*The South Park Effect: Harley Slammed After Conceding a Hard Time Reaching "The Younger Generation."
*Boeing's Amazing Results.
*Facebook Spikes Over 10% on Earnings Report.
*Apple Revenue Declines. Stock Rallies?
*Caterpillar Squished! Global Slowdown?
*GE Climbs Off of the Pavement.
*Enterprise Products Home Run Earnings and Revenue Increases!
*Conoco Philips Revenue and Earnings Up Over 20%.
*LNG Updates: Cheniere Energy Hits Another 52 Week High. Saudis Coming to East Texas?
*Royal Dutch Reports 8% Increase in LNG Revenue
*Oil Hits $55 Largest January Gain on Record.
*Blackstone Buys $3.3 Billion Stake in Tallgrass Energy Pipelines.
*Exxon Mobil Conference Call Features CEO.
*Fed Confirms No More Rate Increases in Near Future. All Clear for Bonds? Not all of them, cash flow is likely king.
*US To Borrow Another $1 Trillion?
*NetWorth Radio Interview Presages Huawei Stealing Charges.
*Apple Car Worker Steals Secrets and Then Tries to Bolt to China. Do we see a pattern here? 2nd Chinese Theft Case Since July!
*Your Home Price Stalling. Hit the Bid?
*Frisco Adding 37 People a Day. Fastest Large City in US. Texas Has 5 of 15 Top Population Growth. Focused Around Austin.
*Tesla Loses CFO Again and Hires a 34 Year Old?
*Hackers Steal $1 Billion in Bitcoin and Other Crypto Currencies.
*MGM and Budweiser Launch Renewables.
Profit Report!
*The Updated Estate Planning Package!
*Trustee Boot Camp: Get your Heirs Smart! Lessons from MGAM winning clients! Frugality, enterprise, and passions for investing.
*401k: Semi Annual Allocation process and the Direct Rollover Conference Call.
Research Round Up!
Investors are invited to improve decision making with a comprehensive tour of global economics, indicators, and actual results.
---
Start the Process Today! Be sure to indicate what size portfolio sample you would like to see. A link will arrive when we receive your questionnaire.