One important headline can shift mass psychology in an extraordinary way. In fact, a change in perspective for leaders and investors often ripples through the possible outcomes changing the outcomes irreversibly. 2020 just shifted dramatically this week, and we are here to show you how.
This week's NetWorth radio program will, in our opinion, weave a tapestry of strategy for 2020 bringing to life the meaning of the headlines, resulting perspectives, and shifting outcomes most important for your success as an investor over the next decade.
As we dance through the headline round up and you scroll through the research the possible outcomes for the markets and for your own portfolio are about to come to life in a way that just won't happen anywhere else.
Dow Jones Industrial Average Index (Year to Date)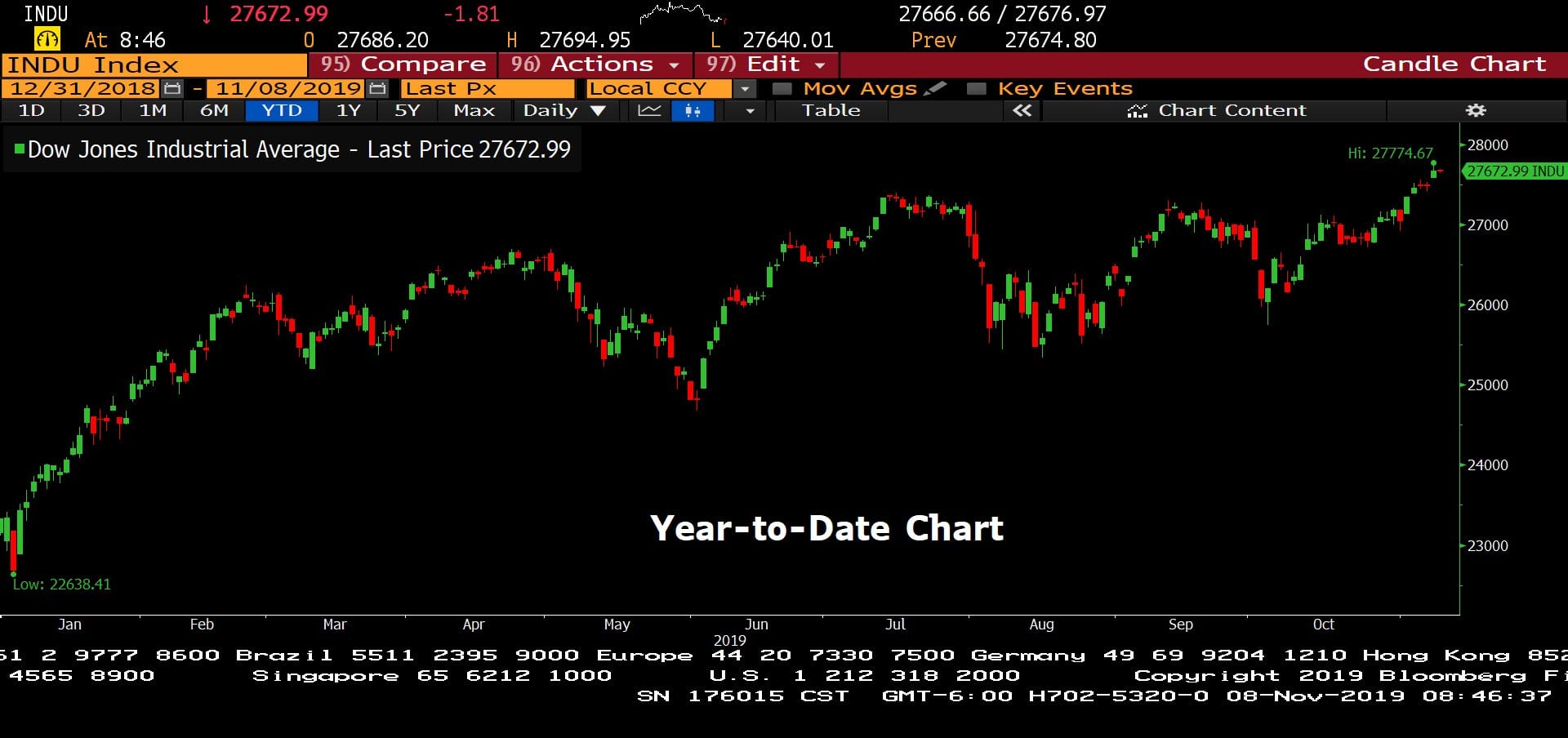 – Courtesy of Bloomberg LP
Dow Jones Industrial Average Index (3 Years)
– Courtesy of Bloomberg LP
Standard & Poor's 500 Index – Quarterly Earnings Estimates (11/08/2016 – 11/08/2019)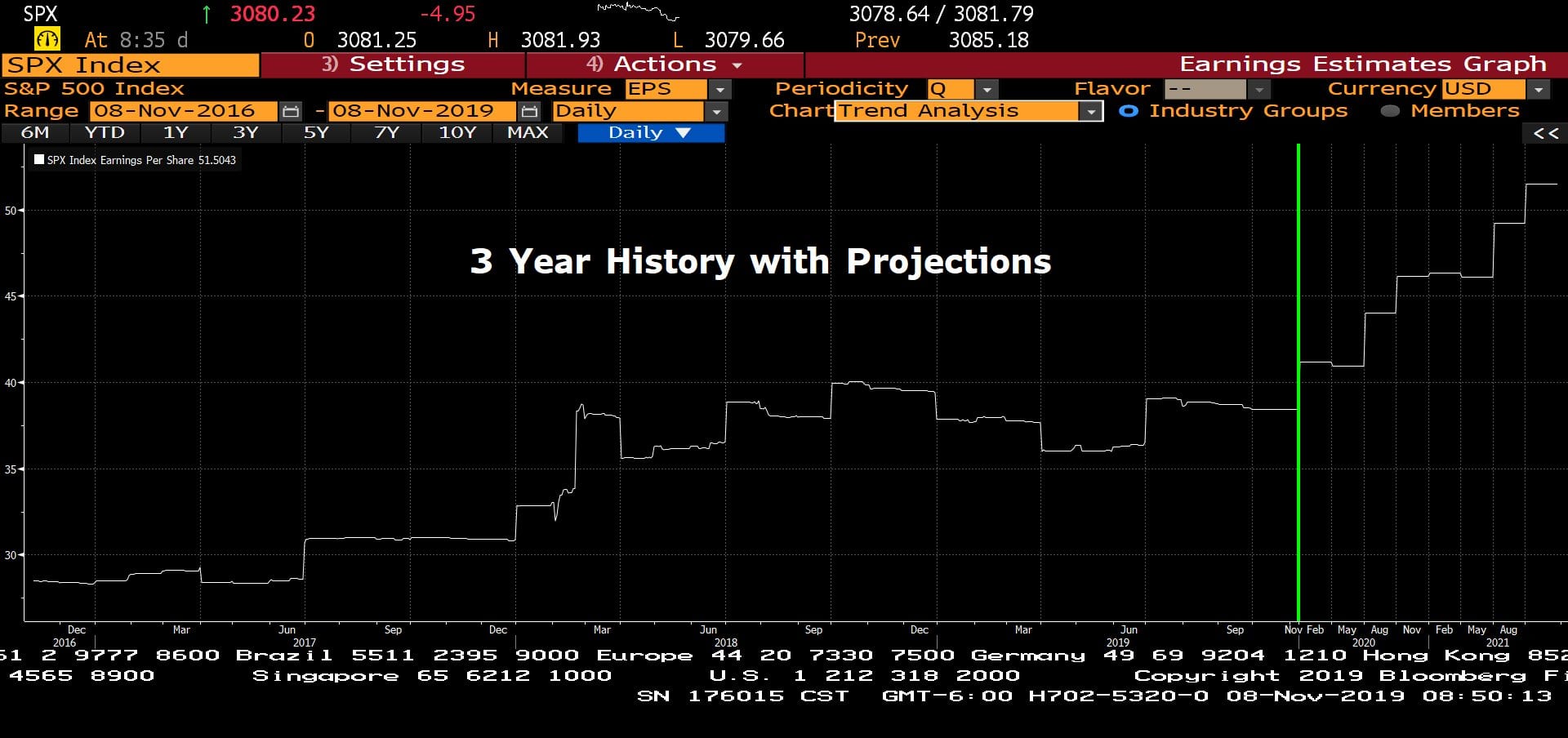 – Courtesy of Bloomberg LP
MGAM Energy Infrastructure Indicator & U.S. West Texas Intermediate Crude Oil Spot Price (15 Years)
– Courtesy of Bloomberg LP
JPMorgan Guide to the Markets,  4th Quarter – September 30, 2019, pg. 65
Guide to markets pg65 10.18.19
– Courtesy of JPMorgan
Headline Round Up!
*New Equity Index Highs! Why?
*Free Trade Fair Trade! This Week's Dramatic Demonstration for Investors: The Possible Shift from "Malaise," "Slowing Global Growth," and Pessimism to Optimism?
*"Looming Recession." Melted?! Vanquished?!
*JOBS! 5.8 Million Unemployed. 7 Million Jobs Ready to Be Filled! 5.6 Million Positions Filled in One Year.
*Services Index Expanding 54.6% Indicates Near 5% Expansion for the Sector.
*Markit Manufacturing PMI improves to 50.6%.
*Home Price Gains Accelerating? Median Home Sale Price Up 5.1% from 2018.
*Less Productive? First Drop in Productivity Since 2015?
*Buffett Record Cash Over $120 Billion and Money Market Cash Grew $1 Trillion to a Total of $3.4 Trillion Pile of CASH. What Will They Buy? Cash Flow Revolution?
*High Yield Funds Overall Return Hits 12.1% for 2019. What is the guidance for fixed income strategy?
*Under Armour Swimming Naked?
*Rate Spike Like 1994? The story of the West Texas Rotary Club and Duration Risk.
*Ray Dalio Says "The World Has Gone Mad."
*Xerox Considers Takeover Offer for HP???
*Told Ya! We Work Didn't Work!
*Earnings Reports from Uber, Peloton and UNP!
Texas Black Gold Rush!
*2019 U.S. Reaches Energy Independence. Our Projection Confirmed!
*Natural Gas Rallies on Cold Winter. 7 Month High!
*OPEC Market Share Shrinks. God Bless Texas!
*Oil and Gas Earnings May Mark the Energy Sector Low.
*MGAM Energy Infrastructure Index and Potential Outcomes. Buying Energy Cash Flow at the Equivalent of $30 per Barrel Oil?
Profit Report!
*Tax Loss Harvesting Impact and What to Do About It.
*Total Return Profit = Cash Flow + Change in Value
*Performance Reporting and Realistic Volatility
*Choices and Future Cash Flows.
*Choices and Potential Appreciation vs Value at Risk of Loss!
*Trustee Bootcamp Goes Global!
NetWorth Radio's North Texas Business Leadership Series

: Spencer McGowan Interviews Leigh's Hilton –  Founder, Accredited Estate Planner® and Attorney at Law at Leigh Hilton P.L.L.C.
---
Leigh Hilton has helped over 6,000 families protect the assets that they leave to loved ones from divorce, creditors, lawsuits and predators. She has also helped over 350 implement the plans that she has prepared after the death of a loved one and helped over 1,200 families implement the plans prepared by other attorneys. She is the author of the book Who Gets Your Stuff When You Die and a frequent speaker. She has given over 400 speeches to various organizations and groups.
She is an Accredited Estate Planner®. She would welcome the opportunity to meet with you to discuss how to protect your family. She has over 24 years of legal experience in the practice areas of Estate Planning and Probate. She routinely prepares simple estate plans as well as very complicated Wills and Trusts for high wealth individuals. Whether your estate is large or small, simple or complex, Leigh would welcome the opportunity to meet with you to discuss your estate planning needs. Leigh also helps with Special Needs, Medicaid, and Veterans' planning.
Leigh was born in Dallas and grew up in Denton. She attended the University of North Texas where she earned a Bachelor of Science, graduating with honors in 1989. She earned her law degree at the South Texas College of Law in Houston, TX, where she graduated Summa Cum Laude in 1992. She has been married for 29 years and is the mother of two boys.
She is a member of the Wealth Counsel, National Association of Elder Law Attorneys, and Elder Counsel.
Leigh Hilton is proud to provide legal counsel rooted in Christian values.
Research Round Up!
Investors are invited to improve decision making with a comprehensive tour of global economics, indicators, and actual results.
---
Start the Process Today! Be sure to indicate what size portfolio sample you would like to see. A link will arrive when we receive your questionnaire.