Since 2009, there have been 4 market corrections with similar headlines: Slowing growth? Recession? Debt Contagion?, often with dire predictions of another collapse concurrent with high investor anxiety:
2010 "Flash Crash"
2011 "Greek Debt Crisis"
2015-2016 "China Slowdown"
2018 "Mini Panic"
These corrections appeared to have in common often salacious headlines of impending disasters that actually did not disrupt the longer term growth of the profits of U.S. companies.
NetWorth Radio's devotion to education and research continues with up to the minute news of current earnings reports and what it means for long term income investors.
Dow Jones Industrial Average (Approx. 10 Years)
-Courtesy of Bloomberg
Alerian MLP Index (Approx. 23 Years)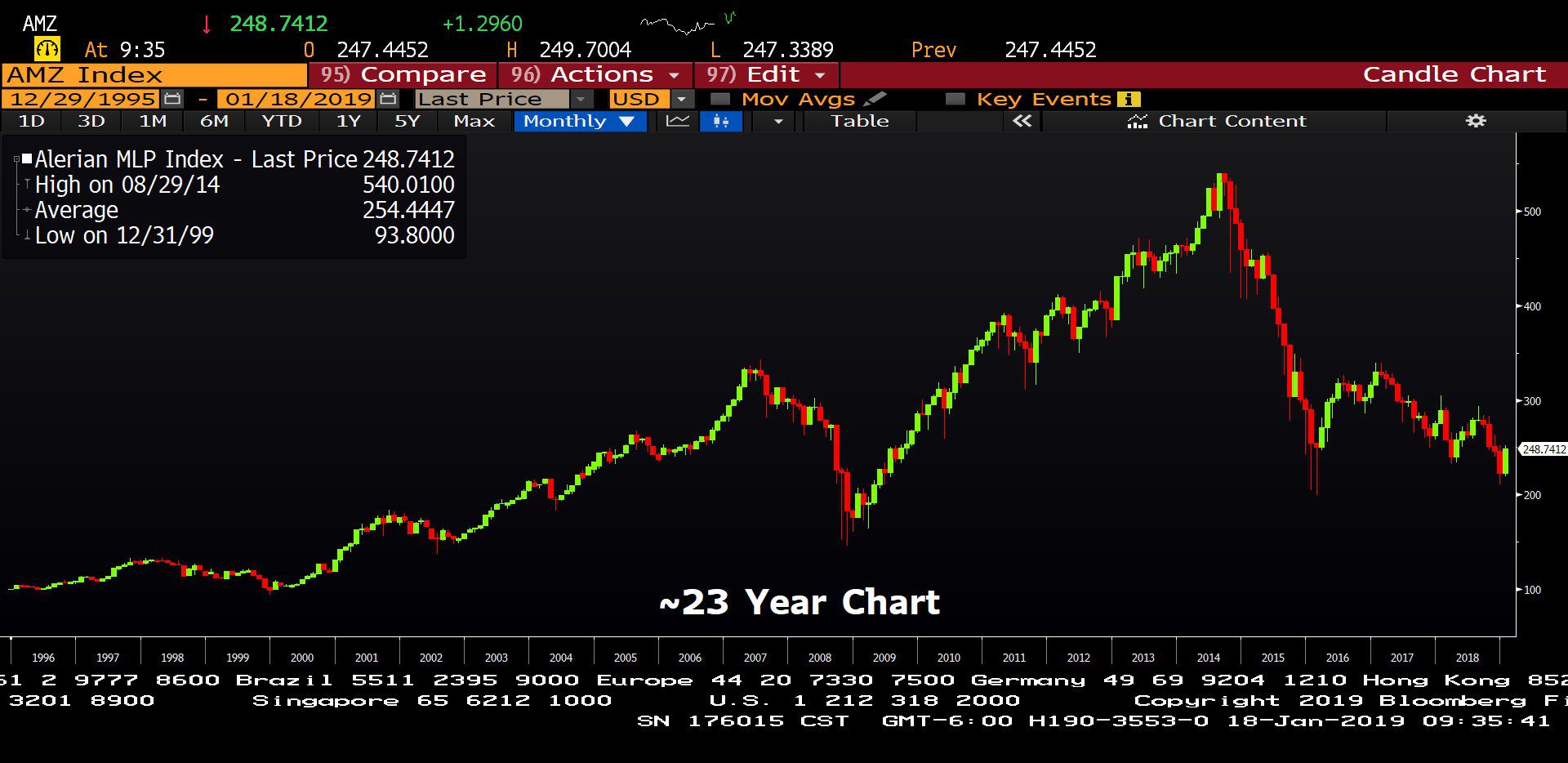 -Courtesy of Bloomberg
iShares JPMorgan USD Emerging Markets Bond ETF (Approx. 10 Years)
-Courtesy of Bloomberg
JPMorgan Chase & Co. AND Citigroup Inc. (Approx. 20 Years)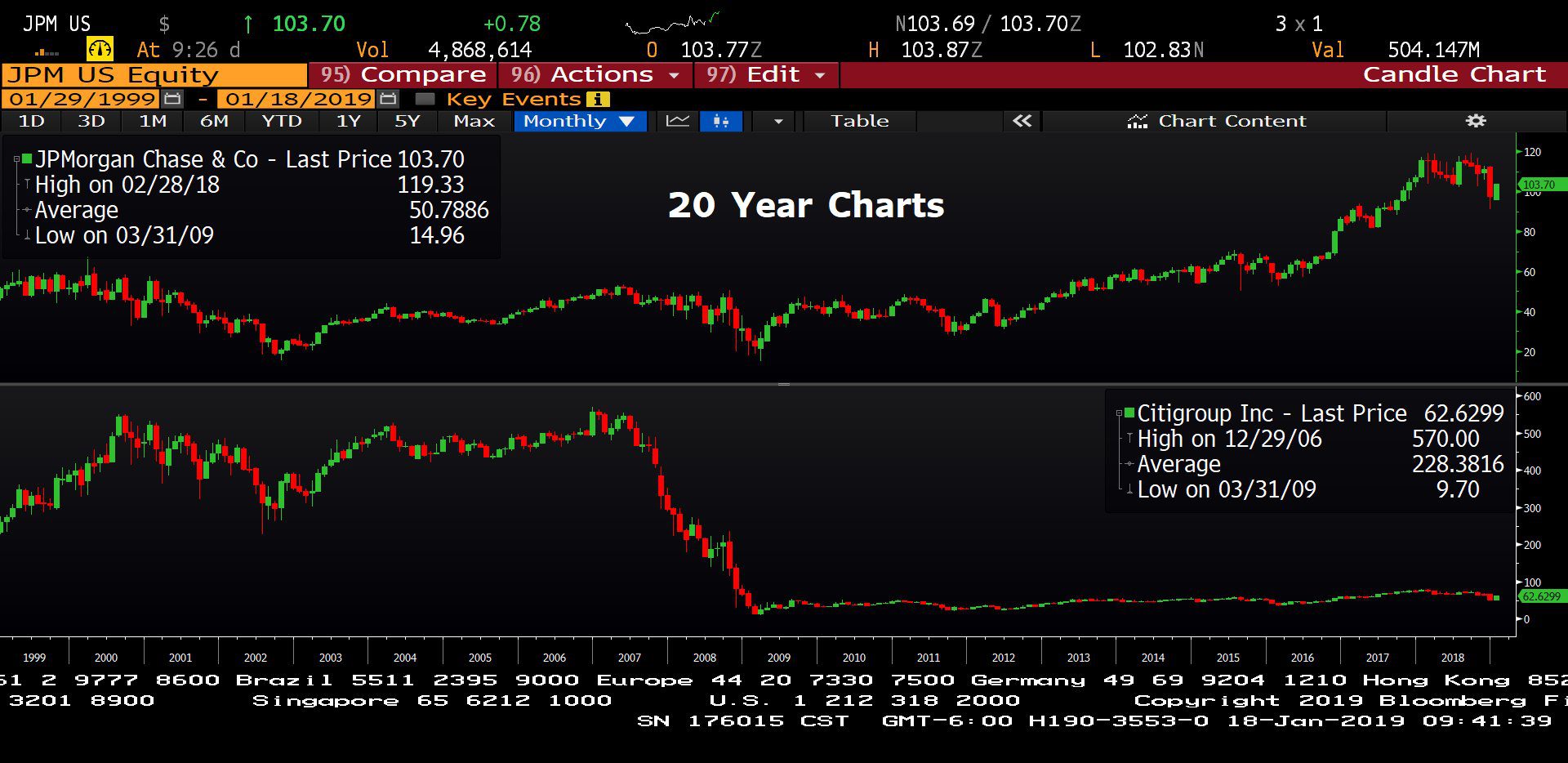 -Courtesy of Bloomberg
Headline Round Up!
*Deflation! Lower Rates? A Dollar Tomorrow Worth More than a Dollar Today? What Does it Mean for 2019?
*Oops! Fed Inflation Hawks Turn Into Doves Including Dallas Fed President.
*Bank Earnings Week: Bank of America, Citi, Morgan Stanley, and Goldman Sachs.
*Kinder Morgan Reports 7% Free Cash Flow Increase with Forecast of a 25% Dividend Increase Coming and $821 Million Excess Cash Flow Above Most Recent Dividend!
*Kinder Controls About 40% of Natural Gas Flows.
*Next Liquid Natural Gas Terminal Almost Ready.
*OPEC Production Falls Most in 2 Years on Saudi Cuts. Russia.
*U.S. Adds Another 200,000 Barrels Per Day in Production in Most Recent Report.
*Over $30 Billion in New Pipelines Needed. Current Pipelines Near Capacity.
*Permian Nears 4 Million Barrels per Day. Shipping Capacity 3.5 Million.
*Home Builder Index Stabilizes.
*Canopy Growth Smokin'! Hemp Plant in New York State.
*Beer Drinkers Burping Too Much. What Will be the Next Beverage Boom? Maybe CBD?
*Double Dippin' While We Workin'? WeWork CEO Pays Himself Rent.
*Junk Bond High Yield Forecasts Go from Good to GREAT! Parallels to 2011 Head Fake Trading Opportunity.
*Record ETF High Yield Inflows!
*Gross Results!
*Netflix Earnings this Week's Focus for F.A.A.N.G. Investors.
*Buybacks Up 75% For Many Blue Chips After Tax Cuts.
Profit Report!
*Sir John Award: John Bogle Vanguard Founder Dies at 89. Vanguard $5 Trillion in Assets.
*Bozo Award: Eddie S. Lampert and Sears
*401k: Semi Annual Allocation process and the Direct Rollover Conference Call.
Research Round Up!
Investors are invited to improve decision making with a comprehensive tour of global economics, indicators, and actual results.
---
Start the Process Today! Be sure to indicate what size portfolio sample you would like to see. A link will arrive when we receive your questionnaire.