The Stock Traders Almanac published this quote to underscore a significant statistical correlation with January and the calendar year. The discussion progresses to note that the "First 5 days" are often correlated with January, and the rest of the calendar year.
What have the first 7 trading sessions potentially forecasted? First, volatility and second a possible continued uptrend for equity.
The charts for year to date Dow futures, Oil, and Gold, telegraph that increase in trading volatility above 2019.
Further, the charts for defense stocks, Raytheon, Lockheed Martin, and United Technologies underscore the escalation and de-escalation of the Iranian conflicts since 2020 began. Unless the Islamic Republic changes its name, the de-escalation appears potentially to be another Sun-Tsu style head fake by Iran.
Closer to home and domestic cash flow portfolios, the year to date charts for Global High Yield bond funds and Energy Infrastructure telegraph a continued uptrend in the first 7 trading days.
Statistic overconfidence can be dangerous which leads us to the discussion of tactical harvest points during 2020 to increase safety.
Mini Dow Jones Industrial Average Index – Chicago Board of Trade Futures (Year to Date)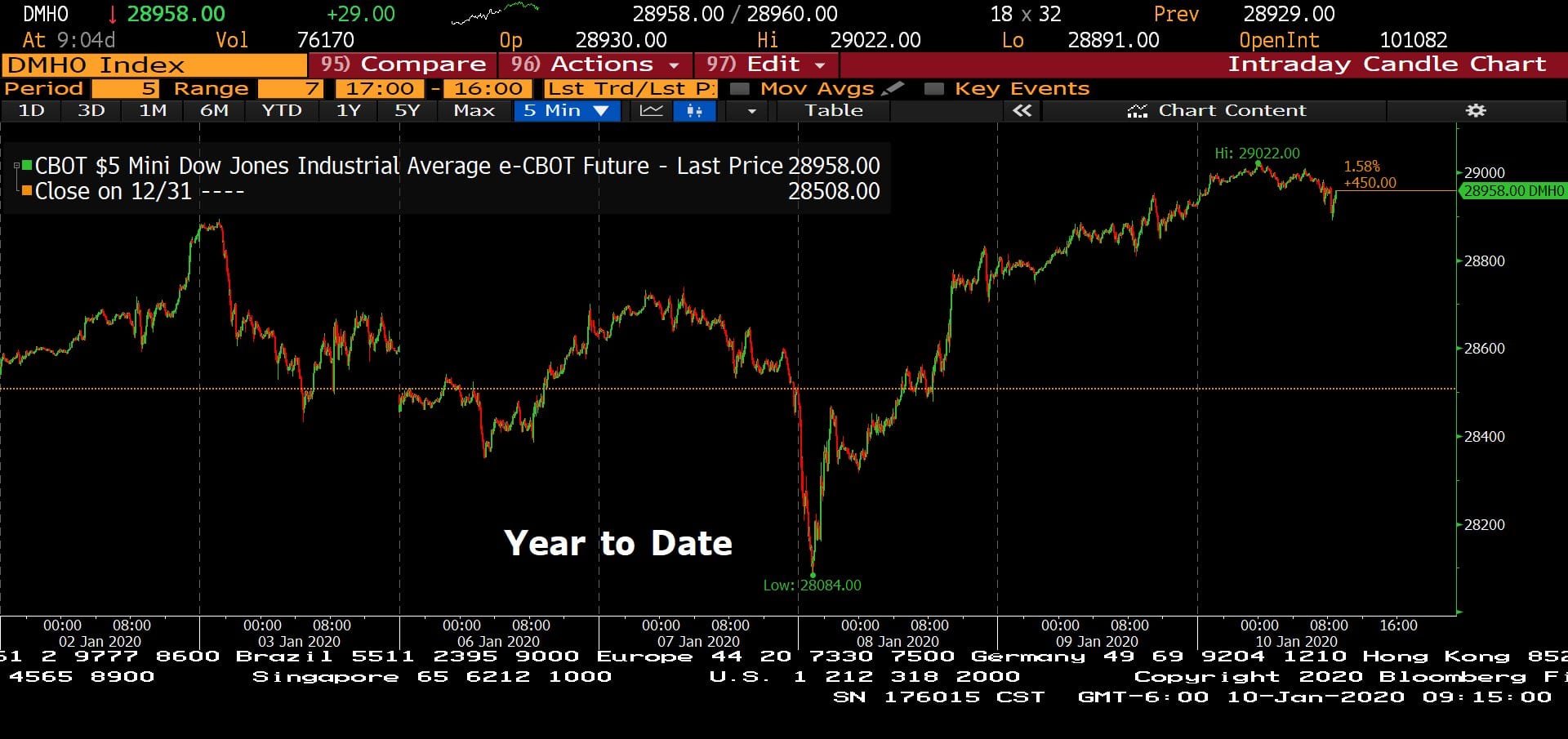 – Courtesy of Bloomberg LP
Western Asset Emerging Markets Debt Fund, Inc. (Year to Date)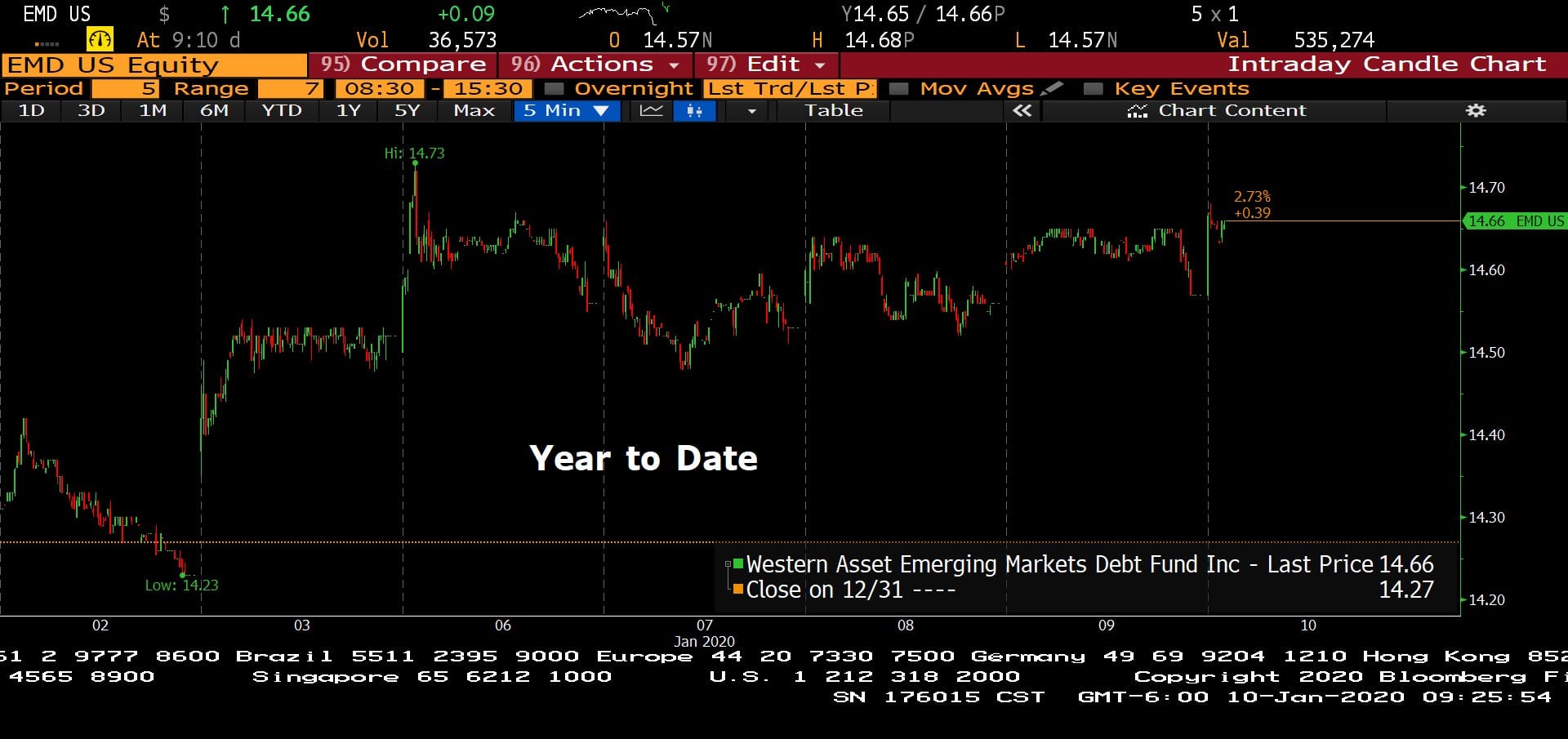 – Courtesy of Bloomberg LP
ClearBridge MLP & Midstream Fund, Inc. (Year to Date)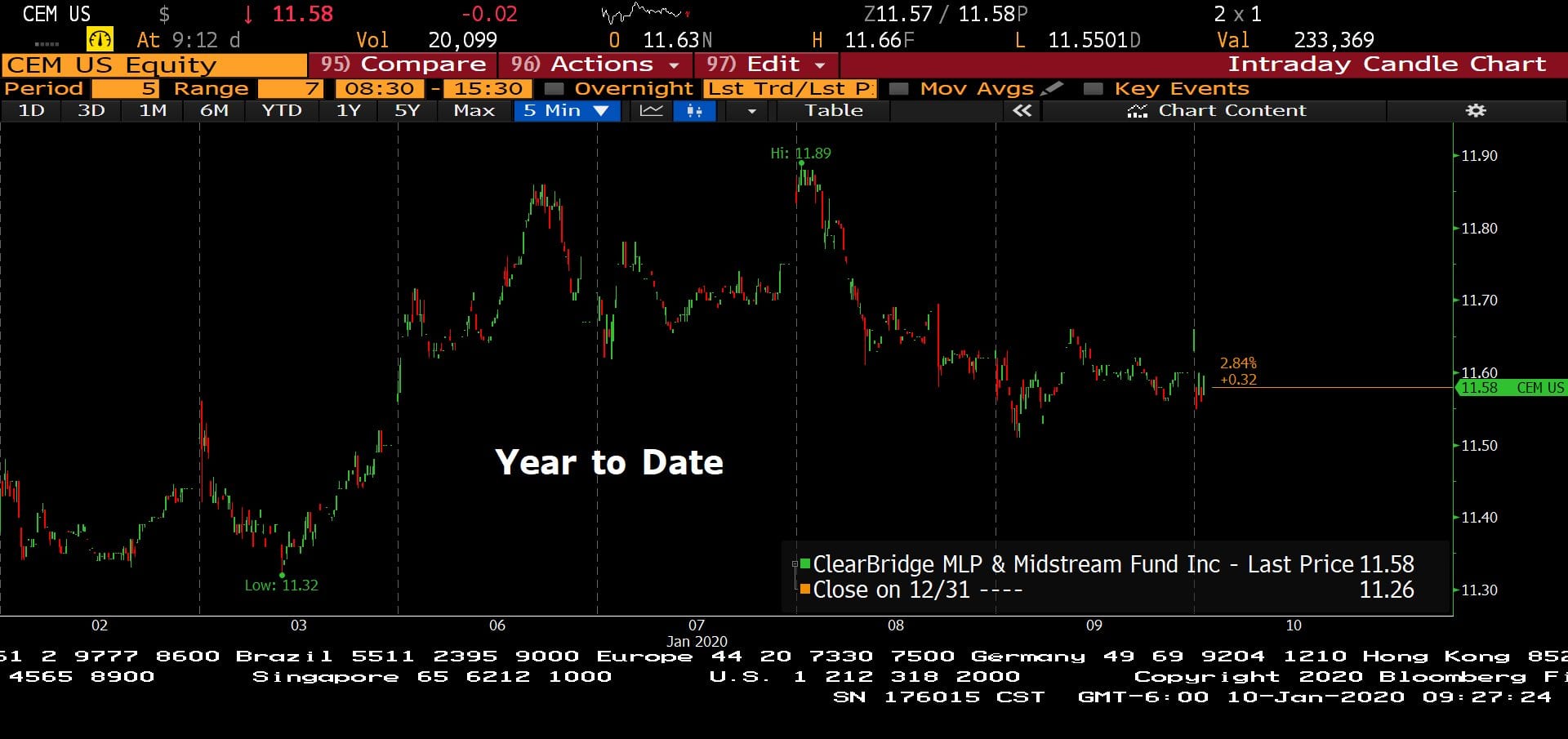 – Courtesy of Bloomberg LP
West Texas Intermediate Crude Futures, February 2020 (Year to Date)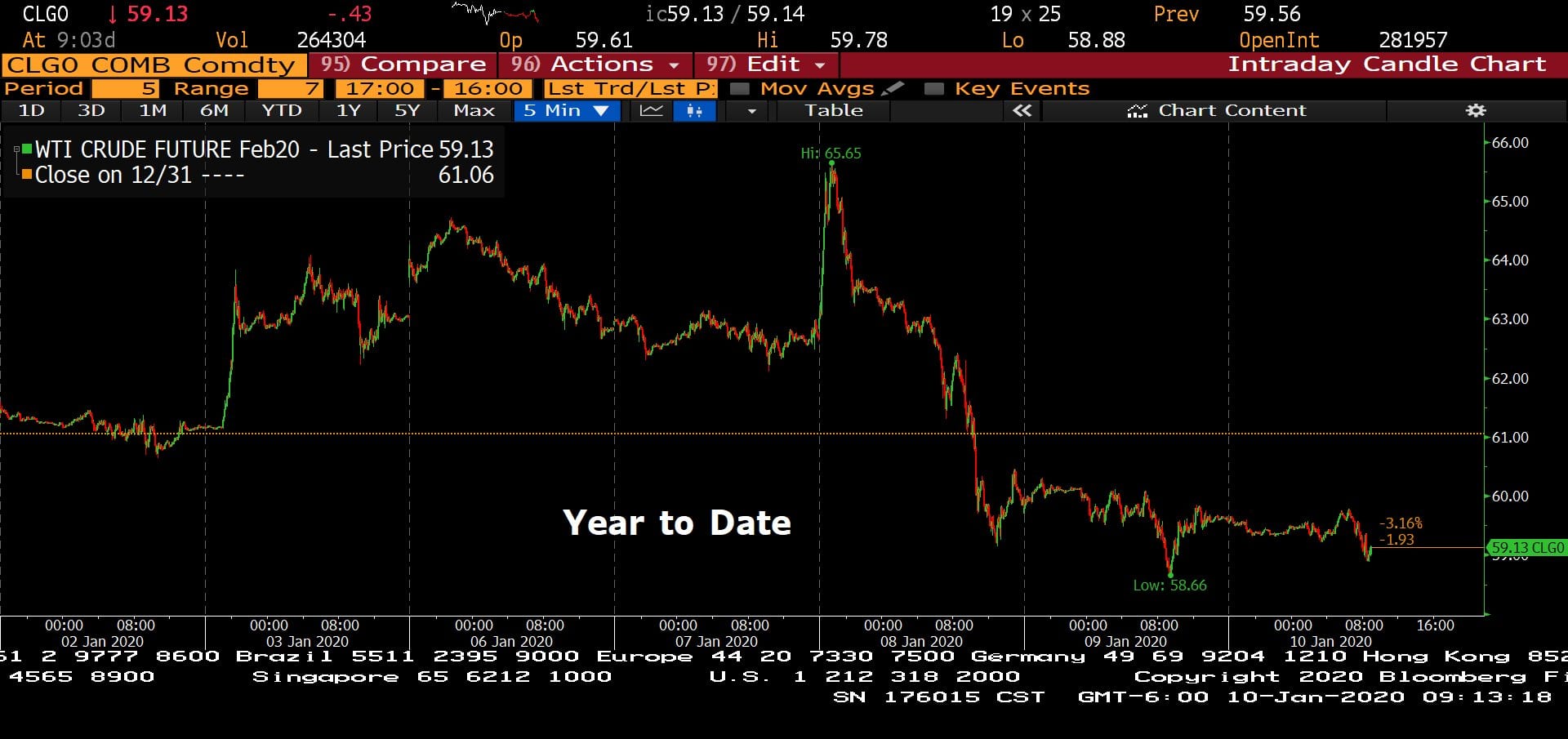 – Courtesy of Bloomberg LP
Gold Spot Price
(Year to Date)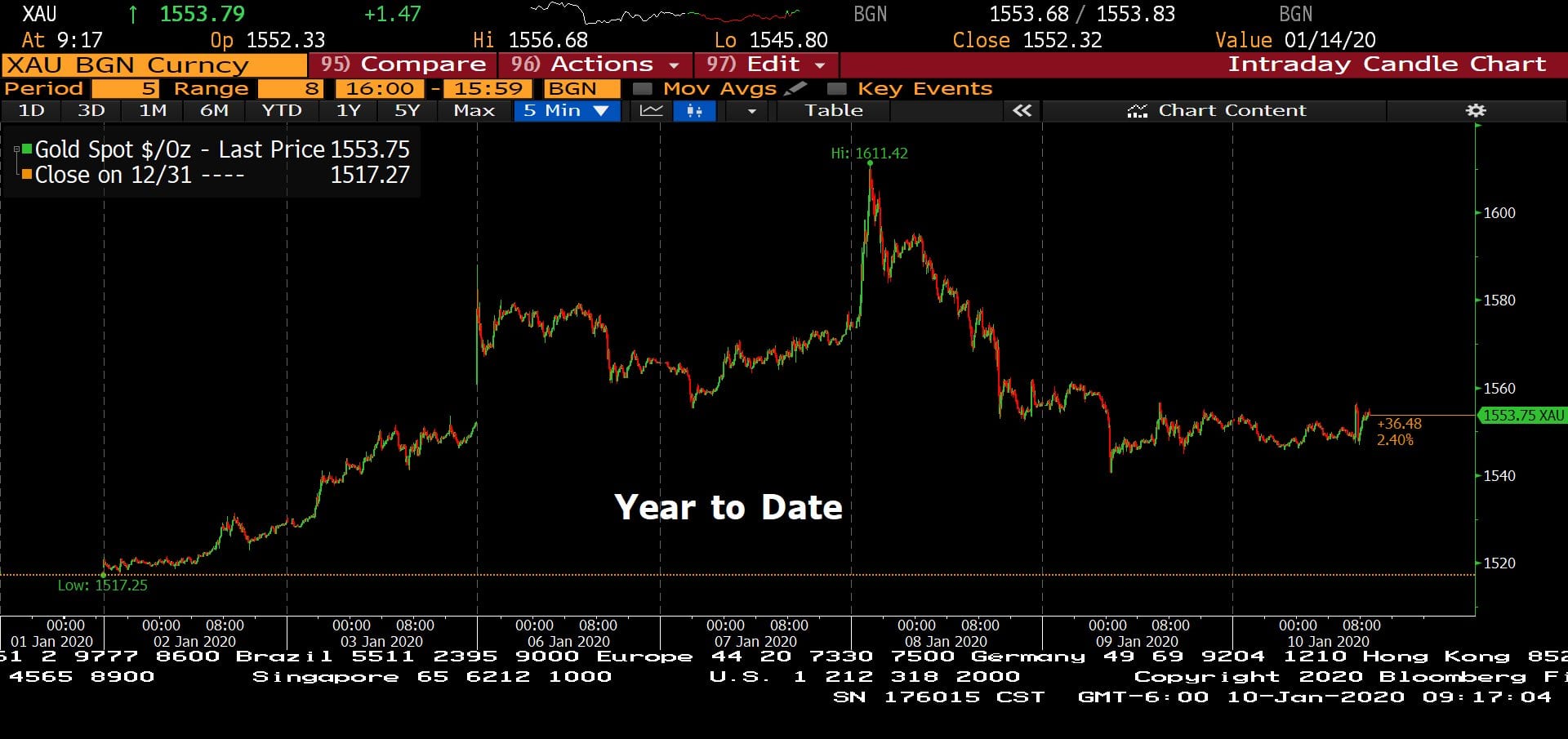 – Courtesy of Bloomberg LP
Lockheed Martin Corp. (Year to Date)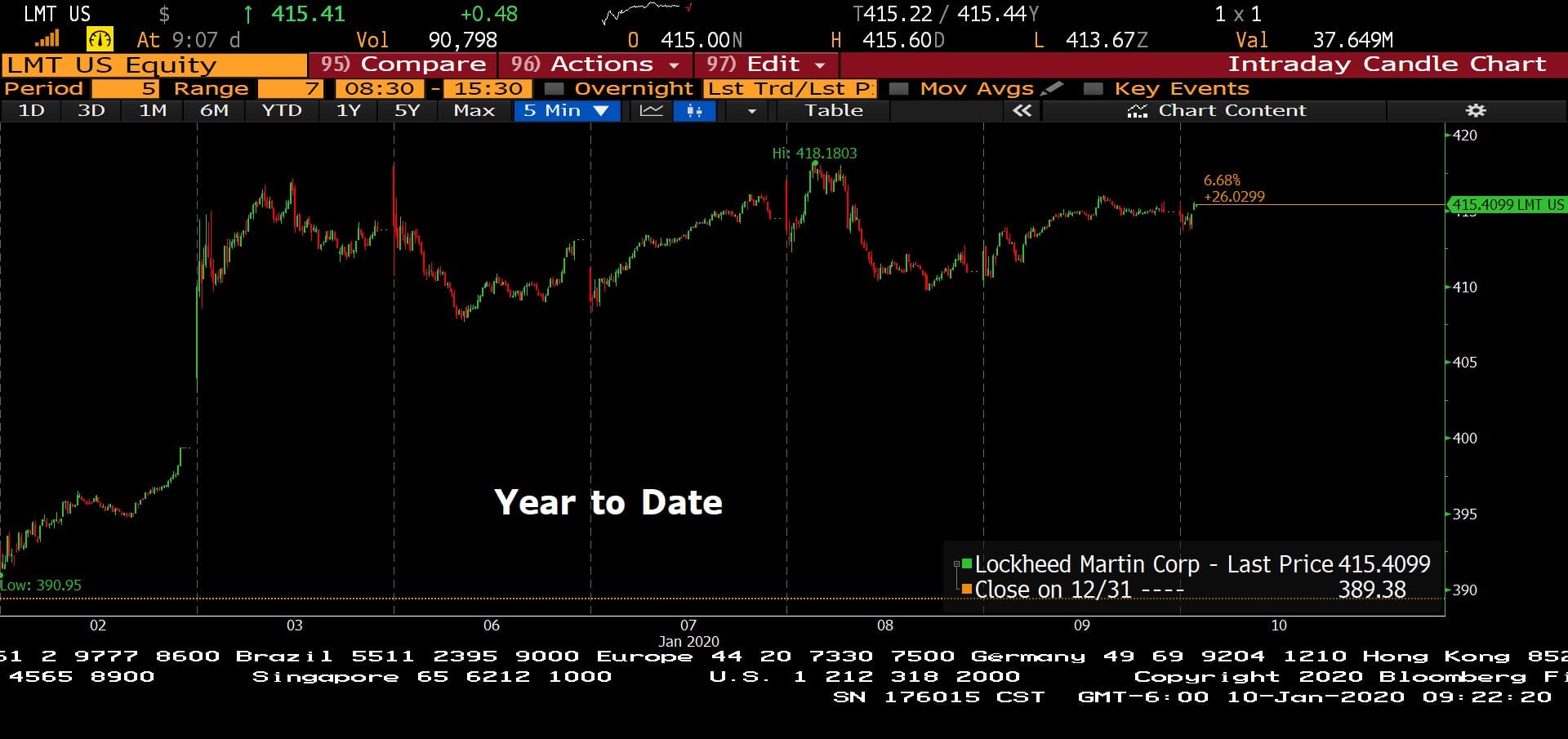 – Courtesy of Bloomberg LP
Raytheon Co. (Year to Date)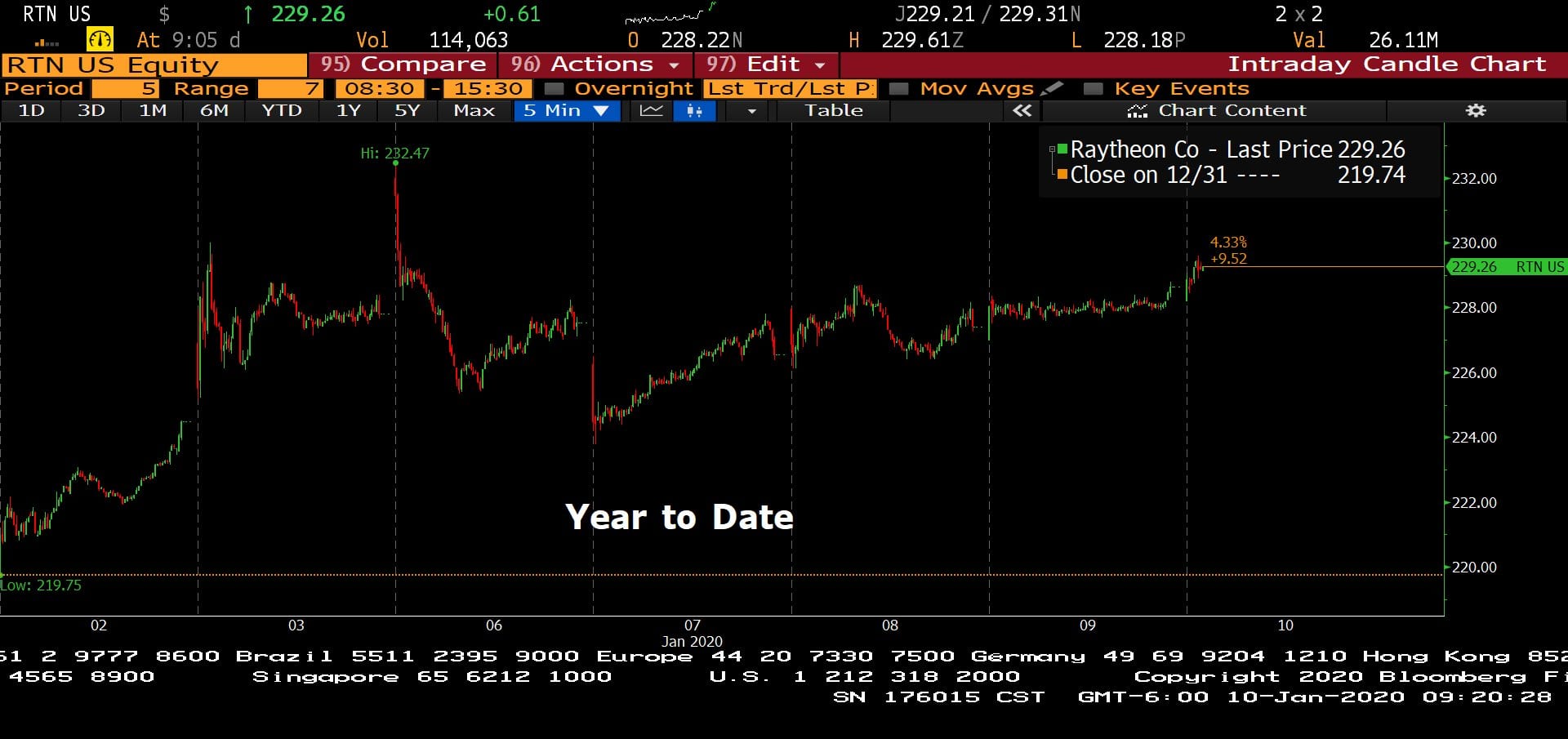 – Courtesy of Bloomberg LP
United Technologies Corp. (Year to Date)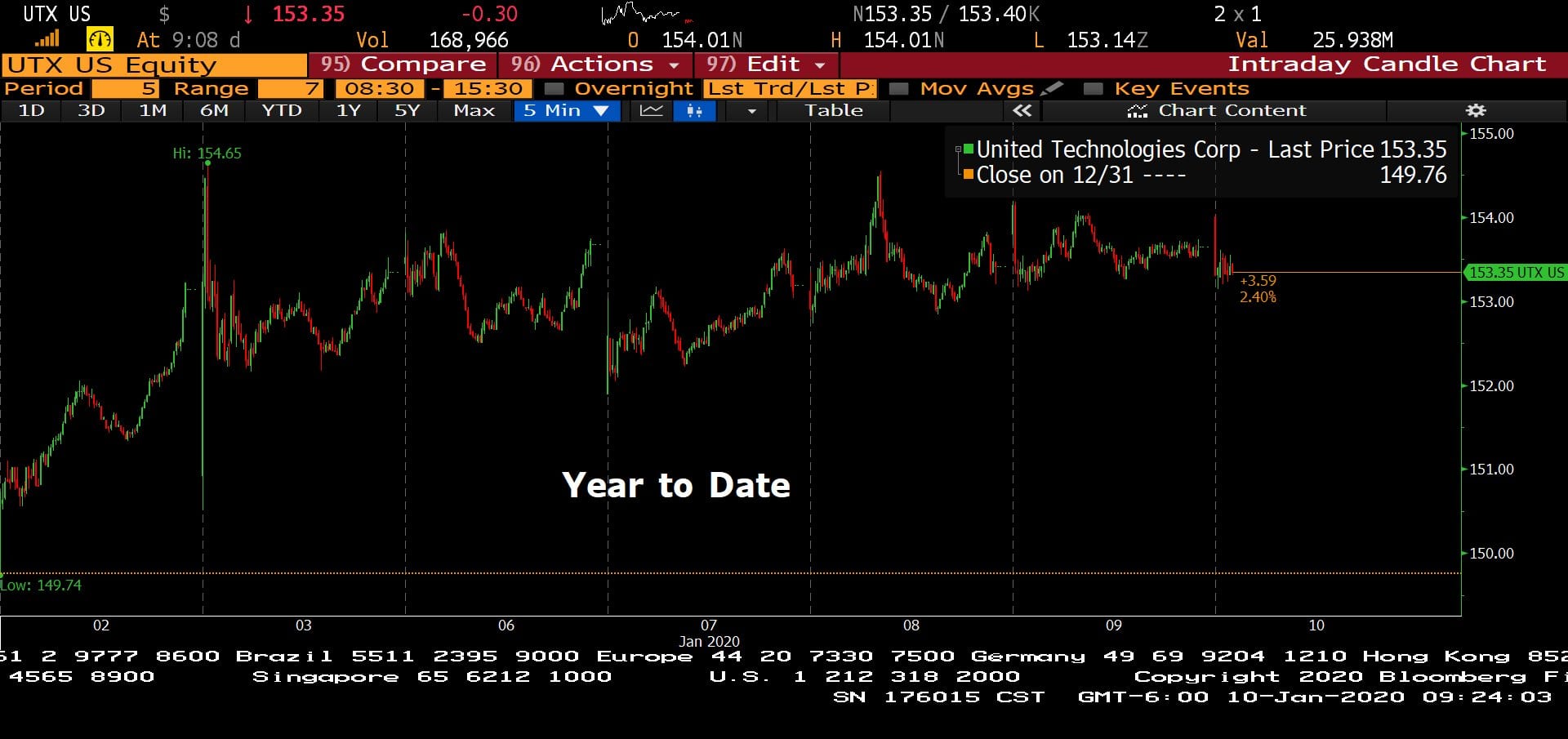 – Courtesy of Bloomberg LP
Headline Round Up!
*McGowanGroup Launching New Galactic Headquarters at the Crescent, 300 Crescent Court, Suite 1776!
*DFW Commercial Office Real Estate Off the Charts!
*Jobs Juggernaut Full Speed Ahead.
*Can Iran Afford More Bad Behavior?
*Retail Ice Age Frost Bites North Texas: Pier 1 and JCPenny Shock Investors. Zombie's or bargains?
*Elon Musk's Electrifying Dance and Last Laugh!
*Recessionary Car Sales Overall Numbers?
*Gold Bugs or Bed Bugs?
*Gundlach Predicts and Reveals His Scorecard. Emerging Market bonds?
*Disney Dominates! Baby Yoda Channels Greatness.
*Warren Buffett in a Slump? $128 Billion in Cash.
*Elsie the Cow Needs a Resume! Borden Files Bankruptcy. Elsie in yoga pants on Instagram channel for almond milk?
*Taco Bell, Hire Our Kids!
*Apple Frenzy Hitting $310 Per Share!
*Xerox Borrows $24 Billion to Buy HP!
*HSBC Declares Low Bond Yields Forever! Alex, what happened in 2012 and 2013?
*Blackstone and KKR Spend $54 Million for the Right to Bury You in Medical Bills.
Texas Black Gold Rush!
*Oil Tops $65 and Promptly Retreats Below $60.
*Aramco IPO Wilting.
*Liquefied Natural Gas ? "That Giant Sucking Sound."
*Renewables Exceed Coal!
*$100 Per Barrel Oil? Why and Where?
*Canadian Crude Could Preempt Significant Middle East Oil Purchases.
Profit Report!
*Congress Attacked Your IRA Plan! "SECURE Act" Negates the Stretch IRA Forcing Closure in 10 Years.
High Anxiety!
*What Happens in the First Year of Retirement? Don't try this at home folks! This is the most important year of the rest of your life. First, a story of a recent business owner. Plus, lessons from the McGowanGroup's case reports over the past 3 decades.
Research Round Up!
Investors are invited to improve decision making with a comprehensive tour of global economics, indicators, and actual results.
---
Start the Process Today! Be sure to indicate what size portfolio sample you would like to see. A link will arrive when we receive your questionnaire.