What is a Stealth Bear Market and what are the best potential solutions for investors?
The Dow topped 26,500 for the first time in January of 2018. Most of this week's trading levels were below 26,000. A stealth bear is a range bound sideways correction where the Equity Indexes fail to make new highs. If the assumption for growth is called into question with "global slowdown" headlines, then what strategies can work without the assumption of price appreciation?
Join us for this week's NetWorth Radio program for a fast paced tour of the most important financial headlines and discussions of investment strategies that can succeed in the current markets.
Great Questions and Great Counsel lead to Successful Outcomes!
The Standard & Poor's 500 Index and the Dow Jones Industrial Average Index (Approx. 5 Years)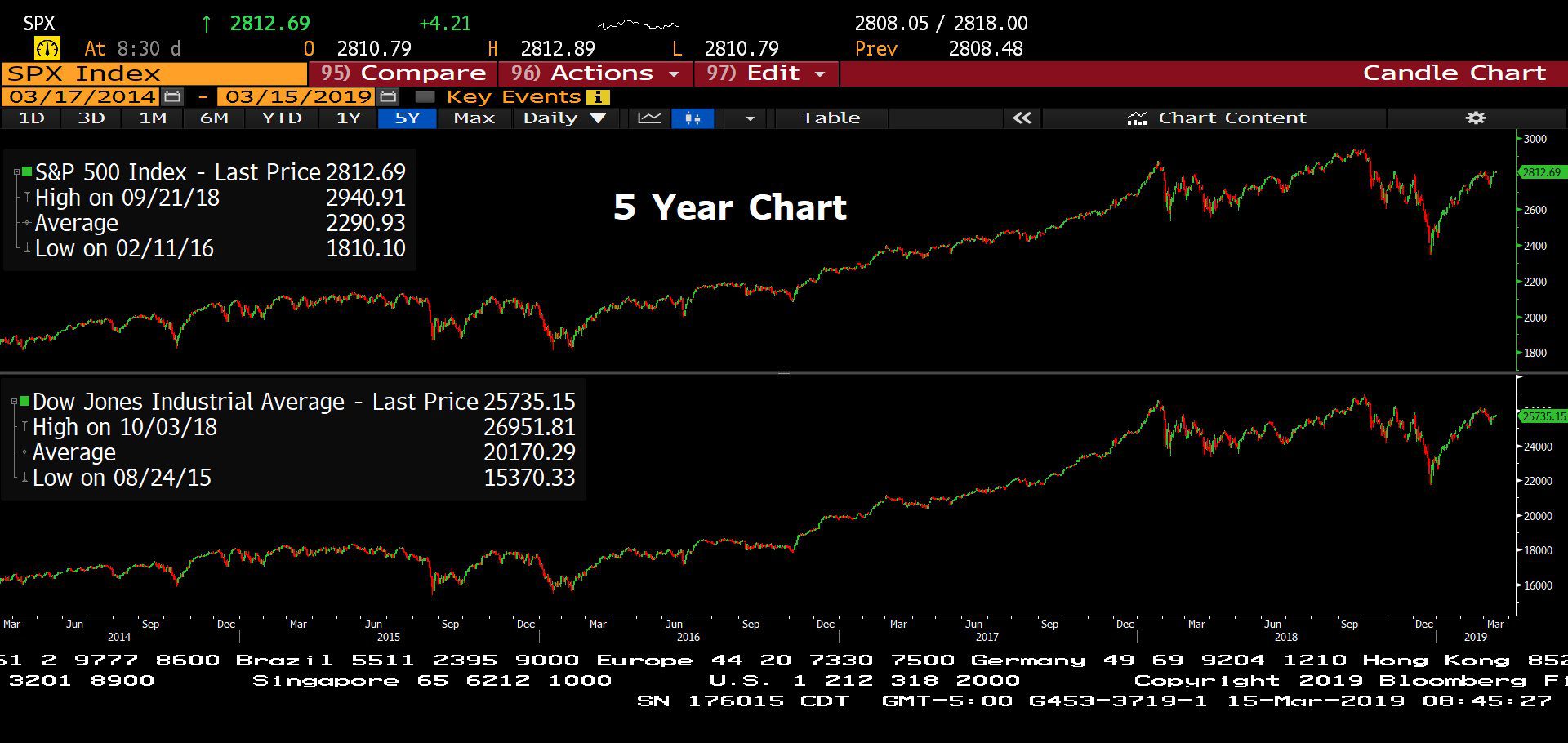 -Courtesy of Bloomberg
Standard & Poor's 500 Index – Earnings Estimates (5 Years)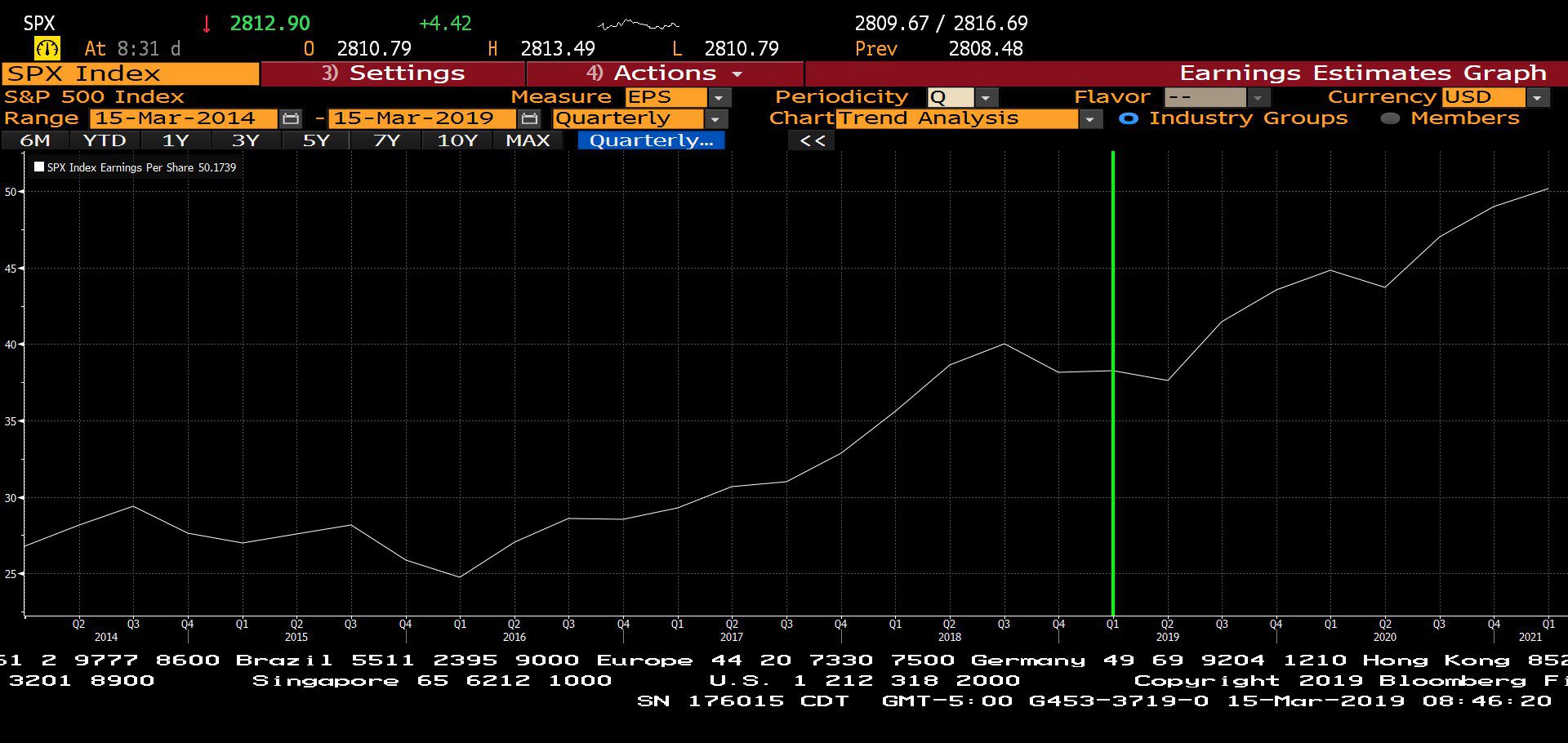 -Courtesy of Bloomberg
Alerian MLP Index & West Texas Intermediate Crude Spot Price (Approx. 5 Years)
-Courtesy of Bloomberg
Southwest Airlines Co., American Airlines Group, Inc., & The Boeing Co. (Approx. 5 Years)
-Courtesy of Bloomberg
Headline Round Up!
*Oil makes a new 2019 high above $58!
*Permian Power: Exxon Mobil Aims for $15 per barrel wellhead break even!
*Big Money M&A Loves Texas Shale!
*TPG Capital Buys Water Pipe Owner for $930 Million.
*Cheniere Partners Completes 5th Train for LNG.
*Saudi's Cutting Production?
*Rich Parents Cheat for Children!
*Inflation Low! Jerome Powell on 60 Minutes. What does it mean for investment strategy? Net
present value of future cash flow worth more?
*Housing Market, Buyers Gaining Pricing Power Even in Silicon Valley: The Million Dollar Shacks?
*737 Max Minimized! Boeing, Southwest, American Airlines Impact?
*Lyft IPO! Beware the IPO.
*Hot Seat: Musk Must Answer SEC Contempt Charge.
*Dallas' "Doc Gallagher" Arrested?
Profit Report!
How to protect against Fraud!
Lessons from Warren Buffett's Iconic Annual Report.
Money flows this past week? What does that tell us?
Trustee Boot Camp: Get your Heirs Smart! Lessons from MGAM winning clients! Frugality, Enterprise, and Passions for investing.
NetWorth Radio's Dallas Business Leadership Series: Spencer McGowan Interviews the Founder & CEO of iV Bars Incorporated, Aaron Keith
---

Aaron Keith founded iV Bars Incorporated in 2015. He assembled a world class team of physicians, biochemists and physiologists to create the formulas and developed the unique marketing concept of iV Bars Incorporated.
On June 1, 2015 iV Bars was sold for the very first time in its home market of Dallas. This was not only the launch of a completely new product, in fact it was the birth of a totally new product category. Today iV Bars Incorporated is available in Dallas and the rest of the United States.
Research Round Up!
Investors are invited to improve decision making with a comprehensive tour of global economics, indicators, and actual results.
---
Start the Process Today! Be sure to indicate what size portfolio sample you would like to see. A link will arrive when we receive your questionnaire.