Net Present Value!?
Translation: A low discounting rate raises the Net Present Value of future cash flows.
Why did stocks go up so much this week?
One big factor is the acceptance of lower interest rates on "risk free" government bonds. The 2012 equity and bond "melt up" is a parallel scenario to explaining this week's surprise rally.
How does the yield curve inversion impact stocks?
See above.
Headline Round Up!
*Dow Spikes Nearly 500 Points on News of a Phone Call??? Just think what might happen if the US and China actually meet and reach a small agreement!
RECESSION? Not Yet:
*195,000 New Private Payroll Jobs in August According to ADP.
*Manufacturing Factor Gauge PMI Index Contracts!
*Auto Sales UP 12.2% in August of Last Year (excluding GM, Ford, and Chrysler Fiat because monthly math must be too hard for them?)
*China Auto Sales fell 12%. Growth Now Below 6%.
*30 Year U.S. Treasury Yield Spikes! What is an "un-inversion?"
*Atlanta Fed Lowers Growth Estimate for Q3 to 1.5%?
*Fed's Beige Book Confirms Optimism and Some Soft Spots.
*Dallas Fed Says Employment Growth Solid! Go ask for a pay raise.
*Free Money! Greenspan Says U.S. Rates Could Go Negative? Central Banks Lose Control After Running Out of Ammunition and Power!?
*No More Residential Bidding Wars?
*King Dollar!
*Big Short Michael Burry Says Index Funds Will Be the Next Big Collapse?
*Gold Bugs Winning in 2019!
*WeWork Not Working! Alex Tollen said this could happen.
*Uber and Lyft Need a Ride Home Back to IPO Price.
Dow Jones Industrial Average Index (1 Month)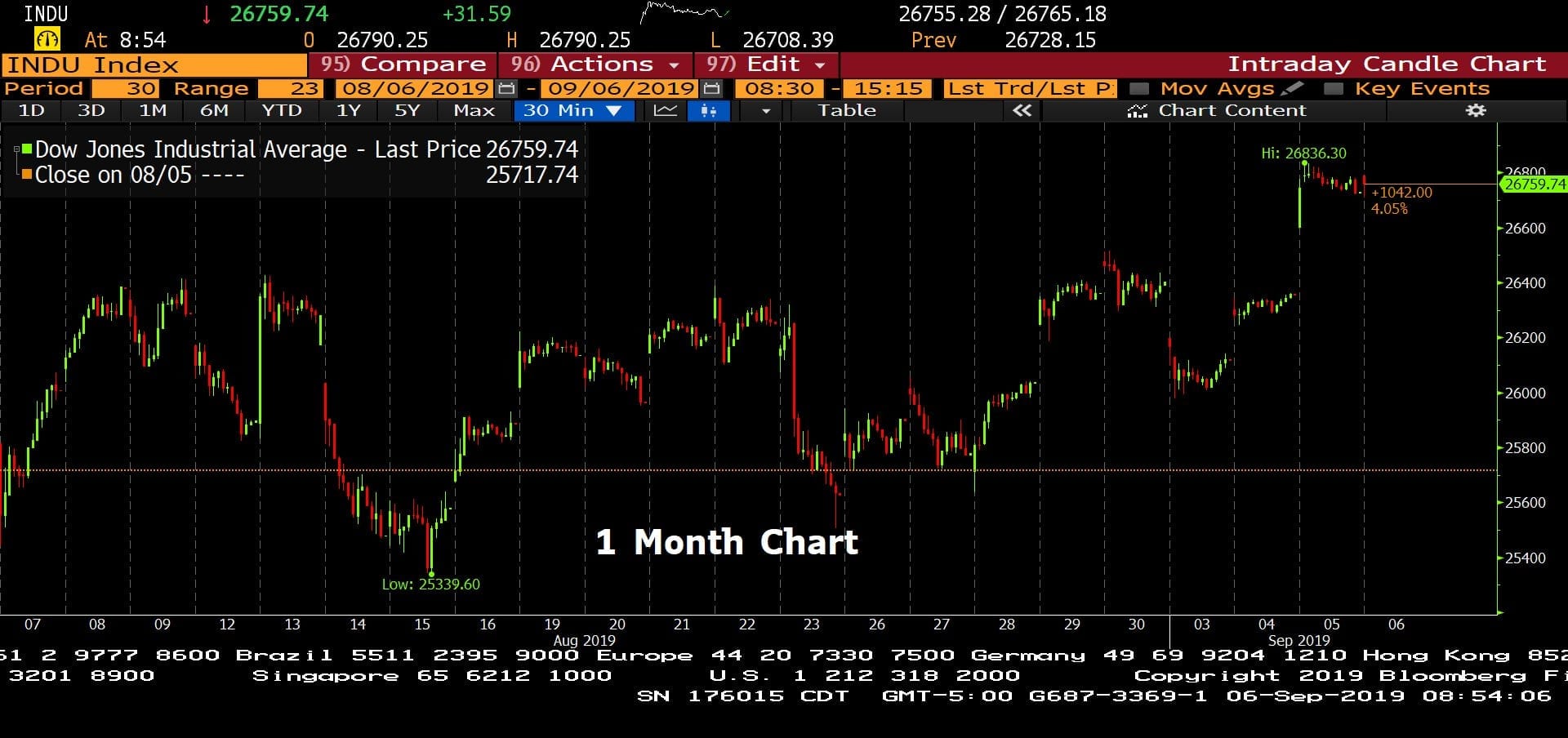 – Courtesy of Bloomberg
C.B.O.E. Short Term Interest Rate Index & 30 Year Treasury Bond Yield Index ( 3 Years)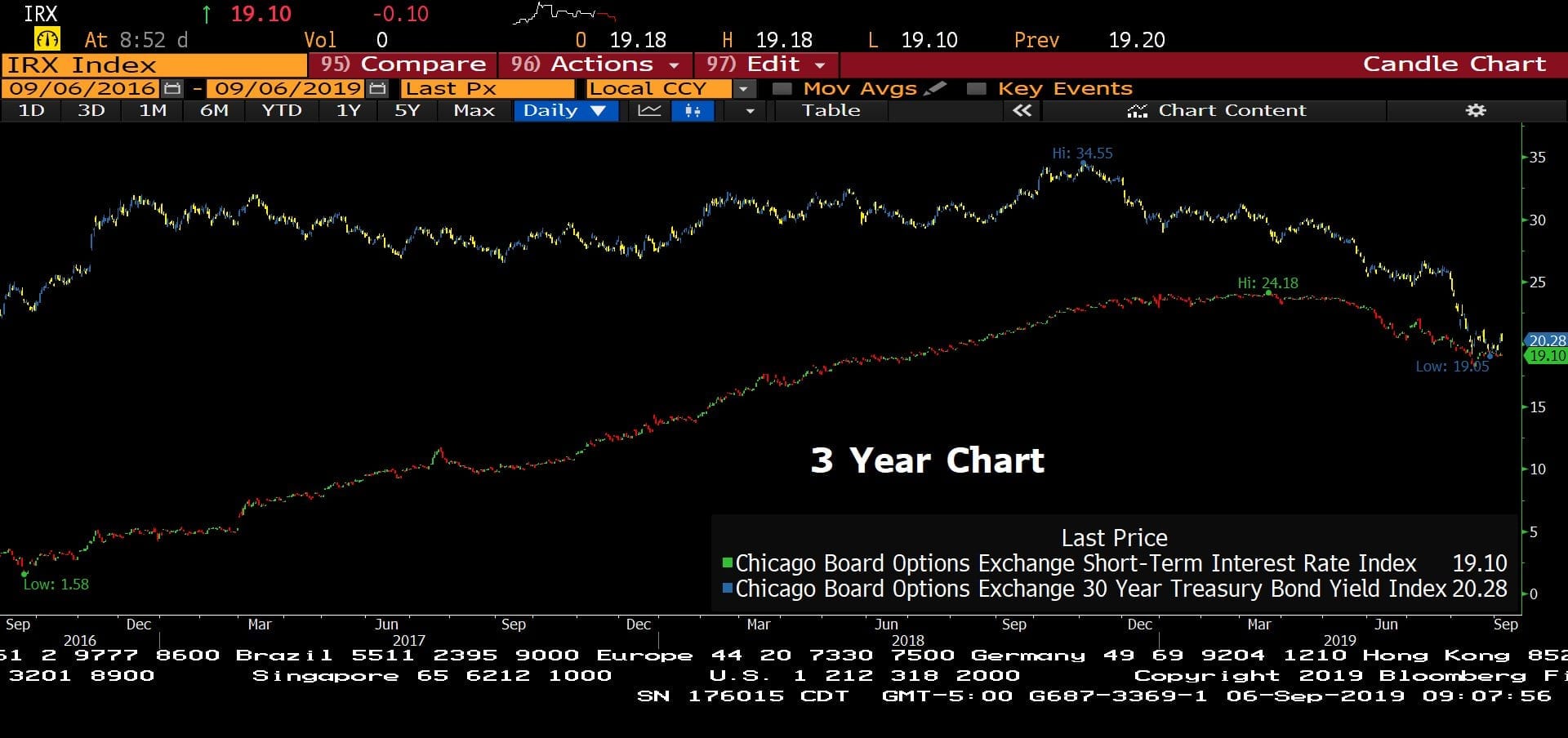 – Courtesy of Bloomberg
Federal Reserve Bank of Dallas Employment Estimate for the 11th District – Dallas (6 Years – 7/31/2019)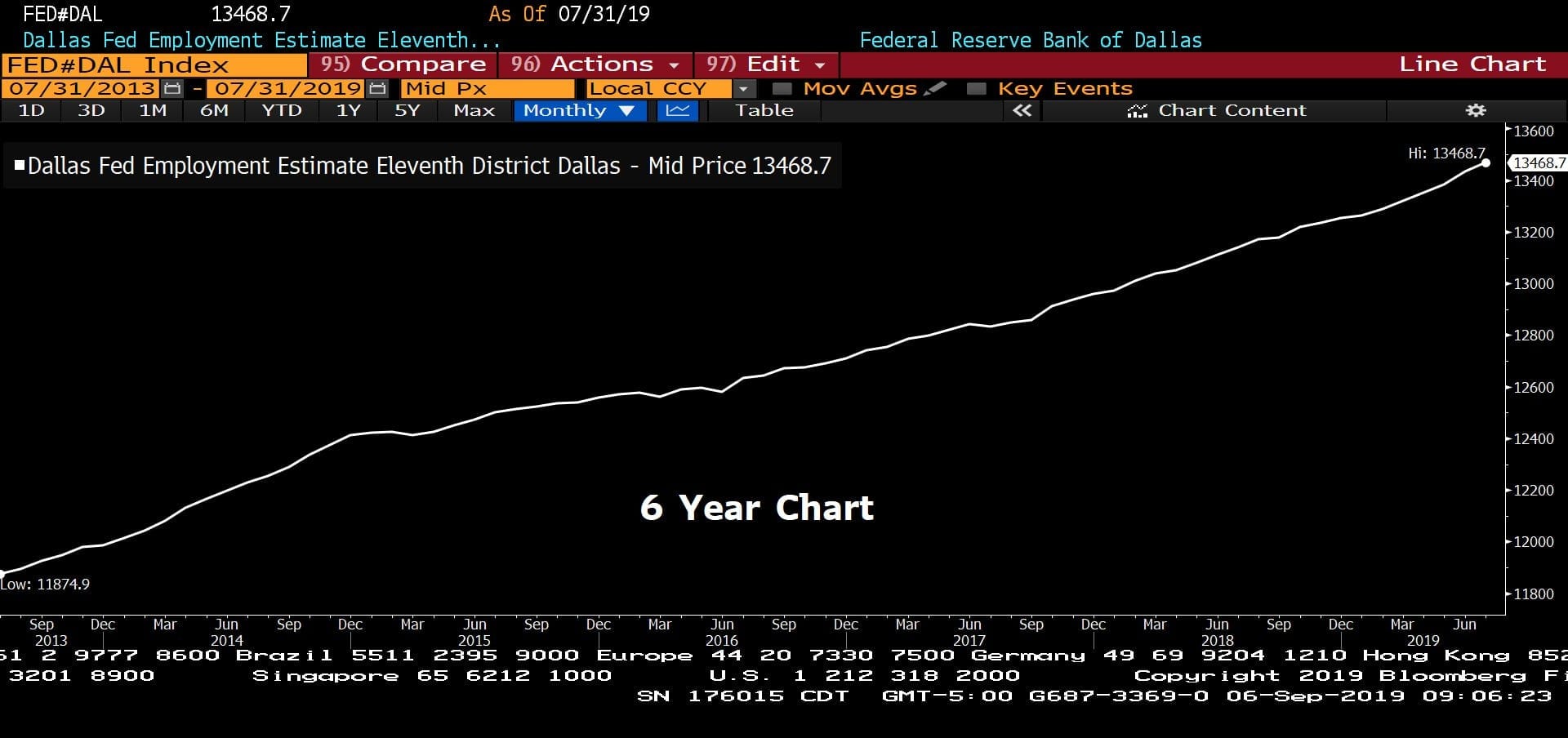 – Courtesy of Bloomberg
Texas Instruments, Inc. (3 Year)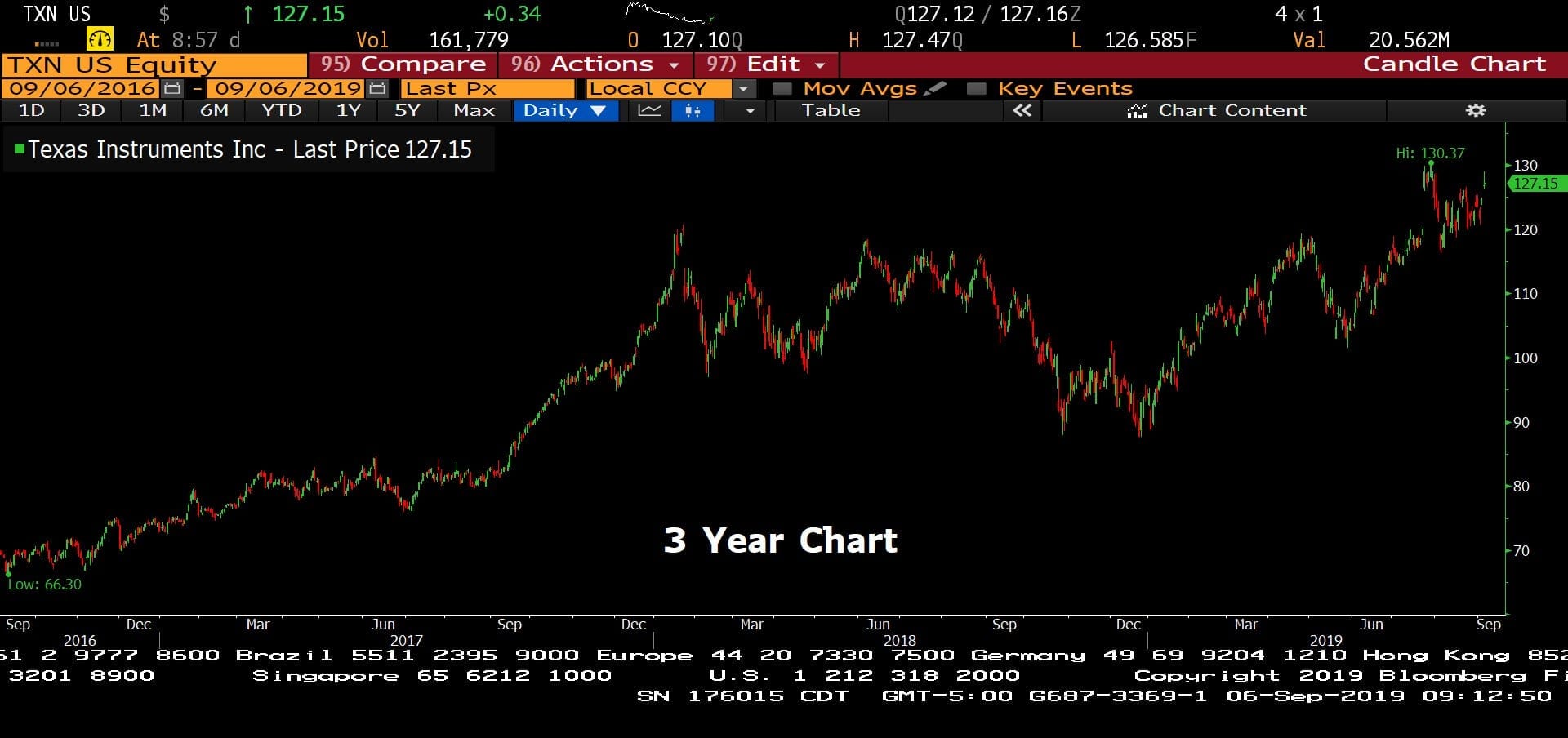 – Courtesy of Bloomberg
Texas Instruments, Inc. (25 Year)
– Courtesy of Bloomberg
iLyft, Inc. & Uber Technologies, Inc. (IPO Inception in 2019)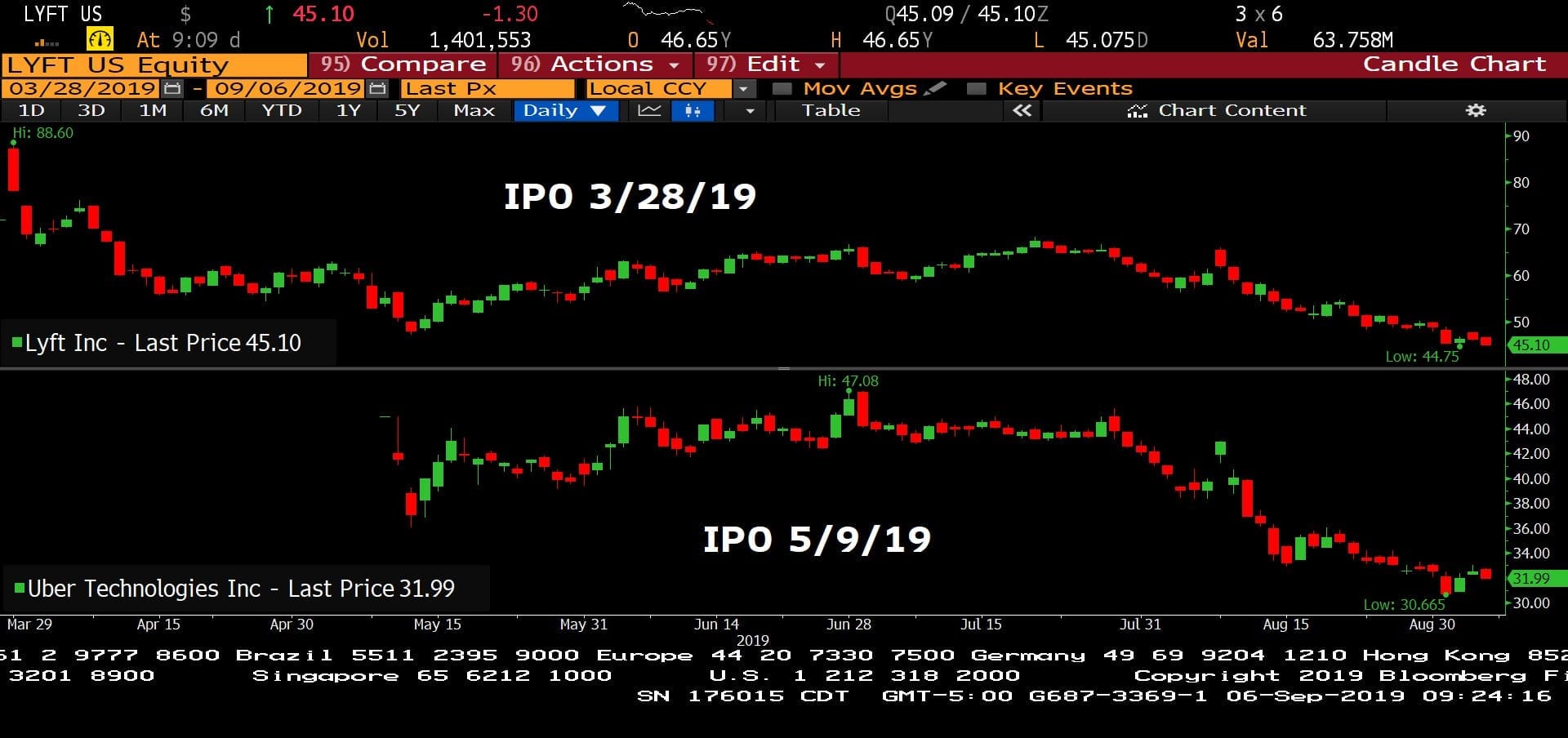 – Courtesy of Bloomberg
Gold Spot Price per Oz.
(12 Years)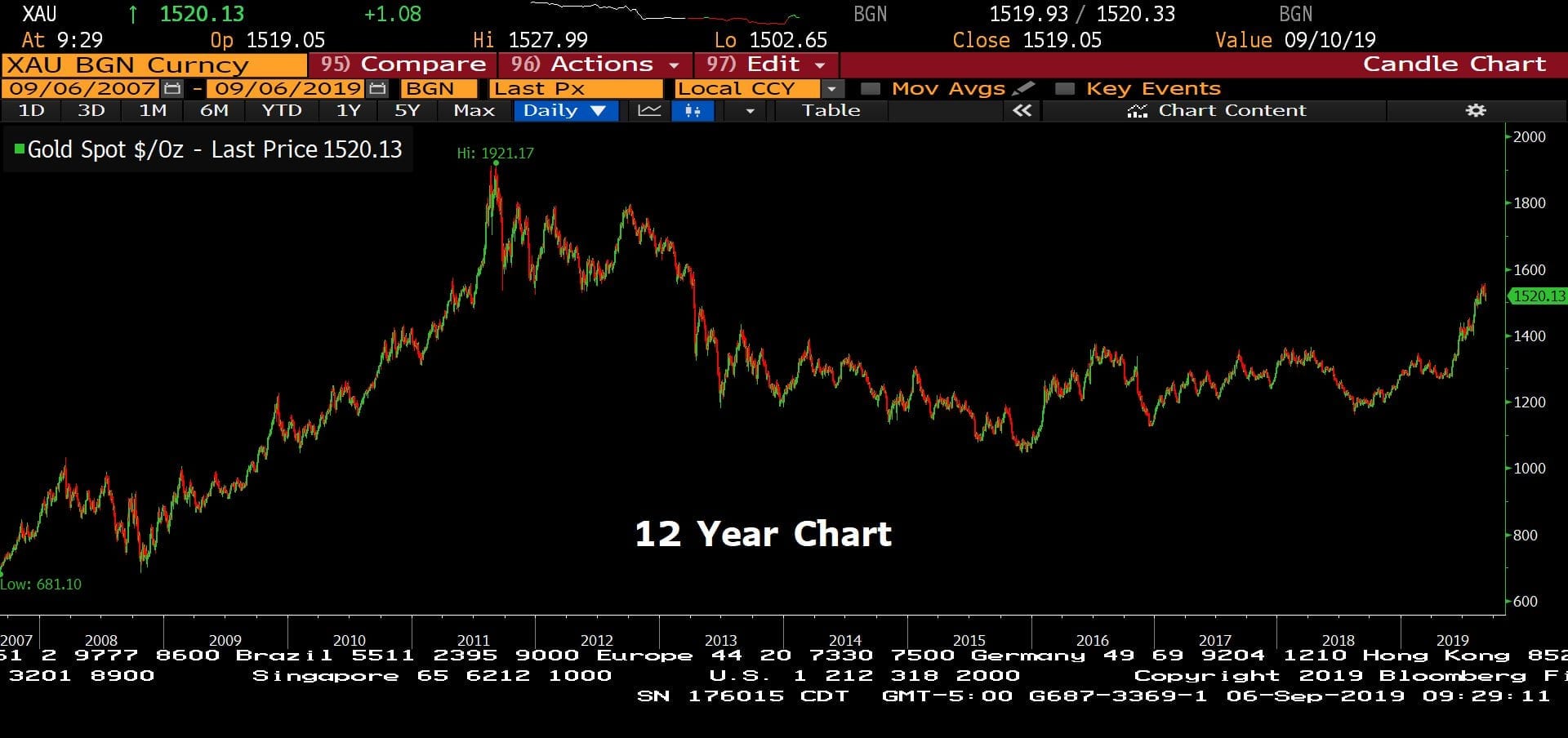 – Courtesy of Bloomberg
Texas Black Gold Rush!
*Demand Drawdown of Inventories Spikes Oil.
*"Takin' Out the Trash!" Concho Resources and Halcon Resources Broke Again!?
*What is a Chapter 22? Must be twice as bad as Chapter 11?
*Big Oil Pouncing on Bargains?
*JPMorgan Says Buy Big MLP's! Energy Transfer L.P.(ET) and Enterprise Products Partners L.P.(EPD)?
*Dallas Cowboy Jerry Jones Bets Big on East Texas Gas!
*ExxonMobil Estimates Electric/Hybrid Cars to Reach 420 Million by 2040? How to benefit?
*American Drillers Produce 12.5 Million Barrels Per Day. OPEC Collectively Produces Only 30 Million Barrels Per Day. Maybe they should hold their OPEC parties in Houston?
*China Building Pipelines.
*Freeport Liquid Natural Gas (LNG) Development Shipping LNG!
*LNG Futures Contract Ready to Trade October 14th.
Profit Report!
Advanced applied technology powers McGowanGroup's estate planning devotion to your family, heirs, trustees, education, and empowerment!
"It is better to start with a plan than end in a panic."
Investor anxiety stands at a high level driven by headlines. What do this week's real client case reports reveal about investment strategy?
Research Round Up!
Investors are invited to improve decision making with a comprehensive tour of global economics, indicators, and actual results.
---
Start the Process Today! Be sure to indicate what size portfolio sample you would like to see. A link will arrive when we receive your questionnaire.