This week's decline in U.S. Equity Markets was concurrent with the European Central Bank cutting growth estimates for 2019 to just 1.1% for the Eurozone. The theme of slowing global growth continues to dominate the Financial Markets.
What does this mean for investors? Unlike the 3 years preceding the 2018 summertime equity market peak, growth investors are no longer likely to get a magic carpet ride from appreciation in the indexes. Therefore, portfolio strategy is missing a key component for projected returns.
Join us for this week's program: A fast paced tour of the Global Financial Markets including the investment categories poised to fulfill target returns for portfolios.
Dow Jones Industrial Average Index (Approx. 5 Years)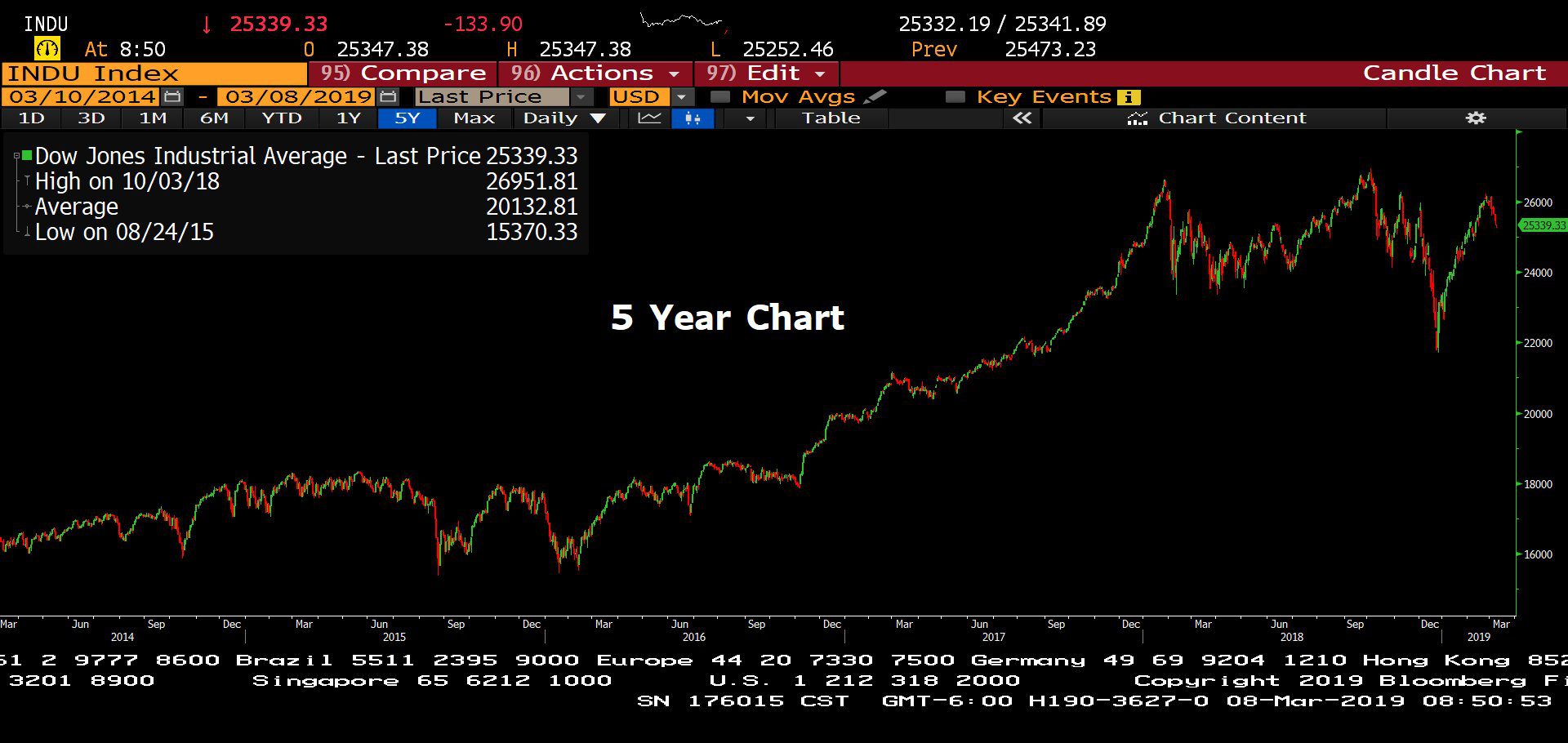 -Courtesy of Bloomberg
U.S. Dollar Index Spot Price (Approx. 5 Years)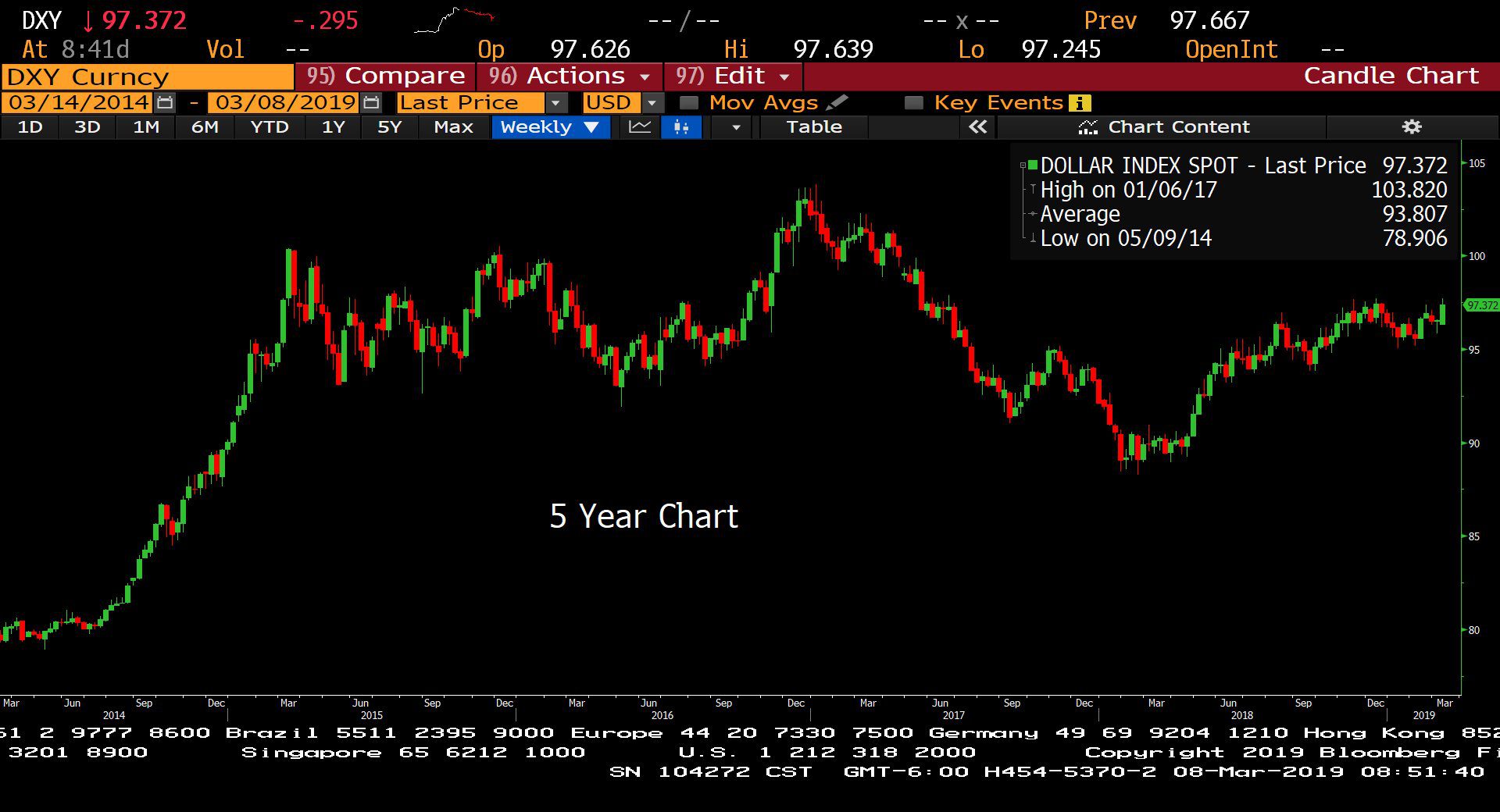 -Courtesy of Bloomberg
Euro Spot Price (Approx. 5 Years)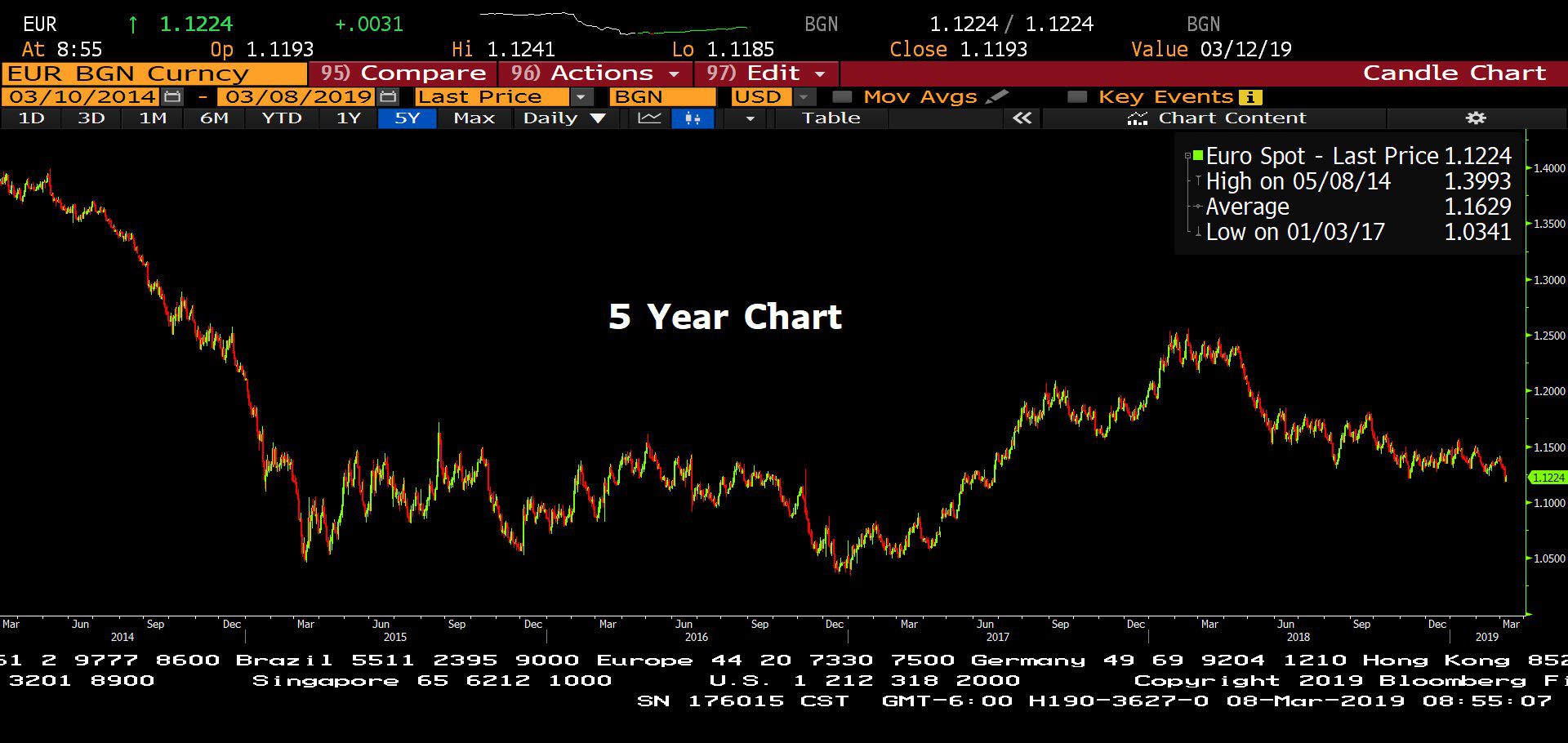 -Courtesy of Bloomberg
World Bond Markets – Yields for Multiple Durations (03/08/2019)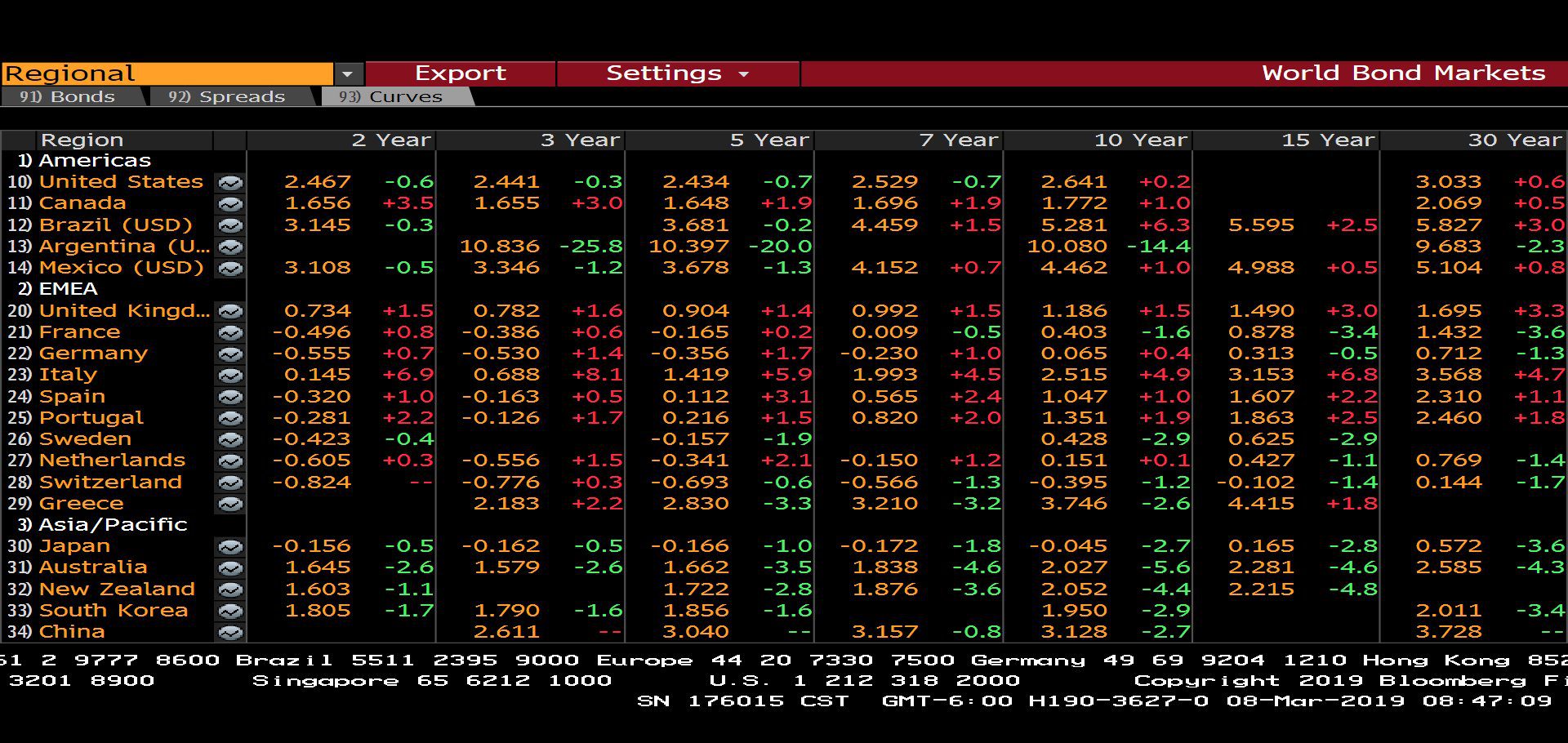 -Courtesy of Bloomberg
Alerian MLP Index & West Texas Intermediate Crude Spot Price (Approx. 10 Years)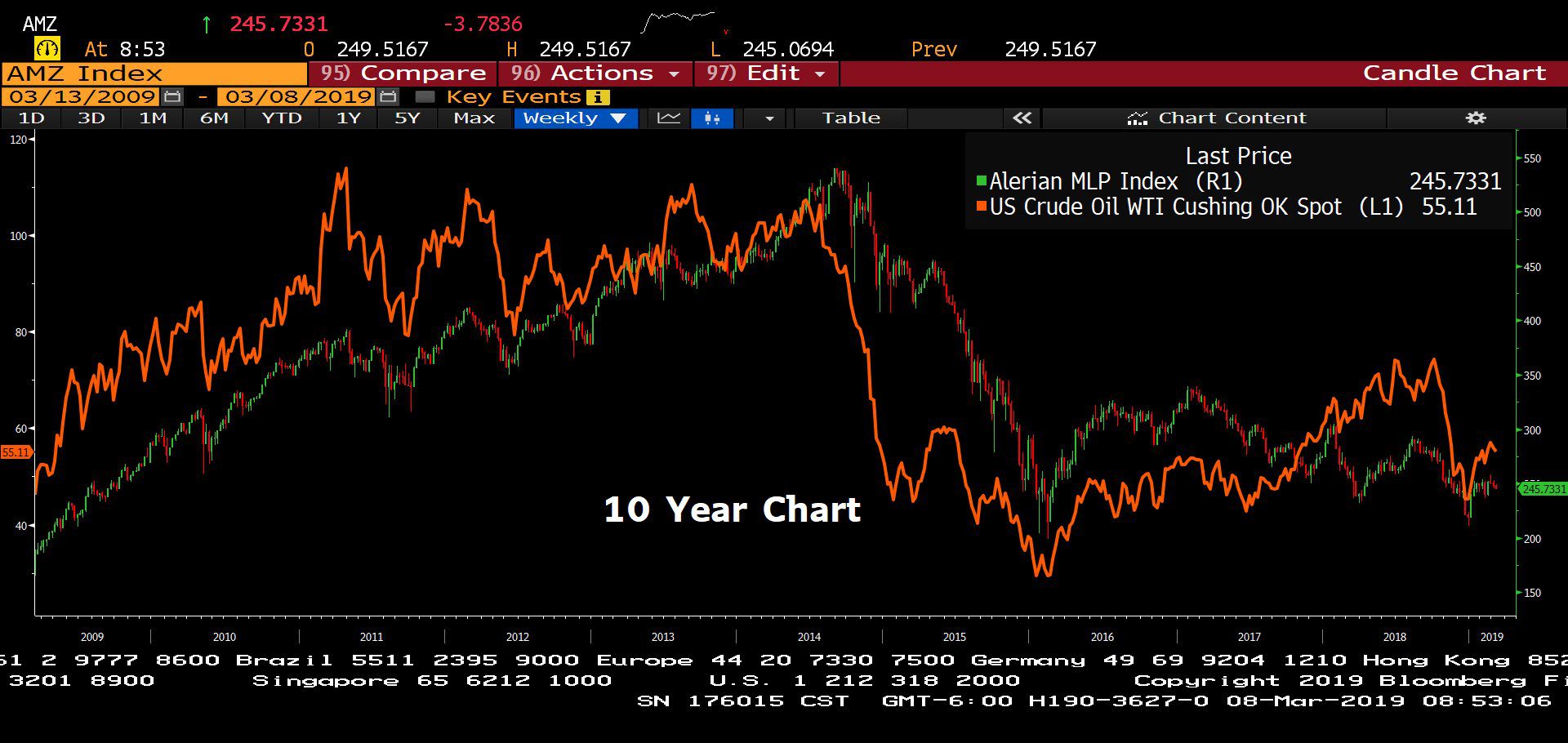 -Courtesy of Bloomberg
Headline Round Up!
*Hottest Economy in Half a Century!
*Jobs Reports! What do they mean for investors?
*Worried About Retirement? Work Smart! Midland Odessa Needs You! Mobile Barber Makes $180,000 per Year. BBQ Shortage?
*2020: Ships Need West Texas Oil and LNG!
*Big Oil Focuses on Texas Permian. Buy the Pipes Get the Toll.
*China Buys U.S. Crude Oil.
*India Air Pollution. LNG is a Solution.
*Big China LNG Project Ready for Trade Deal.
*Trade Deficit HUGE: Alex, Can You Explain It to Us?
*Subaru's Do Not Like Too Much Perfume? Recall?
*Construction Spending Contracts in December?
*Municipal Bonds Too Expensive?
*Emerging Markets Get Money Flow.
*Chinese Hackers Hit Universities for Maritime Military Secrets.
*Retail Stock Updates.
*A $19 Million Bugatti? Probably Shouldn't Park It at Target.
*Tesla Updates.
*CBD Numbed by FDA Bureaucracy.
*Housing Update Mixed.
*Need a Lyft? Wanna Share? Coming to an Index Fund Near You Soon!
Profit Report!
Lessons from Warren Buffett's Iconic Annual Report.
"Alternatives" to Profit?
Crazy Rich Congressional Members! Bi-Partisan Big Money Wealth with Sometimes Mysterious Origins.  
Trustee Boot Camp: Get your Heirs Smart! Lessons from MGAM winning clients! Frugality, Enterprise, and Passions for investing.
Research Round Up!
Investors are invited to improve decision making with a comprehensive tour of global economics, indicators, and actual results.
---
Start the Process Today! Be sure to indicate what size portfolio sample you would like to see. A link will arrive when we receive your questionnaire.