With elevated equity and investment grade fixed income prices, this week's NetWorthMedia.net program explores the possibility of gaps in pricing that may "whipsaw" investors. According to Investopedia: "Whipsaw is a condition in which a security's price heads in one direction, but is followed quickly by a movement in the opposite direction. There are two types of whipsaw patterns, with the first involving an upward movement in a share price, which is then followed by a drastic downward move, causing the share's price to fall relative to its original position. The second type occurs when a share price drops in value for a short while, and then suddenly surges upward toward a positive gain, relative to the stock's original position."
One danger is that investors, out of fear, will sell high quality long term assets at a discount due to a quick drop. We will explore the possibility that gaps in pricing often create opportunities for investors to lock in attractive pricing. The lofty prices for the largest technology companies could produce dangerous corrections at any disappointing announcement. This raises the possibility that the equity indexes could stall or worse.
Which sectors have already corrected?

How can fixed income

investors benefit from potential price gaps?

What fixed income categories should conservative investors use for 2018?
Headline Round Up!
---
Small Business Optimism at Record!

One NWR Wells Fargo Source Reports Large Increase in Commercial Loans over 2017 Primarily from Private Equity Activity.
Oil Tops $64 for the First Time Since 2014! Concurrent with Shrinking Stockpiles and Larger than Expected Drops of Well Productivity.
DCP Pipeline Shares Spike 5% in a Single Day.
Gundlach Sees Commodities Outperforming!
Snap! Kodak Spikes on Crypto Announcement! What is a KodakCoin? Do I want one?
South Korea Halts Crypto Currency Trading.
Welcome to Your New Job! Bring $5 Billion Please! Neiman Marcus' New CEO Has a Big Challenge.
Deflation?! Inflation was Forecasted, But, Producer Prices Fell. What does it mean for fixed income investors?
Republicans Split! Hippies Versus Squares. The issue for cannabis investors is the hippies may forget to show up because they are at "Itchycoo Park: Its all too beautiful

."

Bad Weather Costs $306 Billion During 2017!
Outbid! One in 4 Homebuyers Paid over the Ask in 2017!
C.B.O.E. 30 Year Treasury Bond Yield Index and C.B.O.E. 13 Week Treasury Bill Yield Index  (Approx. 3 years)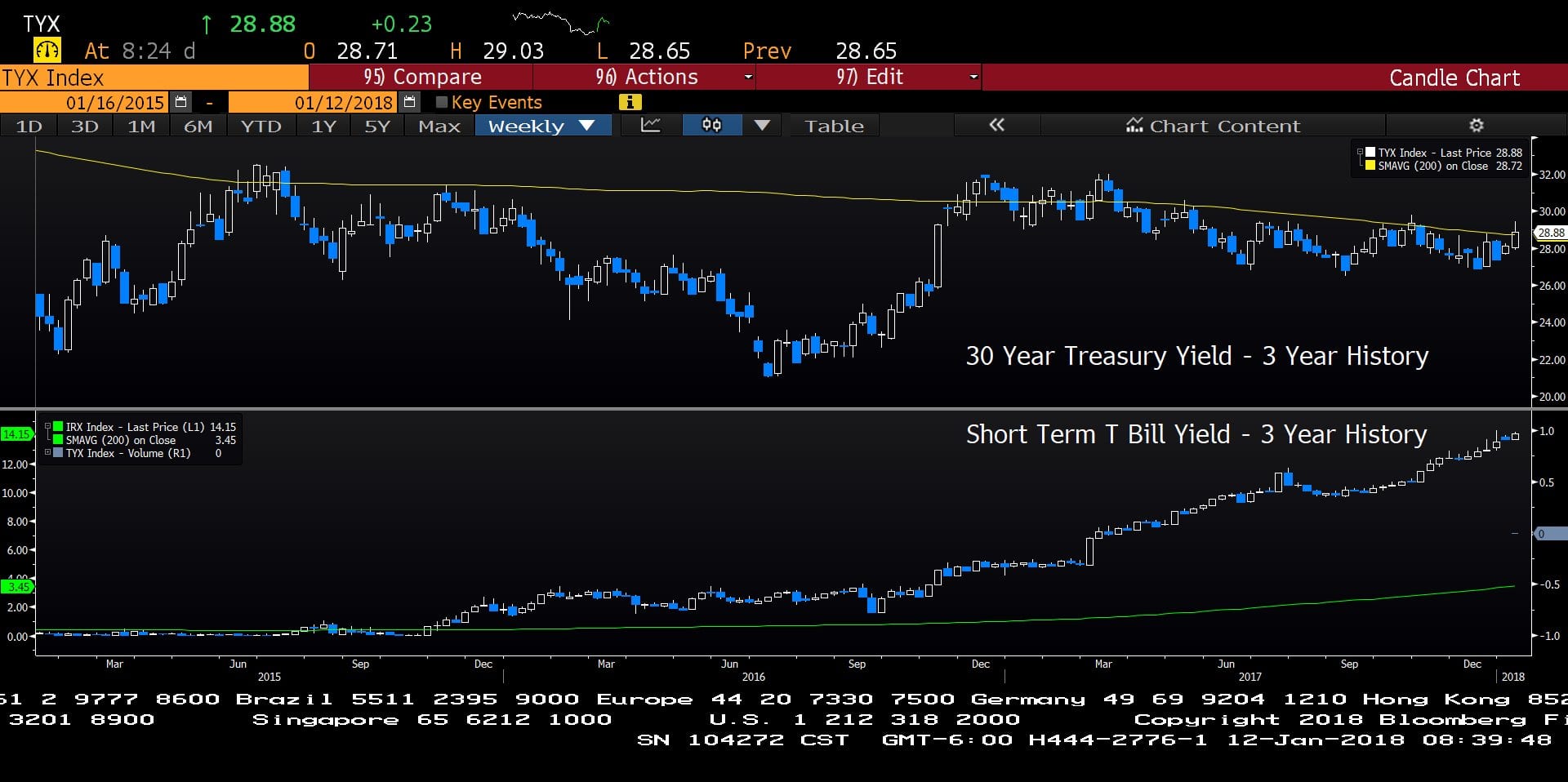 -Courtesy of Bloomberg LP
U.S. Producer Price Index (Approx. 5 years)
-Courtesy of Bloomberg LP
Natural Gas Pipelines (January 2018)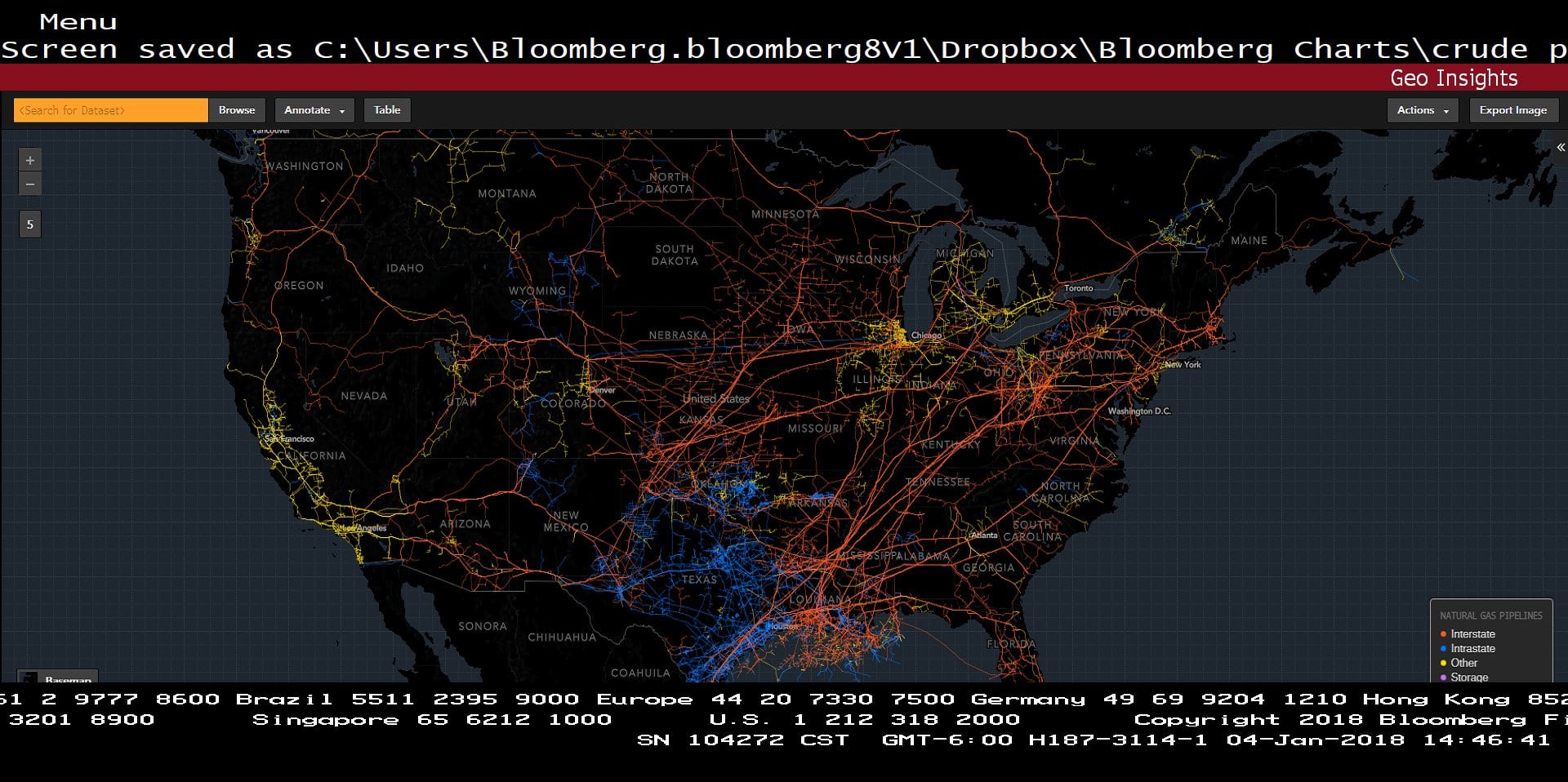 -Courtesy of Bloomberg LP
Profit Report:
---
Liquid Natural Gas Exploding!

The "Disastrous 2017" Oh That's Bad, No It's Great!
To Hedge or Not to Hedge: Paulson's Enhanced Fund Loses 70% in 4 Years. Beware of "Alternative Strategies."
Get a Job! 10 Best Places to Find a Job in 2018.
When should we exit the high yield bond market?
Beware the IPO Coming to an Index Fund Near You.
Bargains! Capital Call!
Often the most popular investment category is "too much in the sun(1)." The resulting overpricing and subsequent bear underpricing have often marked the greatest dangers and resulting opportunities in my 31 year career.
In 2009, we cheekily nicknamed one of our best research pieces as "20 Companies That We Believe Will Not Die." The list included Whole Foods which subsequently rose from under $10 to an all time high near $60(2). So unpopular were stocks we found most investors fearful of adding positions at what was proven to be a great inflection point.
Harken back to 2014. Oil was over $100(3). Scores of research pieces touted the energy master limited partnerships, one of the most popular investment categories at that time(4). For several years now we have watched opportunities develop which appear to have come to the point of attractive inflection in the inflation friendly energy category. The 3 year bear market cycle in oil prices appears to have now ended based upon recent prices approaching $60 per barrel after a 2016 low near $27(5).
Our diligent research process has identified, what we believe to be, one of the best opportunities since early 2016, when the high yield credit markets froze producing large discounts with high income. The term "capital call" refers to our urging clients to make deposits into an attractive asset class.
For clients able to make deposits and for our cash reserves, we are completing allocations into attractive high dividend energy companies. Please call to discuss the opportunities for 2018 "and beyond."
Spencer D. McGowan – December 2017
McGowanGroup Asset Management
1. Hamlet Act1,Scene 2
2. Bloomberg LP – July 2003/October 2013
3. Bloomberg LP – West Texas Intermediate Crude, February 2014
4. https://www.bloomberg.com/graphics/infographics/mlps-draw-record-investment.html
5. Bloomberg LP – West Texas Intermediate Crude, November 2017/January 2016
Featured Research Solutions:
---
Investors are invited to improve decision making with a comprehensive tour of global economics, indicators, and actual results.
*Washington Update: Impact of Tax Reform on Investors!
---
Start the Process Today! Be sure to indicate what size portfolio sample you would like to see. A link will arrive when we receive your questionnaire.