This Week's Powerful Interview
The Networth Radio Dallas Business Leadership Series continues with an update from Washington ahead of the election from Congressman Pete Sessions.
H.R. 5284, The Worlds Greatest Healthcare Plan Video
H.R. 5284, The Worlds Greatest Healthcare Plan Presentation
H.R. 5284, The Worlds Greatest Healthcare Plan Handout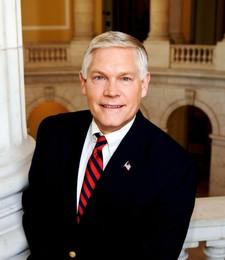 A conservative community leader, United States Congressman Pete Sessions has combined hard work, innovative thinking, and common-sense principles to successfully represent the 32nd Congressional District of Texas. Congressman Sessions was born on March 22, 1955 and grew up in Waco, Texas. He graduated from Churchill High School in San Antonio and went on to graduate from Southwestern University in 1978, where he now serves on the Board of Trustees. He worked for then-Southwestern Bell Telephone Company for 16 years.
In 2002, Congressman Sessions began representing the 32nd Congressional District, created from redistricting. In 2012, the people of the 32nd Congressional District called him back to Congress for his ninth term.
Congressman Sessions is a stalwart defender of U.S. homeland and national security interests, as well as the men and women who defend them. As the parent of a child with Down syndrome, he is a passionate advocate for people with disabilities. Congressman Sessions also believes that taxpayers deserve results from their government, and he has pursued common-sense, market-based reforms to help government operate more efficiently.
Profit Report
Rather than issue a series of detailed 2017 predictions which will likely be rendered wrong at some point during the year, the greatest potential for 2017 profit could be a tactical rebalancing plan designed to provide benefits from potential 2017 events.
This week's program features a forward looking set of possible outcomes for the global financial markets between Halloween 2016 and the end of 2017 to provide guidance founded on the objective to produce superior profits which are not currently available in assured investments.
Thank you for joining us in a special edition of NetworthRadio: 2017 Tactical Rebalancing.
Cash Deployments and Tactical Rebalancing Correction:
If Dow near 16000, then dividend companies?
If discounts widen in high yield funds, then accumulate discount income funds?
Surprise Rally:
If Dow near 19000, then harvest REITS and growth positions?
Interest Rates Rise:
If rates spike, then discount municipal bonds?
Long Interest Rates Fall:
If bond funds hit premiums, then harvest?
If oil exploration companies correct to a reasonable earnings based valuation, then add pipelines and energy infrastructure?
Headline Round Up!
*Your Home in North Texas Up Over 8% Since Last Year!
*A Tough Week for Dallas Based Southwest Airlines
*New York Construction Booms 26%!
*New U.S. Home Sales Near 9 Year High.
*In the Chips! Qualcomm paying $47 Billion for NXP in the Largest Semiconductor Merger in History!
*Snap! Snapchat Planning to Raise $4 Billion IPO Valuing the Company at Near $30 Billion.
*Dallas Based AT&T Proposed Merger with Time Warner Indicates New Acquisition Strategies.
*Chinese Companies on Buying Spree: $200 Billion Record M&A.
*Harvard: "Lazy, Fat, Stupid"
*15 Minute Securities Settlements? What is Blockchain?
Featured Research Solutions:
Investors are invited to improve decision making with a comprehensive tour of global economics, indicators, and actual results.
*A Lonely Optimist: Bob Doll's Outlook for 2017
*Q4 Guide to the Markets: JP Morgan Market Insights.
*Election Impact: What Will the 2016 Elections Mean for Investors?
*Since 2001, our current tracking system has provided unique intelligence for decision making.
Trustee Boot Camp Recommendation: Send the Link to Your Parents and Heirs Today.